Welcome to another edition of The Friday 5 with Steve Greenfield, Founder and CEO of Automotive Ventures, an auto technology advisory firm that helps entrepreneurs raise money and maximize the value of their companies.
I hope everyone has been enjoying the Automotive Ventures March Madness contest on LinkedIn, where you get to vote for which automotive technology company is most likely to achieve a $1 billion dollar exit someday.
64 companies began, but only one could win. Your votes got them there. We had many very close contests throughout, but this last match took the cake!
This last contest truly was a match of equals. Seven days, and the lead went back and forth numerous times. The winner had trailed until the last 12 hours and then pulled ahead just barely beating their opponent by just 4 VOTES! It literally came down to the wire.
Our winner this year is Digital Retailing provider CarNow, beating out connected Car player Spireon by just four votes in the final seconds of the contest.
CarNow tallied 782 votes to Spireon's 778 votes. It was amazing to see two opponents who were so well matched in this final contest.
Thanks for being with us today, Tim, and congratulations again on winning the March Madness contest.
I want to thank all of you for your incredible engagement throughout the bracket, and I appreciate each and every one of our 64 participating companies, and we look forward to seeing you at next year's contest!
This week, self-driving automaker Cruise, backed by General Motors, raised $2.75 billion in its latest funding round with investment from Walmart, taking the startup's valuation to over $30 billion dollars.
The investment will help support Walmart's push to create a home-delivery logistics network that's fast, low-cost and scalable.
The two companies began working together in November through a delivery pilot program in Arizona. For years Walmart has dived in and out of partnerships with last-mile logistics providers like Uber, Lyft and DoorDash, and it's also created an internal network called Spark to do the same.
Cruise's new valuation of more than $30 billion is up from $19 billion dollars when T. Rowe Price invested in the company in 2019. Just as Microsoft gave Cruise a major software player in its corner, Walmart gives it a retail partner with thousands of stores and deep pockets.
This news comes just a week after TuSimple Holdings, which is developing autonomous trucks now on the road in Texas and Arizona, raised $1.35 billion dollars through an initial public offering, valuing the self-driving truck startup at nearly $8.5 billion dollars.
In further Autonomous Vehicle news, Ocado Group, the UK online grocer that has been making strides reselling its technology to other grocery companies to help them build and run their own online ordering-and-delivery operations, is making an investment of £10 million (or $13.8 million dollars) in Oxbotica, a UK startup that develops autonomous driving systems.
Ocado is treating this as a strategic investment to develop AI-powered, self-driving systems that will work across its operations, from vehicles within and around its packing warehouses — through to the last-mile vehicles that deliver grocery orders to people's homes. It says it expects the first products to come out of this deal — most likely in closed environments like warehouses rather than the less structured prospect of open streets — to be online in two years.
In other international news, French startup BlaBlaCar has raised a new $115 million dollar funding round. While the company is better known for its long-distance carpooling marketplace, BlaBlaCar has also added a bus marketplace with the acquisition of Ouibus and an online bus ticketing platform with the acquisition of Busfor.
Existing investor VNV Global led the round. Two new investors are also participating — Otiva and FMZ Ventures.
In battery technology news, General Motors is joining the list of big automakers picking their horses in the race to develop better batteries for electric vehicles with its lead of a $139 million dollar investment into the lithium-metal battery developer, SES.
Volkswagen has QuantumScape; Ford has invested in SOLIDpower Group (along with Hyundai Motor Company and BMW Group); and now with SES's big backing from General Motors, most of the big American and European automakers have placed their bets on their battery technology.
Data analytics and driver management systems developer Idelic has completed a $20 million dollar fundraising round to help continue development of its transportation safety products.
The Pittsburgh-based company's flagship Safety Suite product integrates data from multiple technology sources into a single system of record, and uses machine learning to turn fleet data into predictive insights to help fleets manage their safety performance.
Highland Capital Partners led the funding round with participation from AXA Venture Partners. Previous investors that also participated in the round include Birchmere Ventures, Origin Ventures, TDF Ventures and SaaS Venture Partners.
Company to Watch
Every week we highlight interesting companies in the automotive technology space to keep an eye on. If you read my monthly industry intel report, I showcase a few companies each month, and we take the opportunity here on the Friday Five to share some of those companies each week with you.
Today, our company to watch is DealerX, founded in 2013, and located in Key Biscayne, Florida.
DealerX is the premium provider of marketing, data and analytics for the automotive vertical, serving thousands of dealers across all brands, regional ad groups and OEMs.
DealerX has helped automotive retailers save tens of millions of dollars by avoiding fraud and eliminating wasteful ad-spend, while dramatically reducing "cost-per-sale". Dealer customers sell more vehicles at a lower cost-per-sale.
How many vehicles could your dealership sell if a product or service could identify the buyers in your local market? Capturing who they are along with their browsing and location behavior – right down to the vehicles of interest, across any device = PC, Tablet & Mobile device?
DealerX then enables dealers to engage each in-market shopper on their mobile, home and work devices. Dealers can engage with buyers before they've ever visited your Dealership website.
DealerX collects over 20 Billion data points — data that is then refined & mapped to the DealerX "Profile Graph" every day. DealerX offers real-time notifications when your customers start shopping — both online & offline.
——————-
So that's your weekly Friday 5, a quick wrap-up of the big deals in automotive technology over the past week.
It's an exciting time to be in the automotive space, with a ton of deals going on. Make sure you stay tuned in each week to stay up to date on the auto industry's technology M&A activity. I'll keep my fingers on the pulse of deals being done, so I can share updates with you.
If you're an early-stage automotive technology entrepreneur looking to raise money, or an entrepreneur who wants to chat about the best timing and process to sell your company to achieve the best outcome, I'd love to discuss it with you at steve@automotive.ventures.
——————-
People often ask me why I'm affiliated with CBT News.
Besides having an outstanding, extremely talented, and hardworking team up here at the studio, I greatly appreciate the valuable role that CBT News plays in the automotive industry.
Every day, I eagerly look forward to my morning email from CBT News to ensure I'm getting the most up-to-date and relevant information on the industry.
I encourage you to tune in to CBT News to ensure that you're getting the automotive news that matters.
---
Did you miss enjoy this week's episode of The Friday 5? Please share your thoughts, comments, or questions regarding this topic at newsroom@cbtnews.com.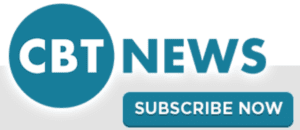 Be sure to follow us on Facebook and Twitter to stay up to date or catch-up on all of our podcasts on demand.
While you're here, don't forget to subscribe to our email newsletter for all the latest auto industry news from CBT News.