Welcome to another edition of The Friday 5 with Steve Greenfield, Founder and CEO of Automotive Ventures, an auto technology advisory firm that helps entrepreneurs raise money and maximize the value of their companies.
Less than a year after announcing a $25 million Series B, Shopmonkey has raised a $75 million Series C led by previous investors Bessemer Venture Partners and Index Ventures, as well as additional participation from returning investors Headline and I2BF Global Ventures, and new investor ICONIQ Growth.
Walking into an auto repair shop can sometimes feel like taking a step into the past. The handwritten notes and receipts, the clunky point-of-sales system and scheduling tools — if those are even there — can make customers feel like they're in the 1990s, not the 21st century.
Shopmonkey is trying to change that by offering a cloud-based shop management software designed for the auto repair industry. 
Driverless technology startup Aurora Innovation has agreed to go public via a merger with Reinvent Technology Partners Y, a blank-check firm led by executives including LinkedIn co-founder Reid Hoffman and Zynga founder Mark Pincus.
The deal represents an equity value of $11 billion dollars for Aurora, and the combined company will be valued at $13 billion dollars. The company is expected to have about $2.5 billion dollars of cash at closing.
The transaction includes a $1 billion dollar private investment in public equity from investors including Baillie Gifford and T. Rowe Price, as well as strategic investments from Uber, PACCAR and Volvo Group.
ChargePoint, one of the world's largest EV charging networks, has agreed to acquire operating software company has·to·be for 250 million euros (OR $295 million US Dollars) to expand its foothold in the European market.
Founded in 2013, has.to.be, in which Volkswagen is a minority shareholder, employs 125 people in Austria and Germany. Its software manages more than 40,000 charging points on the European continent, with access to 250,000 via roaming agreements.
The planned stock-and-cash transaction is expected to close this year, pending regulatory approval. It will be ChargePoint's first acquisition since the company went public in March.
ChargePoint already operates in 16 countries in Europe.
Computer vision startup Algolux has raised $23 million Canadian dollars (or $18.4 million US dollars) in a Series B funding round co-led by Forté Ventures and Drive Capital.
Algolux is using the all-equity capital in an aim to increase the market adoption of its optimization platform for autonomous vision as the global computer vision market is set to boom over the next five years.
Algolux is an artificial intelligence software company that has developed smart camera technology for computer vision systems. Computer vision is a field of AI that trains computers to interpret and understand the visual world. It uses cameras and videos to help systems identify, classify, and react to objects. It is used in a variety of industries ranging from energy and utilities to manufacturing and automotive.
The latest funding round brings Algolux's total funding to date to more than $38 million Canadian dollars. The round was all primary capital and included a diverse set of investors including existing investors GM Ventures, Generation Ventures, and Intact Ventures.
Woven Planet Holdings — an entity created by Toyota to invest in, develop and eventually bring future of transportation technologies like automated driving to market — has acquired HD mapping startup CARMERA for an undisclosed amount.
The announcement comes less than two months since Woven Planet Holdings acquired Lyft's autonomous vehicle unit known as Level 5 for $550 million.
It also follows another HD mapping acquisition — NVIDIA's purchase of DeepMap — that was announced in June.
Under terms of the deal, Carmera will become a wholly owned subsidiary of Woven Planet. The startup's 50-person team will maintain its offices in New York and Seattle and will eventually be integrated into Woven Planet's 1,000-person-and-growing enterprise.
Carmera will essentially become the U.S. outpost of Woven Planet's automated mapping platform team, which is headquartered in Tokyo.
Carmera launched in 2015 with a barter-type business model that uses data collected from a service it provides for free to commercial fleet operators to maintain and expand its primary mapping product. Carmera's main and initial product is a high-definition map developed for autonomous vehicle customers like automakers, suppliers and robotaxis. Autonomous vehicle startup Voyage, which was acquired this year by Cruise, was an early Carmera customer. Baidu also used Carmera's technology to support the open-source Apollo mapping project.
Clarios is aiming for a valuation of up to $10.7 billion dollars in its U.S. offering, as the Brookfield Asset Management-backed battery maker looks to tap into a red-hot IPO market.
Clarios products are used in more than 140 countries, with one in three cars on the road globally using a battery made by the company.
UVeye, an automated vehicle-inspection systems developer, announced a $60 million dollar Series C funding that includes investment from CarMax, W. R. Berkley Corporation and FIT Ventures, along with a group of Israeli institutional investors.
Prior investors include Volvo, Hyundai and Toyota.
The latest round puts its total investment above $90 million dollars.
UVeye's facilities are located in North America, Europe and Asia Pacific. It has offices in Israel, Japan, Germany and the U.S.
UVeye has set up partnerships with dealer groups, auto auctions and vehicle fleets.
Southeast Asia's car marketplace wars are going into high drive. Carsome Group, one of the region's largest online used car marketplaces, said it plans to acquire listings platform iCar Asia Limited in a transaction worth more than $200 million dollars.
Carsome has agreed to acquire 19.9% of iCar Asia from Malaysia internet conglomerate Catcha Group. In exchange, Catcha Group will become a shareholder in Carsome Group. Carsome and Catcha Group have also made a joint proposal to iCar Asia's directors to buy the rest of the company from its shareholders.
Carsome rival CARRO revealed one month ago that it raised a $360 million Series C led by SoftBank Vision Fund 2, boosting it to unicorn status.
Lula, the car insurance startup that calls itself the "Stripe for insurance," plans to triple its team by the end of the year after closing an $18 million dollar Series A financing round led by Silicon Valley venture capital firms Founders Fund and Kholsa Ventures.
Lula will use the funding to increase hiring and bring its service to the nearly 2,000 companies on its waiting list. Several notable investors – including SoftBank Group International, hedge fund manager Bill Ackman, and previous investors NextView Ventures and Florida Funders – contributed to the financing round.
Just as fintech platform Stripe provides businesses with the infrastructure they need to process online payments, Lula provides the software that car rental and car-sharing companies need to process and manage insurance claims.
Launched by twin brothers Michael and Matthew Vega-Sanz, Lula began as a car sharing app for college students. The pair started the concept at Babson College in 2016, and the service – which connected college students with other students who wanted to rent out their vehicles – eventually expanded to more than 500 college campuses nationwide.
Lightico, whose next-generation digital completion platform is used by major companies in the insurance, automotive, telecom and financial industries to help millions of their customers eliminate roadblocks to deal completion, today announced an additional $15 million dollar follow-on Series B funding round led by Capital One Ventures, bringing the total round to $27 million dollars.
Joining the round is Polam Capital as well as previous Lightico investors: lool Ventures, Crescendo Partners Capital, Mangrove Capital Partners and Spinach Angels.
Capital One Venture's financial investment in Lightico, its second in less than a year, comes after scaling Lightico's digital solution to fully digitize its own customer-facing interactions.
Lightico's Digital Completion Cloud allows companies to gather eSignatures, collect documents, perform ID and Verification, accept payment and more in an app-free, secure manner through a simple collaboration window opened on the browser of the customer's smartphone. These happen effortlessly while an agent is on the phone so that typically high-friction interactions such as insurance onboarding or auto loans are completed quickly and easily without the need for email, printer, fax or in-branch visits.
The AI-based traffic management platform NoTraffic raised $17.5 million dollars in a Series A funding round. The company says it will be expanding into dozens of U.S. cities during the second half of this year, and hopes to move into European and Asian markets, as well.
Most traffic intersections in the U.S. operate on technology that was invented a century ago – the simple timer. In a world where AI manages who we chat to, where we shop for clothes, how we access food, the way we move is still programmed based on traffic flow estimates for certain times of the day.
A handful of cities in Arizona, Ohio and California have already implemented NoTraffic's platform, which involves retrofitting intersections with NoTraffic's sensors and IoT, a feat the company claims can be done "in less than two hours."
On each traffic light, NoTraffic installs four AI-based sensors that combine computer vision and radar and have a built-in V2X chip which communicates with a nearby mounted "optimization engine" so that the traffic light can make decisions in real time.
The platform can detect, categorize and track all road users while determining factors like how many cars are in each lane, how many cars will join from the previous intersection, which path will each car take and how will that impact the next intersection. Those computations and decisions are done on the edge, while the synchronization of individual intersections happens on the cloud so the grid can react to real-time road conditions. NoTraffic uses its proprietary software to provide support, updates and upgrades over the air.
Netradyne, a leader in artificial intelligence and edge computing focusing on driver and fleet safety, announced a $150 million dollar Series C funding led by SoftBank Vision Fund 2, with participation from existing investors Point72 Ventures and M12 – Microsoft's Venture Fund.
This financing, along with earlier investments, brings Netradyne's total capital raised to over $197 million dollars.
Netradyne will use the new funding to advance its core technology, expand into new geographies and accelerate hiring across R&D, marketing, and customer support.
Netradyne provides fleets of all sizes with an advanced video safety camera and fleet performance analytics tracking, as well as driver awareness tools to help reduce risky driving behavior and reward safe driving decision-making. Powered by AI and edge computing, Netradyne's Driveri is an advanced vision-based driver recognition and fleet safety solution built to reward positive driving behavior, providing a powerful retention tool in an industry challenged by massive labor shortages.
EV charging company EVgo has acquired Recargo for $25 million dollars in cash. Under terms of the deal, Recargo will be a wholly owned subsidiary of EVgo, which will retain Nick Wild as president and chief executive at Recargo.
Recargo is a sustainable energy data and infrastructure company founded in 2009, 100% focused on the electric vehicle (EV) category.
Their mission is to accelerate adoption and advancement of plug-in car technology.
In international news this week, Spanish car subscription service Bipi has been sold for a reported 100 million euros (or $118 million US dollars), just four years after launch. The Madrid-based startup, dubbed the "Netflix or Spotify of cars", has been acquired by a fellow autos player.
Bipi is a company based in Madrid, Spain offering monthly all-inclusive car subscriptions. Their mission is to replace traditional car ownership with a more flexible and seamless digital experience. With Bipi you can subscribe to your favorite car in less than 2 minutes, keep it as long as you want, swap it or cancel all for one simple monthly payment with everything included — insurance, maintenance, roadside assistance, and tax. Bipi aims to revolutionize the way people across the world access cars.
Companies to Watch
Every week we highlight interesting companies in the automotive technology space to keep an eye on. If you read my monthly industry Intel Report, I showcase a few companies each month, and we take the opportunity here on the Friday Five to share some of those companies each week with you.
Today, our companies to watch are Informed & Motorq.
Our first company to watch this week is Informed, located in San Francisco, California. 
Informed helps banks and governments accelerate their digital transformation with turn-key robotic process automation capable of performing real-time income, asset, identity, residence, and insurance verification tasks. Banks and government use Informed to reduce their manual costs associated with reviewing documents, catch fraud, and cut down on errors when originating loans, opening accounts, and administering benefit programs.
Informed enables automated verification of consumer credit applications in real-time per your lending policies with 99% accuracy.
They help reduce manual costs and errors, achieving over 500% ROI and cutting your workload in half with Robotic Process Automation (or RPA). This helps to accelerate digital transformation within your organization.
Informed helps to catch fraudulent documents, by comparing your documents to millions of verified fraudulent examples in Informed's contributory database and from the Dark Web.
Finally, Informed helps you to deepen customer insights, by unlocking the information in your documents and identifying high-value customers with richer analytics.
Our second company to watch this week is Motorq, located in San Francisco, California.
Motorq provides customers with business intelligence through its cloud-based connected car data and analytics platform.
By seamlessly ingesting, normalizing and analyzing data from both OEM-embedded systems and aftermarket telematics, Motorq's machine learning and AI capabilities make sense of terabytes of otherwise unintelligible data streams, enabling customers to make better decisions.
Motorq has partnered with seven of the ten largest vehicle manufacturers to securely access vehicle data for its customers, including many of the top 300 fleets and top 20 global fleet management companies.
————
So that's your weekly Friday Five, a quick wrap-up of the big deals in automotive technology over the past week.
If you're an early stage automotive technology entrepreneur looking to raise money, or an entrepreneur who is trying to decide whether and when they should raise money or sell their business, I'd love to speak with you.
——————-
So that's your weekly Friday 5, a quick wrap-up of the big deals in automotive technology over the past week.
It's an exciting time to be in the automotive space, with a ton of deals going on. Make sure you stay tuned in each week to stay up to date on the auto industry's technology M&A activity. I'll keep my fingers on the pulse of deals being done, so I can share updates with you.
If you're an early-stage automotive technology entrepreneur looking to raise money, or an entrepreneur who wants to chat about the best timing and process to sell your company to achieve the best outcome, I'd love to discuss it with you at steve@automotive.ventures.
——————-
People often ask me why I'm affiliated with CBT News.
Besides having an outstanding, extremely talented, and hardworking team up here at the studio, I greatly appreciate the valuable role that CBT News plays in the automotive industry.
Every day, I eagerly look forward to my morning email from CBT News to ensure I'm getting the most up-to-date and relevant information on the industry.
I encourage you to tune in to CBT News to ensure that you're getting the automotive news that matters.
---
Did you miss enjoy this week's episode of The Friday 5? Please share your thoughts, comments, or questions regarding this topic at newsroom@cbtnews.com.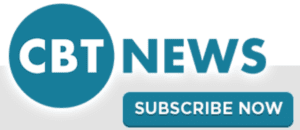 Be sure to follow us on Facebook and Twitter to stay up to date or catch-up on all of our podcasts on demand.
While you're here, don't forget to subscribe to our email newsletter for all the latest auto industry news from CBT News.