Welcome to another edition of The Friday 5 with Steve Greenfield, Founder and CEO of Automotive Ventures, an auto technology advisory firm that helps entrepreneurs raise money and maximize the value of their companies.
I hope everyone has been enjoying the Automotive Ventures March Madness contest on LinkedIn, where you get to vote for which automotive technology company is most likely to achieve a $1 billion dollar exit someday.
We're down to the Final Four candidates, and the bidding has been furious. Beyond bragging rights, I'll have the winning company join us right here on the Friday Five. So far, a couple of our companies have rallied incredibly strong voting support on LinkedIn. 
Digital Retailing provider

Digital Motors

rallied over 600 votes in this last round.

DealerPolicy

(Carwave) received 350 votes, while A2Z Sync rallied over 200 votes.

The last contender in our Final Four is

FuseAutoTech

who received just under 100 votes.
At this point it looks like Digital Motors is the favorite to take the final crown. But as they say, it's never over 'til it's over, so make sure you make each of your votes count on LinkedIn!
Enough about March Madness. Let's dive into this week's technology deals.
No Friday 5 would be complete without a healthy dose of special purpose acquisition companies, or SPACs.
Unless you've been living under a rock, you'll know well that the popularity of SPACs, also called blank-check companies, has soared in the last year. While 2020 saw 248 SPACs go public, raising $83 billion dollars, this year already has recorded 298 SPAC IPOs, garnering $97 billion dollars.
That means since the beginning of last year there are nearly 550 SPACs hunting for merger targets with a total of $180 billion dollars to spend.
The SPAC boom is fueling the strongest start for global M&A since 1980. Deals worth an aggregate $1.3 trillion dollars in the first quarter surpass levels of the dot.com boom at the turn of the millennium.
Needless to say, markets are hot. And we're going to see a lot more M&A activity over the remainder of the year in the auto tech space. 
If you're a regular viewer, you'll know that in addition to SPACs, the online retailer space is red hot.
Last week we announced here on the show big news about the Carvana of the UK, Cazoo's, upcoming public listing at a $7 billion dollar valuation. We also reported that Clutch, the Carvana of Canada, raised a significant funding round.
Another week, another country. This week's news comes out of Mexico, where online used car retailer Kavak.com has reached a $4 billion dollar valuation after raising $485 million dollars in new funding, making the company one of the most highly valued startups in Latin America.
Kavak, which was founded in 2016 and is backed by Japan's SoftBank Group, became Mexico's first tech "unicorn" last October when it reported a valuation of more than $1 billion dollars.
The new capital injection will help Kavak, an online platform for buying and selling second-hand cars operating in Mexico and Argentina, launch in Brazil over the next couple of months.
The online retailing phenomenon has caught fire internationally. We'll see if other countries follow suit with similar news over the coming months.
This week, Self-driving truck startup TuSimple Holdings announced that it was targeting a valuation of more than $8 billion in its U.S. IPO.
The company, which first unveiled the IPO plans in March, said it aims to raise about $1.3 billion dollars by selling about 34 million shares between $35 dollars and $39 dollars apiece.
This week, WaveSense announced a $15 million dollar investment round from Rhapsody Venture Partners and Impossible Ventures for its ground penetrating radar technology that can be used to help a self-driving vehicle more accurately determine its position and navigate.
There is a growing demand for automakers to equip their vehicles with advanced driver assist systems (or ADAS) to increase safety, including autonomous highway driving capabilities. These systems are supported by cameras, radar and lidar sensors and are used today for such features such as Adaptive Cruise Control or Lane Keep Assist.
However before an autonomous vehicle can safely navigate on the highway or any other road, the vehicle requires a high precision, or high definition map of its surroundings. Unlike a typical map that's used for turn-by-turn directions, these maps have extremely high precision and help a self-driving vehicle know its exact position in the world.
The HD maps are created using mapping vehicles equipped with cameras and lidar and other sensors which drive a route to collect the raw data used to build maps.
However map data can also be supplemented using data collected from ground penetrating radar, which is what WaveSense is developing. The company's GPR technology works by sending an electromagnetic pulse directly into the ground below the street. The radar measures unique reflections from solid objects and changes in soil properties deep in the ground, including pipes, roots, rocks, and soil. The reflections of underground features can be used to generate a supplemental basemap for autonomous vehicles.
Companies to Watch
And on to our Companies to Watch! 
Every week we highlight interesting companies in the automotive technology space to keep an eye on. If you read my monthly industry intel report, I showcase a few companies each month, and we take the opportunity here on the Friday Five to share some of those companies each week with you.
Today, our companies to watch are RapidRecon and AutoAPR.
Our first company to watch is RapidRecon, which was founded in 2010 by founder Dennis McGinn.
In today's competitive and velocity-driven market, time is precious, margins are compressed, and there's no room for error. Dealers need a solution to measure and manage their car reconditioning processes.
Rapid Recon provides dealers with data-driven metrics that allow them to identify inefficiencies and bottlenecks, locate their cars, and provide the transparency and accountability dealers need to reduce friction between departments and personnel. Dealers using RapidRecon become more efficient, speed up reconditioning time, and increase inventory turn and profitability.
If your team is still using a spreadsheet, whiteboard, or your fingers, to track and manage auto reconditioning, your process leaks time and money that's wrecking retail gross and inventory turn.
Everyone on a dealer's staff can manage car reconditioning on the fly. When someone completes their work they move the vehicle into the next step with a click of a button, automatically generating a text or email notification to the next person in line, alerting them the car is now ready for their attention.
Rapid Recon gives dealers more selling days, improved inventory turns and higher profit margins.
Our second company to watch is AutoAPR, was founded in 2014 by co-founders Dan Congrove and Dan Mayer and is headquartered in Charlotte, North Carolina.
AutoAPR helps dealers to convert anonymous website visitors into showroom customers. AutoAPR empowers dealers to capture leads and close deals.
Website visitors receive a realistic look at their monthly payments, based on their personal history and the vehicle selected.
Dealers receive the customer's information on the AutoAPR dashboard, allowing dealers  to continue the conversation after they leave your website.
AutoAPR is built for your dealer team to start more conversations and close more deals than any other lead source.
Dealers are using AutoAPR to accelerate their online sales with more qualified leads.
——————-
So that's your weekly Friday 5, a quick wrap-up of the big deals in automotive technology over the past week.
It's an exciting time to be in the automotive space, with a ton of deals going on. Make sure you stay tuned in each week to stay up to date on the auto industry's technology M&A activity. I'll keep my fingers on the pulse of deals being done, so I can share updates with you.
If you're an early-stage automotive technology entrepreneur looking to raise money, or an entrepreneur who wants to chat about the best timing and process to sell your company to achieve the best outcome, I'd love to discuss it with you at steve@automotive.ventures.
——————-
People often ask me why I'm affiliated with CBT News.
Besides having an outstanding, extremely talented, and hardworking team up here at the studio, I greatly appreciate the valuable role that CBT News plays in the automotive industry.
Every day, I eagerly look forward to my morning email from CBT News to ensure I'm getting the most up-to-date and relevant information on the industry.
I encourage you to tune in to CBT News to ensure that you're getting the automotive news that matters.
---
Did you miss enjoy this week's episode of The Friday 5? Please share your thoughts, comments, or questions regarding this topic at newsroom@cbtnews.com.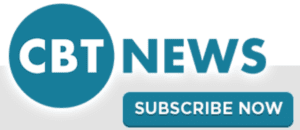 Be sure to follow us on Facebook and Twitter to stay up to date or catch-up on all of our podcasts on demand.
While you're here, don't forget to subscribe to our email newsletter for all the latest auto industry news from CBT News.