Earlier this week: New vehicle prices in October remained steady despite a six-week United Auto Workers (UAW) strike affecting Detroit-Three manufacturing. Hyundai followed Honda and Toyota by announcing a 25% wage increase for U.S. employees in response to the UAW strike. The UAW's tentative agreement with General Motors (GM) is making progress, with around 54% of votes counted in favor, although some facilities voted against it. Used car supply remains relatively stable so far in November, influenced by high new vehicle prices. Honda's profitability soared by 34% in the third quarter of 2023 compared to 2022, driven by recovering supply and chip shortages in North America. Here's a closer look at these top stories and more headlines to stay on top of this week in automotive industry news.
1. New vehicle prices remain stable in October despite changing landscape
New vehicle prices and inventory remained stable in October, even as a six-week United Auto Workers (UAW) strike disrupted Detroit-Three manufacturing and cost the industry billions in revenue. According to Cox Automotive, average new vehicle prices saw only slight shifts in October, falling 1.4% from the previous year but gaining less than 1% from September 2023. The movement, or lack thereof, coincided with the UAW strike, which lasted until the month's final week. However, while there was some concern that the union's battle with the Big-Three would create shortages and undo months of improving affordability, the retail automotive sector appears to have been insulated from any collateral impact. Read More
2. Hyundai follows Honda, Toyota in raising worker pay
Hyundai plans to increase employee wages in the U.S., following in the footsteps of Honda and Toyota as non-unionized automakers respond to the United Auto Workers strike. The South Korean automaker announced Monday it would boost hourly pay by 25% over the next four years. Currently, the company operates only one facility in the U.S., located in Alabama, which employs roughly 4,000 team members. However, another Hyundai facility is under construction in Georiga, where future workers are expected to receive the same wage increases as their colleagues across state lines. Read More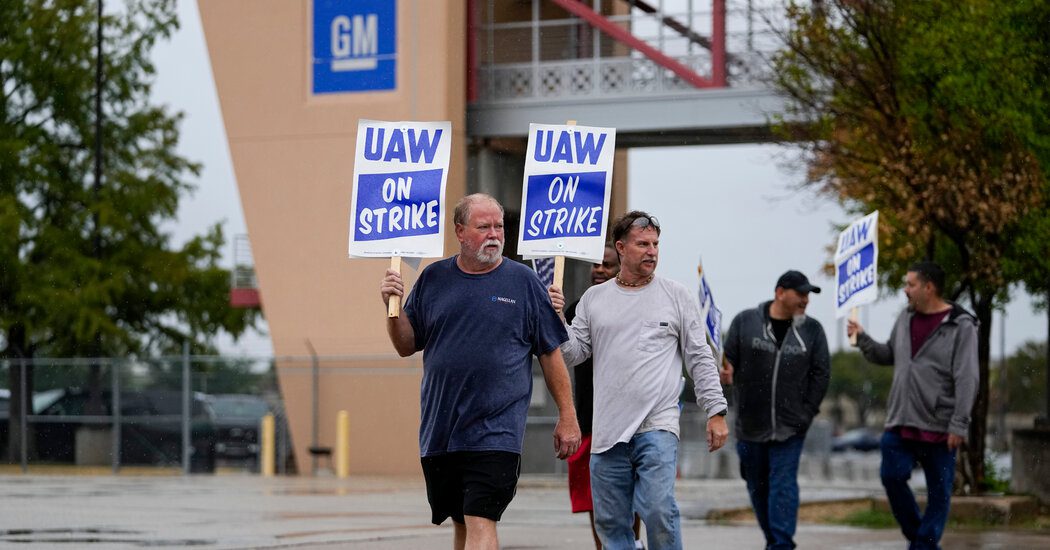 3. UAW vote on tentative contract with GM inches closer to ratification
The United Auto Workers (UAW) tentative agreement with General Motors (GM) is back on track for ratification, as the voting results take a positive turn. As of Wednesday, around 54% of the 30,700 autoworkers whose votes have been counted by the union support the deal. However, results are still pending at several small facilities and a crossover plant in mid-Michigan, which reported a 60% vote against the pact. Previously, several major assembly plants in Michigan, Indiana, Missouri, Kentucky, and Tennessee, representing over 19,000 of GM's roughly 50,000 union employees, voted against the deal, sparking uncertainty. Read More
4. Used car supply remains stable in November, pricing weakens
Used car supply remains under pressure in November, as high new vehicle prices force many consumers to wait on their next purchase. According to Cox Automotive, dealers started the month with a total used car supply of 2.3 million units, up slightly from the beginning of October but down 4% from last November. Days' supply averaged 49 days, unchanged month-over-month but falling five days from the prior-year period. While these shifts were only slight, they highlight the current unpredictable trajectory of the preowned segment. Read More
5. Honda reveals its Q3 profits soar in Japan and the U.S.
As supply and chip shortages continue to recover in North America, Honda's profitability demand has soared by 34% in July-September from 2022. In addition, the Tokyo-based company saw a 17% increase in quarterly revenues to $32 billion and a $1.7 billion profit. According to Honda Senior Executive Officer Shinji Aoyama, production in North America is still recovering from the bottlenecks brought on by the scarcity of computer chips and other suppliers. Moreover, the COVID-19 pandemic also caused disruptions to corporate activities, which have caused production delays for automakers around the globe. However, these issues are gradually resolving. Read More
6. How the Texas car market continues to surprise dealers — Julie Herrera | Toyota of Cedar Park
On this episode of Inside Automotive, host Jim Fitzpatrick is joined by Julie Herrera, dealer principal at Toyota of Cedar Park, president of the Idea Auto Group, and retailer principal of the newly opened City Limits Subaru. Herrera is an experienced retailer and visionary leader with a track record of heading thriving dealerships. Not only has she guided multiple businesses to success, but she has also been a vital source of strategy and expertise to her local retail automotive community as its members keep up with the intensely competitive market in Texas. Now, she discusses her insights into the car sector and the moves she is taking to ensure her company continues to grow. Watch Here
7. The role of real estate in the dealership buy-sell transaction — Sheldon Sandler | Bel Air Partners
On this episode of CBT Now, host Jim Fitzpatrick is joined by Sheldon Sandler, founder of Bel Air Partners. Sandler is a well-known industry leader with years of experience in automotive retailing and manufacturer relations. He has also overseen numerous M&A transactions and helped dealers find the best buyers for their enterprises. Now, he discusses the importance of dealership real estate and how business owners can use their land to attract the best buyers. Watch Here
8. Entrepreneurial strategies to scale your dealership — Jay Abraham | The Abraham Group
On this episode of Inside Automotive, host Jim Fitzpatrick is joined by Jay Abraham, executive coach, author, and founder and CEO of The Abraham Group, to discuss his recommendations for entrepreneurs, so that automotive leaders can utilize them in the dealership. Abraham is among the most sought-after marketing experts in the U.S., with frequent appearances in top magazines, often alongside renowned self-help guru Tony Robbins. In his latest book, "Business Wealth Without Risk: How to Create a Lifetime of Income & Wealth Every 3 to 5 Years," he discusses key strategies for scaling an enterprise without the need for debt or unnecessary risk. Watch Here
9. What falling dealership values mean for the future of M&A
On this episode of Driving Solutions, host Jim Fitzpatrick is joined by Haig Partners Managing Directors Peter Thiel and Jayson Crouch. Haig Partners is one of the leading buy-sell advisory groups in the U.S., overseeing some of the largest M&A deals of the last few years. Both Thiel and Crouch bring years of experience in financial analysis and business strategy to the automotive sector, making their insights invaluable to automotive leaders. Now, they share insights into today's M&A market and what current dealership values mean for business owners. (Sponsored Content) Watch Here
10. Key strategies to prepare for the 2024 used car market — David Simches | Crown Automotive Group
On this episode of Inside Automotive, host Jim Fitzpatrick is joined by David Simches, group used car director at Crown Automotive Group. A veteran of the retail automotive sector, Simches has spent years helping businesses manage inventory, acquisition, and sales operations in the preowned segment. His expertise has helped Crown Automotive Group achieve incredible success throughout multiple markets. Now, Simches discusses the key trends and strategies retailers should know to prepare their storefronts for 2024. Watch Here