I was introduced to a new term recently, "aftersales." After 40+ years in the automotive business I was unfamiliar with the word. Aftersales refers to anything sold to the customer after they have purchased a new or used car from the dealership.
Therefore, fixed ops is better to be thought of as the "Aftersales Department" rather than the Service Department.
So many dealers, general managers, fixed ops directors, techs, and advisors see the service department as the place consumers go to get their oil changed and to get their car fixed when it breaks. They say things like:
"We only write up what the customer tells us they want."
"If it ain't broke, don't fix it."
"The customers know what their car needs."  
In Oklahoma terms, this is just hogwash! Granted, vehicle owners know they need to change oil from time to time and they know when something is broken (like when the AC is blowing hot air.) But they don't know what to do to keep their car from breaking; they don't know what preventive maintenance services need to be done and how often. Therefore the #1 job of your "Aftersales" staff, your techs, and your service advisors, is to inform vehicle owners about the maintenance necessary to keep their car safe, trouble-free, and fun to drive.
Your service staff is, more appropriately, your service sales staff. In fact, if your fixed ops team embraces a sales culture on the service drive and in the shop, your gross profit will increase – as well as customer experience and customer retention. 
Your service team only has one thing to sell: time. Time is your most precious, most perishable, most profitable product. Don't miss that, time is a product, a commodity.
Any new cars, used cars, or parts not sold today will be here tomorrow; but any time not sold today will be lost forever!
Most dealers make 75% gross profit selling time (read that as labor.) For example, if your door rate is $160 an hour, and you pay your techs $40 per flat rate hour, then your gross is $120, or 75%. 
Concerning preciousness and perishability, think of it like this: any cars on your lot that go unsold today, will be there tomorrow. Any parts on your shelves that are unsold today will be there tomorrow. But time that is unsold in your shop today will be lost forever!  
Therefore, your service sales advisor's top priority is to sell time – to fill up your time bank. The goal (NADA benchmark) is to sell 125% of the time bank.
For example, if technicians work from 7 am to 6 pm with a one-hour lunch, they have 10 hours in their time bank (clock hours.) If you have 10 techs, then you have 100 clock hours each day. Therefore, your advisors need to sell 125 flat-rate hours each day. (125%)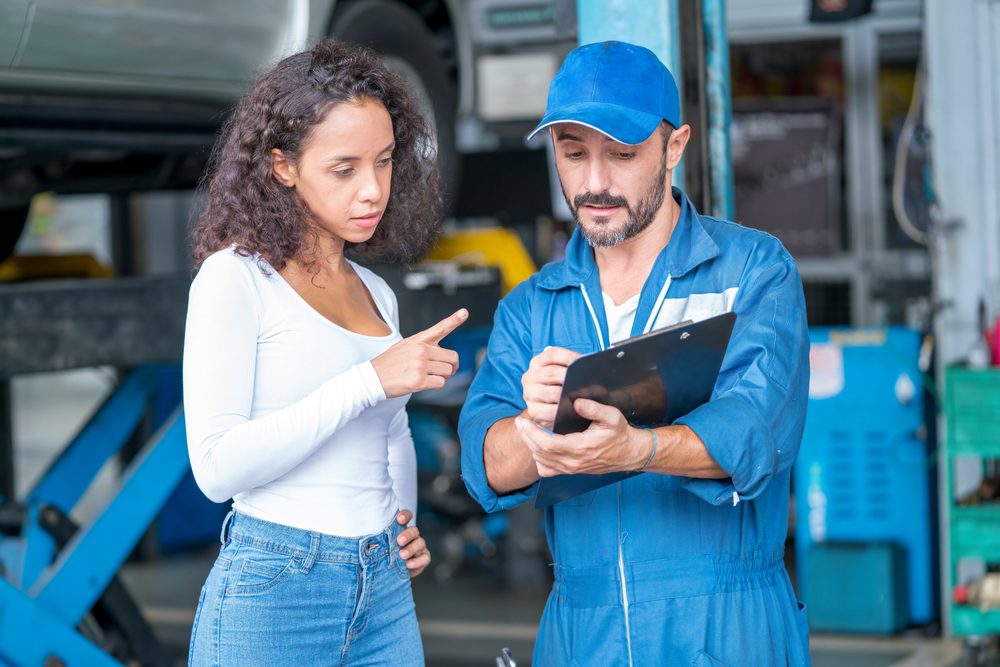 That's not going to happen if they are just sitting around writing up oil changes and fixing broken stuff that rolls in the door. In fact, if your business model is built on fixing broken things – if that is your primary source of revenue – then you need to be on your knees every night praying "Please God, let my customers' cars break tomorrow so we can keep money flowing in the service department!" 
OR, you could build your business model on proactively selling needed, tech-recommended, preventive maintenance services.
Fixing it when it breaks is reactive and very costly to the customer (transmission replacement costs $7,000), but selling preventive maintenance so it won't break is proactive and cost-effective for the customer (transmission services cost roughly $375.)
For decades, I've been beating the drum and touting the profitability of creating a sales culture in fixed ops. If you don't, you won't survive!
Your entire service team must have the mindset, the knowledge, the motivation, the pay plan, and the accountability structure in place to sell maintenance services.
You wouldn't tolerate a new or used car salesman that wouldn't sell cars, so why would you tolerate a service advisor that won't sell service?  
Here are some quick tips to grow your service sales numbers:
Conduct a RO analysis for one day. Divide labor hours into three categories:

Oil Changes & Tire Rotations

Repairs

Preventive Maintenance (This should be over 50% of your total hours)

Create a performance-based pay plan. Don't reward advisors for writing up what the customer came in for (the primary item.) Rather, reward them for the maintenance services they sell (you are running a sales organization, therefore, we celebrate salesmanship, closing the sale, and increasing the revenue stream.)

Promote preventive maintenance services to vehicle owners. Put links on your website, videos in your customer lounge, printed menus to hand out, digital menus to send via email & text, video multi-point inspections, and clear customer communication. The better they understand the benefits, the higher the likelihood of them buying!

Have a weekly service sales meeting. Set goals, track progress, and publicly reward achievement.

Focus on a "Clean Air Car Care" summer promo and pay advisors $10 for every A/C Evaporator Core Cleaning Service they sell. Price the service around $129.95 so you can have enough margin to pay the spiff and still keep your gross, up. In a post-pandemic world, everyone wants to breathe cleaner air and just replacing the cabin air filter won't cut it. But a thorough AC system cleaning will.
Lastly, let me leave you with a couple of pitfalls that dealers, general managers, and fixed ops directors often encounter when building (or rebuilding) a service sales culture.
Accountability: Processes are worthless if they are not followed. Your top priority as a leader is to hold everyone accountable to follow your processes. Every car, every time. It is a non-negotiable condition of employment. You are already doing this in several aspects of your service department right now (for example, part of the process of changing oil includes holding the lube guys accountable for tightening the drain plug. If they don't then they can't work for you.) An advisor who won't sell service can't work for you either!
Technology: There are so many wonderful sales tools available today: video MPI, digital MPI, texting, emailing, VIN-specific electronic menus, kiosks, info-videos in the customer lounge, and on it goes. Warning: don't abdicate your leadership role to technology, it won't work. Technology will not drive the process, the process must drive the technology. Technology won't sell service. Granted, technology will inform, educate, and provide clarity; but it takes one person asking another to buy in order to get a sale.
Make a commitment right now to sell time. Be intentional, stay focused, you can do this! 
Time is here today and gone tomorrow!