It's no surprise that most dealers and their marketing department are at a loss when it comes to tracking their digital marketing dollars. A couple weeks ago at the NADA Show, we had a chance to catch up James Grace, Sr. Director of Analytics, and Jai Macker, SVP of product, at Cox Automotive. Jim asked a few questions about what to expect from the Cox Team this year and what they are doing to solve a big problem for dealers.
To better help dealers understand digital marketing and attribution Cox Automotive introduced nVision.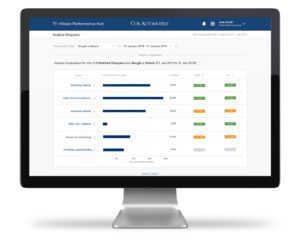 nVision provides insight into the activities that lead to sales so you can improve targeting and optimize your marketing spend. allows dealers to focus on selling cars while the team at COX Automotive tracks manager their full digital marketing spend across all of their channels. Their solution is a turnkey situation for a dealer. Most importantly, if they are a cox automotive client the VinSolutions Connect CRM or Dealertrack DMS it's completely automated. If the dealer is not, don't worry, Cox can also take a sales upload from you and do it for your dealership at no charge.
nVision is geared towards how the dealer wants to run its business and therefore are broken-down into three main aspects.
The first is Analyze. In this section, the dealer can see the status of their current performance. As expected, there is a lot of buzzing happening NADA for sales attribution, luckily that is included in the cox program for no additional fee.
Strategize, the next section is where and how Dealer communicate with Cox Auto about their vision and where they are going.
The last section built into this program for is called Manager. Manager allows the dealer open access to administrative duties or housekeeping. They have full capabilities to change anything at any time from employee names to advertising strategies and more
In the most recent past, they have pushed this through a pilot stage and are receiving fantastic feedback from the dealers who have taken part in this trial run. Wath the full interview to learn more.