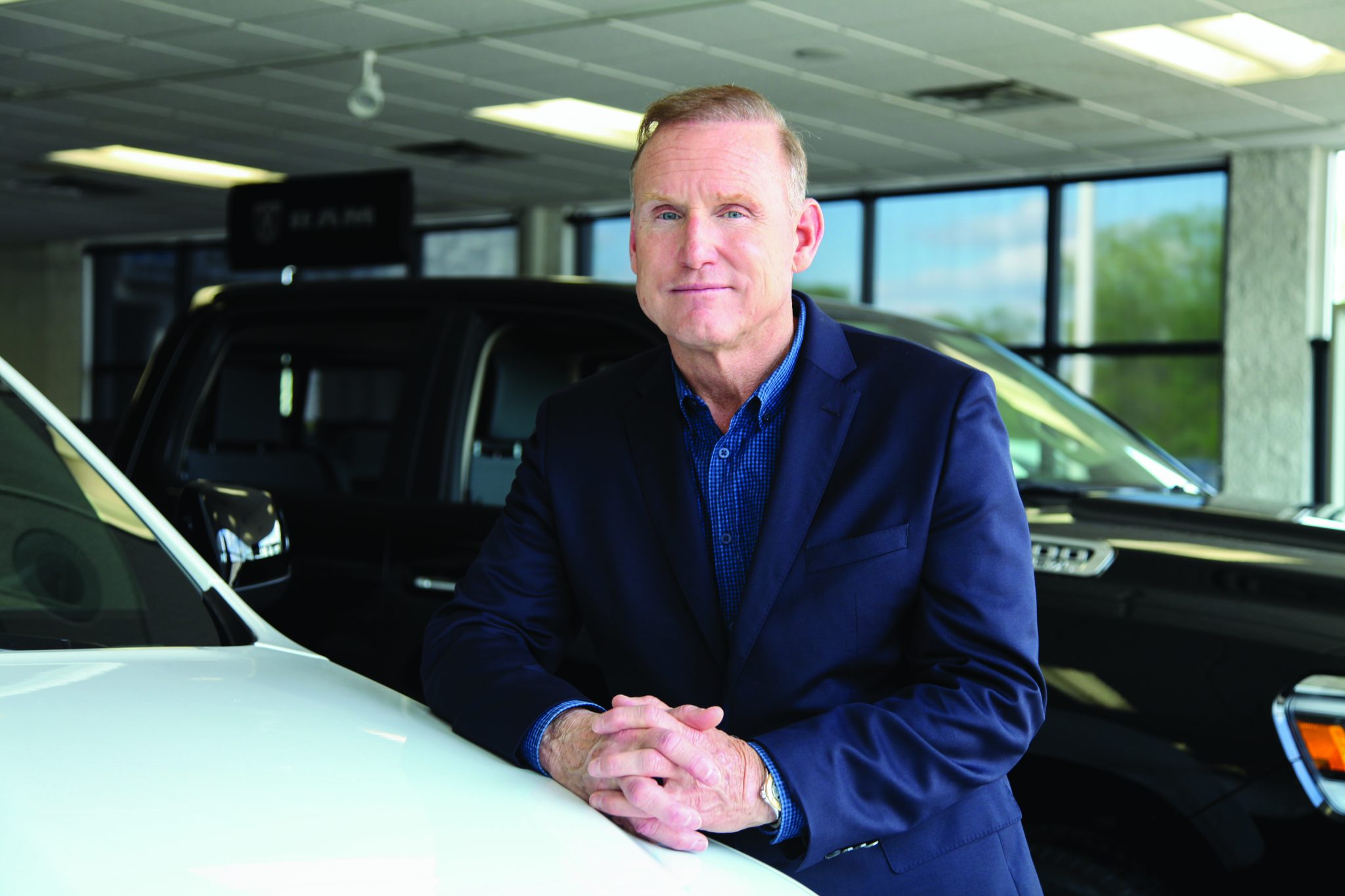 Since Wes Lutz was named chairman of the National Automotive Dealers Association, he has been home only a few days in the past six weeks. But his dealership, Extreme Dodge in Jackson, MI., is having a record year. "Some would say that's an indication that I should stay away more," he says with a laugh. "But I don't have a lot of turnover in the store and every person is proud of NADA and my role in it. They all pretty much came in and said not to worry, they'd take care of business and stepped up. They know how important NADA is to the auto industry and their jobs."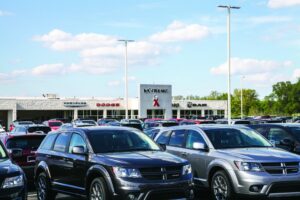 Lutz realizes that he's taking the helm of the industry's most important dealer association at a time where there are "challenges to everything we know about the conventional car ownership world. The market is changing and I want to be part of the group that figures it out. It's like the tech boom in the 80s when computers were born. We're dealing with autonomous vehicles and ride share. I want to be part of that and navigate the industry on that path."
Although he is spending a lot of his time with politicians and public policy, Lutz is open, gracious, serious, honest and balances the bad in the industry with the good and comes out firmly on the side of the dealers — and change.
The Mom Test
"Most of my sales staff are ex general sales manager or ex F&I guys and they're just tired of the system. We've done the new way for 21 years now and we changed because the old selling process was intimidating," he says. "We needed to change and we did." The dealership's website promises that it has "Changed the Car Buying Experience: No Sales Managers, No Finance Mangers, No Pressure."
Lutz's dealership Extreme Dodge Chrysler Jeep Ram switched to a more transparent, hassle-free buying experience years ago. Pricing and financing (both loan or lease) is directly handled with the sales consultant for a pressure-free experience. The customer works with the same person from start to finish and the goal is to get the customer into a car, financed, gassed up, washed and on the way home with a license plate on it in less than half an hour.
He developed the hassle-free process while on vacations when he would take a day and visit local dealerships. "It was very intimidating. As a dealer, I would ask myself 'Would I send my mother into that dealership to buy a car?' If the answer is no, then maybe you're doing something wrong."
Lutz thinks of his 91-year-old mother often. "If you went to Extreme Dodge, you would be treated well. You would not be pounded to buy and you would not be sold anything that you don't need. You would be treated with respect. I get approached by aftermarket product company salesmen and they just hammer me to buy their products. I don't want to represent a company that treats me that way. I want everyone to treat our customers as if the customer was our mother, wife, daughter, sister."
Not in the Family
Unlike many in the business, Lutz did not grow up washing cars or hanging around a family-owned dealership. After graduating from the University of Michigan, he started law school at night and told his father that he wanted to start a business. Together they started Extreme Dodge and after nine years ago he bought his father out. His children are not taking the dealership into the next generation. His daughter is a defense attorney. His son lived in Austin, TX, for many years writing the musical scores for films and recently moved back to Michigan to work in the commercial real estate business.
"Neither one is interested," he says simply. "I think both of them saw how hard I worked. I have a number of people in the industry that I keep in touch with on a regular basis when I'm ready to sell. Which I'm not. I don't think about retiring much."
He does admit that "it's a great time" to sell a dealership. "It's no different than other industries, like banking. Everyone's consolidating and I don't think it's at its peak yet. As these dealer groups are buying there are fewer and fewer independents. I get solicited by a dealer group legitimately twice a year. So exiting the market is not the problem."
Both the small dealership and mega organizations have their advantages, he says. "A large public group has great resources like in HR and compliance. I'm a singlepoint dealer and I can change my direction and focus much quicker than a publicly traded group. I don't feel that I'm not at a competitive disadvantage at all."
While he certainly supports the mega dealerships, he likens a locally owned dealership to the restaurant business. "When you have family or a business associate come to town and you take them out to dinner, where do you take them — to a national chain or a local restaurant where you know the people? You go locally."
The Strength of Dealerships
Even though the business has been under siege from internet sales and the Tesla-model, Lutz is firmly behind the franchise system. "It's been viable for 100 years and it's the most efficient, customer-centric model to deliver vehicles directly to the consumer," he says. "We act as an advocate for the consumers in many cases."
As an example, he recalls the day Fisker went out of business. "They had customers who needed their cars serviced and Fisker was bankrupt, but the dealers' doors were open and they fixed those cars. Same with the days when GM and Chrysler filed for bankruptcy. I'm a Chrysler dealer and I opened my doors and took cars of customers the next day. I didn't know if I was going to get reimbursed by Chrysler or not. They're my customers and I'm opened for business that day as I've been for the past 41 years — taking care of customers."
He also says that one of the biggest complaints he hears from media is that dealers don't want to sell electric cars because the vehicles don't need as much servicing, thus bringing in fewer revenue. "I'm going to tell you with 260 million vehicles on the road, if we replaced every one with an electric vehicle, I'd be a happy dealer. Same with autonomous vehicles. If it's sold through the franchise system, I'd be looking for the opportunity to be a part of that."
In fact, he's not even worried about ride sharing cutting into the car market. "NADA has done extensive polling and we've found that about 10 percent — actually 11 — are interested in using ride share. Customers aren't willing to give up vehicles but will use ride sharing when it's convenient," he says. "We don't look at that as a threat as much as a supplemental means of transportation."
Adding, "It's not going to take away business and I intend to provide the cars for those ride shares — and service them."
While he's keeping his eye on potential rival Amazon coming into the business, he's not especially worried. "It's a relationship business and there's a lot of complicated factors in purchasing a vehicle. You have to get an appraisal, financing. We shop interest rates and can always get a better rate than a consumer can on their own. It's not impossible with Amazon but I think it just might be a purchase so large that it won't succeed. I won't rule it out, but I don't think it's close now."
But What About Changes?
Lutz is honest about some of the challenges facing the dealership, including some coming from the OEMs, such as stair step practices. "We're going to continue to put the pressure on educating the OEMs so they can evaluate the program to see if it's in the best interest for consumers. It's a big issue. NADA thinks it erodes the value, hurts the brand and is unfair to the consumer. The true cost of a vehicles changes at different times of the month and we base our sales on the cost of the merchandise. When that target changes and I have to give out different prices to customers that erodes transparency. I want transparency and I want to know the cost of the merchandise so I can treat every customer the same. It makes no sense. It's a terrible business model!"
The lack of transparency also hurts in the service and used car departments as well, he says. "A lot of the aftermarket business has moved to specialty shops and we're working in our service department on not letting customers go to Pep Boys and Discount Tires. Dealers have to refocus on being customer-centric and not giving customers a reason to go elsewhere."
Lutz believes that transparency in new car pricing is "not necessarily a bad thing. You can find what I paid for a car on over 200 websites. It's not a secret and margins are so tight. We need a bigger piece of the business that people are taking away to others. We have to have better competitive prices and better customer service."
He also believes the industry must step up its ability to attract and retain qualified people. NADA is launching an initiative to attract people by touting the great paying jobs and career potential. "We're doing an educational outreach through our charitable foundation and work with local schools and career centers. It's going to be national. It's a huge problem that we can't find workers."
Of course the technician's role has changed and needs to be much more computer literate than in the past. "We can train for that. Everyone's trainable. The big problem with auto dealers is finding employees with people skills."
Legislative Updates
With so much movement coming out of Washington that affects the industry, Lutz reflects NADA's strong opinions on some issues and others a wait-and-see attitude. "We're just finishing the CFTB (Consumer Financial Protection Bureau) bill, which has been a five-year initiative for us that will correct the overstepping they've had on their ability of oversight. It's a huge initiative and we worked hard on that." He is worried about tariffs on steel that could potentially up the price of a car $300. "It's all still developing and there could be more negotiations but customers are on budgets and they're very tight. We're very concerned about any cost increases on a vehicle."
NADA is still studying the potential impact of the U.S. pulling out of NAFTA (North American Free Trade Agreement). "The jury's still out on that but NADA is monitoring that on a daily basis. And on the potential impact of rolling back CAFE (Corporate Average Fuel Economy) standards for auto makers," he says, "NADA's position is that we want affordable vehicles for consumers to have a choice. Anything that would limit consumers ability to choose a vehicle that works for them or raises the price, we are opposed."
Back Home
Extreme Dodge is having a record year and about 75 percent of sales are RAM pickups or Jeeps; the rest are minivans. "Jeeps are on fire and people want RAM pickups. Everyone wants an SUV now that they're more fuel efficient and come in smaller sizes instead of just big. Sedans, it pains me to say, are on the decline; SUVs are just more convenient."
And, he credits his employees for its success, especially when he's away with NADA. "I give credit where credit is due. I'm only as successful as the least successful person on my team. I really believe that. I'm not the kind of dealer who has to take every penny I make. It's a group and I believe in bonuses and paying well. I appreciate everyone and I value the people I work with."
And, he'll let on to another secret of his success. "I don't make money selling you a car," he says. "I make money on selling you the second, third and every car that you buy for the rest of your life. That's the way to succeed."