Welcome to another edition of The Friday 5 with Steve Greenfield, Founder and CEO of Automotive Ventures, an auto technology advisory firm that helps entrepreneurs raise money and maximize the value of their companies.
We kick off today's show with big news today in the wholesale and remarketing space.
ADESA parent KAR Global has reached a deal to acquire CARWAVE for $450 million dollars.
Advertising Partner

The California-based dealer-to-dealer online wholesale marketplace was founded in 2009, and its network of dealer customers includes stores in Arizona, California, Nevada, Oregon and Texas. The platform allows dealers to take trade-ins and aged frontline inventory and quickly wholesale them, while also sourcing vehicles to purchase.
Co-founders John Lauer and Bill Lauer will stay on with the company, which will continue operating its Escondido, Calif., headquarters.
The purchase is expected to close by the end of the year.
In September of last year, KAR Global announced the acquisition of BackLot Cars for $425 million dollars. More recently, in May of this year, KAR announced the acquisition of Auction Frontier, who provides the industry with auction simulcast solution Velocicast.
With ACV's recent acquisition of MAX Digital, and XLerate Group's acquisition of Liquid Motors, it's an exciting time for M&A in the wholesale remarketing arena.
RepairSmith, launched in 2019, wants to make the process of fixing your car a little smoother through its mobile auto repair service that sends a mechanic right to the driver's home.
The startup is already in seven states and now, with a new round of $42 million dollars in funding, is looking to grow its operations to encompass every major metropolitan area in the U.S. by the end of 2022.
RepairSmith lets customers book an appointment online and have a mechanic perform an inspection or repair from their driveway, a far cry from the conventional auto repair process.
RepairSmith was incepted at Mercedes-Benz AG's incubator program, and the company's first few funding rounds were furnished solely by the automaker.
Now that RepairSmith has a solid footing in multiple metros, with the data to show it's an attractive business, the company decided to bring in new investors TI Capital, Porsche Ventures and Spring Mountain Capital to the latest Series B, in addition to Mercedes.
Koop Technologies, an insurance technology startup specializing in autonomous vehicle and robotics risks, raised $2.5M in seed funding.
The round was led by Ubiquity Ventures, along with Bee Partners, Sure Ventures, WestWave Capital, and a number of strategic angel investors. In conjunction with the funding, Sunil Nagaraj, Founding Partner at Ubiquity Ventures, will be joining Koop's board.
The company intends to use the funds to bring its data-driven insurance platform to more customers in the autonomous vehicle and robotics industries.
Koop is an insurance platform designed for autonomous vehicles, robotics, and machine-centric risks. The company securely collects data from autonomous vehicle and robotics companies and uses it for insurance underwriting, cost of risk, and claims handling purposes in a scalable manner. To date, Koop has partnered with some of the largest insurance companies, with clients in more than 10 different industries.
More insurance news this week as High Definition Vehicle Insurance (or HDVI) has $32.5 million in new venture funding. The round was led by Weatherford Capital, with new investors Daimler Trucks North America and MCVestOnline.com, and continued participation from Munich Re Ventures, 8VC, Autotech Ventures and Qualcomm Ventures.
HDVI provides fleets with the data, tools and coverage needed to reduce insurance costs, increase safety, mitigate risk and improve efficiency.
HDVI is expanding its product portfolio with the addition of HDVI Shift, the dynamically priced trucking insurance coverage that allows fleets to save up to 12% on their monthly premium based on real-time driver safety. HDVI Shift is compatible with a wide range of telematics devices and is provided to fleets alongside HDVI's proprietary data, software tools and apps.
And for our third insurance deal this year, DigiSure, a digital insurance company that caters to modern mobility form factors like peer-to-peer marketplaces, is officially coming out of stealth to announce a $13.1 million dollar pre-Series A funding round.
Since its founding in 2018, DigiSure has built a business around using AI and machine learning to manage big data in real time in order to provide a nuanced risk assessment and more fairly priced liability insurance for individuals renting vehicles. DigiSure has a total of 12 clients, including motorcycle rental company EagleRider, EV rental company Envoy and truck rental company Fetch.
DigiSure says it goes beyond credit and driving history to give users a more personalized quote, and in the process helps operators lower their own insurance costs.
Ample, a San Francisco-based developer of swappable electric vehicle batteries, has raised $160 million in a new funding round.
The company has developed a battery for EVs and an automated process for quickly swapping out depleted batteries for newly charged packs.
The Series C round brings to $230 million dollars the total raised by the seven-year-old startup.
Long charging times that are common at most public and commercial charging stations have dampened consumer and fleet demand for electric vehicles.
Ample says their process can replace a depleted battery with a fully charged one in less than 10 minutes, using an automated process that "works with any electric vehicle" at a cost "as cheap as gasoline."
Ample's financial backers include corporate investors Shell and Repsol as well as energy providers such as Japan's ENEOS and Thailand's PTT Group.
In international news this week, Swvl, a Dubai-based transit and mobility company, will be expanding into Europe and Latin America after it acquired a controlling interest in Shotl – which provides On-demand Shuttles.
Shotl, which is in 22 cities across 10 countries, matches passengers with shuttles and vans heading in that same direction. The company partners with governments and municipalities to provide mobility solutions for populations that are underserved by traditional mass transit options.
Chinese autonomous driving startup QCraft closed the series A+ financing round with $100 million raised. The latest funding was led by YunFeng Capital and Genesis Capital, and also attracted such financing institutes as Longzhu Capital, the venture capital arm of Chinese online-to-offline giant Meituan, and IDG Capital, one of Qcraft's existing investors.
Since the foundation in 2019, QCraft has made headways in building a "Super Factory" for autonomous driving. It has formed an automation close-loop focusing to simulation technologies to efficiently utilize enormous volume of data. In addition, leveraging its full-stack technical capability, the company has launched the self-driving solution "Driven-by-QCraft" dedicated to handling complex urban transport scenarios and available for diverse car models. To commercialize its self-driving technologies, the company has deployed minibuses in nearly 10 cities to provide mobility services for tens of thousands residents.
Companies to Watch
Every week we highlight interesting companies in the automotive technology space to keep an eye on. If you read my monthly industry Intel Report, I showcase a few companies each month, and we take the opportunity here on the Friday Five to share some of those companies each week with you.
Today, our companies to watch are iService Auto and Autozen
First up this week is iService Auto.
iService Auto is a customer engagement company for car dealers that provides software to bridge the gap between car owners and automotive dealerships through trust, transparency, and effective communication.
iService Auto stands behind the value they deliver, by offering dealers a 20% increase in gross profit guaranteed, or they offer a full refund.
If you're looking for innovative tools to help drive more profit in your fixed operations and service drive, it would be worthwhile to check out iService Auto.
Our second company to watch this week is Autozen.
Autozen's tagline is that they are "Where selling your car is easy, fast, and fair."
Autozen has created the most comfortable way to sell your car. Get the benefits of shopping your car around to hundreds of buyers, without leaving your home.
Autozen is a technology and service company headquartered in Vancouver, BC, Canada. It manages a digital marketplace, created to remove frictions, frustrations and safety concerns associated with conventional private used car sales. Autozen sources quality consumer cars, solving a major supply issue for car buyers. Autozen has a large network of car buyers on its platform, who will compete to buy the seller's car so the consumers can get the best price. No haggling, no unfair sales strategies, and no stress.
——————-
So that's your weekly Friday 5, a quick wrap-up of the big deals in automotive technology over the past week.
It's an exciting time to be in the automotive space, with a ton of deals going on. Make sure you stay tuned in each week to stay up to date on the auto industry's technology M&A activity. I'll keep my fingers on the pulse of deals being done, so I can share updates with you.
If you're an early-stage automotive technology entrepreneur looking to raise money, or an entrepreneur who wants to chat about the best timing and process to sell your company to achieve the best outcome, I'd love to discuss it with you at steve@automotive.ventures.
——————-
People often ask me why I'm affiliated with CBT News.
Besides having an outstanding, extremely talented, and hardworking team up here at the studio, I greatly appreciate the valuable role that CBT News plays in the automotive industry.
Every day, I eagerly look forward to my morning email from CBT News to ensure I'm getting the most up-to-date and relevant information on the industry.
I encourage you to tune in to CBT News to ensure that you're getting the automotive news that matters.
---
Did you miss enjoy this week's episode of The Friday 5? Please share your thoughts, comments, or questions regarding this topic at newsroom@cbtnews.com.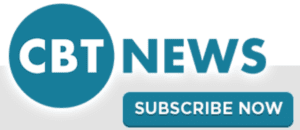 Be sure to follow us on Facebook and Twitter to stay up to date or catch-up on all of our podcasts on demand.
While you're here, don't forget to subscribe to our email newsletter for all the latest auto industry news from CBT News.