Back in my tech company days, apparent no-brainer agreements often got caught up in the legal department. Sometimes months would go by before we'd get a yes or no. Even though many of these deals had the potential to move our program (and revenue) further by galactic proportions, meeting after meeting would pass without an answer.
It was during one of these marathon waiting periods, as we burned money by the truckload, that I first heard the term "business prevention department" dropped. It was a pejorative term but it has stuck with me since.
Today, I see and hear of dealerships doing the exact same thing. Their business development centers keep lining up deals, but the opportunities pile up on a sales manager's desk without action. Whole days go by without the slightest movement. Even though many of these deals could contribute revenue, boost CSI, increase allocation or dump an unproductive business unit, they seem to be regarded as somehow too unimportant to be touched.
Advertising Partner

The Internet opportunities are treated like political refugees by the showroom floor. In the meantime, the lights are still burning, health insurance premiums are being paid, vehicles are depreciating, interest is accruing – and salespeople are bitching about being bored. The very same department that has "sales" in its name is acting like a business prevention department.
Every Deal Needs Attention
All across the country, dealership sales managers are giving up on numerous opportunities before really trying. If you are reading this article and you are the person assigned to crunch numbers on every deal and you do constantly look for alternatives, talk to banks, suggest co-signers, broker trades and giving every single deal (no matter how thin it appears) 100 percent of the time it deserves, then my observations don't apply to you. You already have my respect, and I'll defend you until the day I die.
Rather, I am writing for the others who in fewer than 22 seconds will draw brash conclusions like:
"No gross."

"Too flipped on their trade."

"Sell what's on the lot."

"Ghost."

"Who are you again?"
I understand that sales managers need to make judgment calls. After all, that's the nature of their position. However, it seems that appointments converted from Internet leads far too often don't get the same level of regard as a traditional floor-up does. With studies regularly showing that Internet research continues to increase and third-party lead volume continues to decrease, we can safely conclude traditional and Internet shoppers are becoming indistinguishable.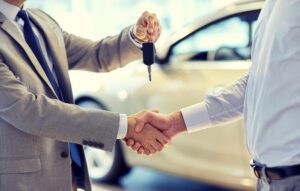 Managing An Online Buyer's Expectations
The problem for most sales managers is that an Internet shopper comes with different expectations. When nearly every dealership website featuring vehicle detail pages that demand the customer click a giant button announcing something along the lines of "Get a better deal by clicking on this," it creates certain assumptions for the customer. These assumptions are further exacerbated by other giant buttons that say "Guaranteed approval!" (further backed up by radio ads, but I digress). Let's not forget that OEM and third-party websites that give customers the ability to build any configuration of vehicles, giving an impression of infinite availability.
The best sales managers understand this reality and have developed tactics to use the abundance of information to their advantage. However, a significant proportion of them are stick in habits from their earlier retail days, effectively waiting for that lob pass for an easy alley-oop slam-dunk. As we know, prejudices die hard. In this case, they are costing dealerships money.
Examples Of Big Mistakes
Here are a few real life examples that took place at my company's client dealerships in the span of one just week:
A call to confirm availability (of a 2015 unit, so the inquiry was totally justified) at a sister store took a day-and-a-half to get a response. I'll give you one guess as to whether the customer has responded to any subsequent calls or e-mails.

A first-time buyer lacked established credit, but her stepmother was very well known to the dealership. Still, the showroom staff sent the customer along on her way without suggesting a co-buyer.

A sales manager told an agent to send details about a crossover vehicle rather than the sedan that was requested. Why? Because the dealership didn't have any sedans on the ground (but a quick search on the consumer-facing OEM website confirmed nine in the immediate vicinity). It looked like the sale department decided the request was just too much effort to deal with at the time (I'm fighting back the urge to vomit).
These are just a handful of scenarios that play out during any given week at other dealerships across the country. The time and energy of the Internet agents (not to mention the dealership ownership's investment in technology, digital advertising and wages) is wasted on the apparent belief of the sales staff that something better is going to walk through the door.
How To Tackle The Problem
The good news is, there are ways to keep a lid on such mistakes.
First, your dealership's leaders and managers need to take a hard look at the business and admit if they are in reality running a "business prevention department." If you come to this conclusion, please have a drink on me.
Next, document everything (this is why you have a CRM). If overlooking valid leads and deals is a pervasive issue, keep written notes in case things, uh, "disappear" inside the computer. Meticulously track the times as well as what type of activity was necessary from the manager (dealer locate, appraisal, etc.), and log the results.
Then, set performance goals for the offending sales manager (X activity should take 15 minutes, Y activity should take 30 minutes, etc.). That way, these expectations can be passed down to the customer. If the sales manager is not amicable, don't be afraid to involve a general manager or dealer principal. Everyone has a job at the dealership, and accountability is a two-way street.
Too many sales managers still measure their personal worth on the amount of gross they can make on a single deal, even if they are blowing off tens of thousands of dollars of dealership revenue by overlooking numerous other opportunities. Those small transactions collectively add up to a nice pot of lost service revenue and repeat and referral business. Sales managers who act this way flatly are robbing the business of its future.
Rather than manage the progress of sales, sales staff are terminating many potential deals before they have a chance to generate any revenue or profit. Every opportunity to sell – regardless of its source, origination or required effort – deserves the utmost attention from anyone with "sales" in his or her job title.
Dealerships cannot let a "business prevention department" stand in the way of their success any longer.