In the thick of the coronavirus pandemic, car sales have taken a tumble. Cox Automotive's Auto Market Weekly Summary estimates that new car sales are down 57% year over year in mid-April with used car sales declines slowing by just over 50%. That's actually positive news, though, since China's car sales were only about 1/10th of normal earlier this year when the pandemic was raging.
As of Friday, April 17th, car sales and leasing in the United States have been designated 'essential business' and it looks like the industry might be ripe for a small resurgence. With millions of Americans out of work and economical uneasiness the average sentiment, a new stimulus package has been in the news on several fronts – a new 'cash for clunkers' program.
Purpose of a Cash for Clunkers Program
The last federal 'cash for clunkers' program was implemented after the 2008 recession in a bid to kickstart a crucial economical sector. Incentives were given broadly for car owners to retire their rides and buy a new car. That's a similar structure to what's being suggested by carmakers and industry leaders.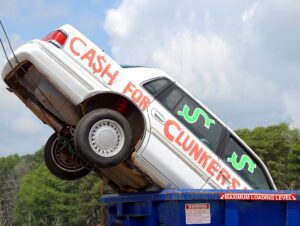 Advertising Partner

In an interview with Bloomberg, Mark LaNeve, Ford's vice president of U.S. marketing, sales and service, said, "We think some level of stimulus somewhere on the other side of this would help not only the auto industry and our dealers, which are a huge part of our overall economy, but will help the customers as well. Cash for clunkers was very effective at that time. It would be nice to think we could have something equally as effective for 2020 when we get out of this because it was a great program."
It goes well beyond the United States also. In Germany, senior politicians and auto industry heads have put out feelers for a 'cash for clunkers' program also. VW brand Chief Operating Officer Ralf Brandstatter said, "A sales support can be a sensible contribution to climate protection." Brandstatter also suggested the program could be piggybacked with a CO2 emissions-reducing initiative, killing two birds with one stone. 
Will It Help?
On its own, a 'cash for clunkers' program would provide a much-needed shot in the arm for the automotive industry in the short term. As it did in the previous program, it could help government achieve a dual purpose: get the public spending money and restoring confidence in the economy while taking some of the pollution offenders off the road.
Rolling out a car sales stimulus package on its own would likely be met with only mild success, however. Since the pandemic started to affect the US, unemployment rates have risen sharply. Millions have applied for unemployment in April 2020 alone. A concerted effort to stimulate the economy by the Trump administration on all fronts would be a best-case scenario.
Like in the previous 'cash for clunkers' program, the effect on the industry in the future must also be weighed carefully. It could spark a wave of lease returns and trade-ins that would tank the used car market and put undue strain on carmakers doing their best to recover from months of suppressed new car sales.
With so much chatter in the auto industry about a stimulus package, one could reasonably expect something to come in the near future.
---
Did you enjoy this article from Jason Unrau? Read other articles from him here.
Car Biz Today, the official resource of the retail automotive industry.

Be sure to follow us on Facebook and Twitter to stay up to date or catch-up on all of our podcasts on demand.
While you're here, don't forget to subscribe to our email newsletter for all the latest auto industry news from CBT News.