The sudden shift from traditional marketing to e-commerce can be jarring. The transfer of business from brick and mortar to the virtual world brings with it a host of new jargon and skills.
It also brings opportunity.
In the traditional model of sales, while there was certainly advertising, by and large, the focus was on bringing customers in to you. With e-commerce, that focus changes to your dealership meeting the customer wherever they are: at home, work, waiting for their plane–anywhere they're using a device.
Not only do you get the opportunity to interact with customers anywhere, with e-commerce dealerships:
Have access to customers at all hours of the day and night

Can individualize connections

Are able to re-market to close more deals
What is automotive e-commerce?
Any dealership utilizing digital means to solve problems and make sales is engaging in e-commerce. Carvana, Vroom, Shift are all examples of automotive e-commerce. So are local dealers who throw up a Facebook page filled with videos of cars they sell.
Why should dealerships Increase Their online strategies?
At this point, nothing short of an all-out apocalypse will unplug humanity from the internet. A recent McKinsey Center for Future Mobility article pointed out that digitization is rapidly changing how people purchase cars. While at this time almost no new-cars are bought online and only 6 percent of used cars are, McKinsey & Company predict a jump in both sectors, 10-25 percent and 25-50 percent respectively.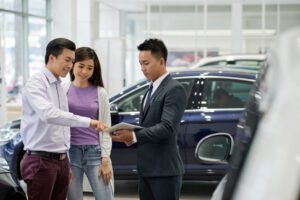 This prediction makes sense when paired with the fact that millennials are poised to take over the car market. Millennials are a growing audience who have shown a preference for virtual interaction and purchasing. Farseeing dealerships are gearing marketing towards them, and that means going where they hang out: online.
Another factor to consider is that as more industries digitize, people begin to require the conveniences of one market in all sectors. IBM discovered this in a 2014 executive report. Connectivity, quick response times, and individualized experiences are now customers' base expectations, not just perks
How should dealerships engage in e-commerce?
For those just getting started, here are two effective ways dealerships can engage with customers via e-commerce.
#1. Go to the people
By now, everyone and their grandmother is spending considerable amounts of time on social media. According to Business Insider, 20 percent of online time is consumed by the medium, with 14 percent of that total devoted to Facebook.
Social media is proving to be a powerful marketing tool when used correctly. Those harnessing it should consider their audiences and content carefully to curate material that will generate interest. They should also know that social media requires a time investment: for there to be a benefit, users must feel that there is engagement. Active participation by the dealership is a requirement.
#2. A video is worth a thousand words
David Mogensen, in a Think With Google article, makes a compelling case for video engagement. The search engine found that "69 percent of people who used YouTube while buying a car were influenced by it — more than TV, newspapers or magazines."
Consumers are particularly looking for video content of test drives, walkthroughs, and features.  Make it easy for buyers to find your videos and invest time, thought and quality into them. Providing this content will strongly motivate shoppers from the start of their research, eventually leading them to your lot.