With almost all car shopping done in the virtual space, dealers are seeing an increased value in their BDC. With this success, it looks like more and more dealerships are looking to bring the same BDC model over to the service department for even larger growth. Joining Jim Fitzpatrick on CBT News today is Sarah Vantine, Fixed Operations BDC Director for Scott Clark Auto Group out of Charlotte, NC. Sarah has built their service BDC from scratch, and her team has produced a 15 percent increase across three dealerships.
Sarah attributes her dealerships' success to an empowered staff who are able to price out all of their available services and answer all customer questions about maintenance costs for their specific vehicle.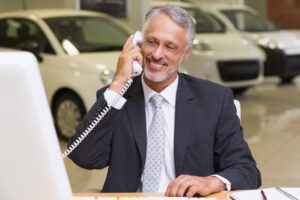 Sarah and her team are customer focused and want to ensure that the customer receives all of the information that they need from that one call. Taking that service a step further, the BDC staff can also book rental car appointments for the customer too, making the service experience very convenient. Ultimately, they try to make each customer interaction when they call in, as user-friendly and as quick as possible, thus eliminating the hurdles they encounter at other dealerships.
So, who should you hire for your BDC? Sarah says she looks for somebody whose passion is people, and they don't mind having those extended, informative conversations. They must also be very enthused when someone calls in, and very meticulous with the processes and the information that they give the customer. They need to make sure that the customer has what they need in order to make the most informed decision possible.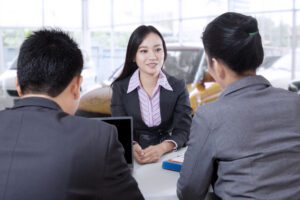 Properly training BDC staff is crucial as well. From start to finish for all three brands, new hires must go through a 90-day process that consists of a mix of classroom training and hands-on training. Near the end of the course, new hires will work under a mentor, and listen to their mentor have an actual conversation on the phone with a customer. There also needs to be role-play training, recall and warranty knowledge, and payment settings information.
As for Sarah, her career began when she stumbled across a dealership in South Carolina, and interviewed for a sales position with no previous experience. When asked by here interviewer why he should hire her, Sarah replied confidently, "Well, if you don't hire me, I'll get a job next door selling cars, and sell circles around you." And as they say, the rest is history.
With that in mind, Sarah has hired a diverse blend of staff, and she is passionate about talking to women who have never considered a career path in the auto industry. She talks to them about all the amazing opportunities it can afford, and enjoys finding talent in unlikely people.
But the real key to this whole thing Sarah says, is the teamwork between departments, and the relationships that are built from all positions across the dealership. Wise words from one of Automotive News 40 Under 40.
[Originally aired 10/15/18]