Every boss knows that running a car business takes great leadership, excellent customer service and skilled staff. But what do you do when every auto retailer on the block has all three qualities in spades? Let's face it: being competitive in the auto business is difficult. It's an industry filled to the brim with talented, street-smart professionals who know how to keep their customers coming and their operations going. Succeeding where others don't is hard when everyone succeeds at the same things.
However, standing out from the rest doesn't need to be a challenge. A dealership's most important asset is its people: the customers and employees who keep the lights on. A business which can find a way to better serve its clients and motivate its staff will automatically be placed miles ahead of the competition.
Digital Dealership System is exactly that: a way to help a dealership stand out by taking even better care of its clients and encouraging its teams to perform to their utmost ability. Breaking from the rank and file is now easier than ever.
So what is a Digital Dealership System?
Digital Dealership System is a leading technology provider of digital signs for the modern dealership. It provides the most comprehensive suite of tools in the country, putting you in touch with products that seamlessly connect frontend and backend operations, while wowing customers at every step of their journey. Every package is customized to suit the layout and needs of each dealership location, giving business owners control over their branding.
How can Digital Dealership System work for me?
When you work with Digital Dealership System you get access to a range of tools which help your business in three ways: customer experience, employee motivation and management organization. Let's examine the services and products in more detail.
Customer Experience
You only have a short time to make a distinct impression on your customers. As soon as they walk in the door, everything they interact with could become the basis for their decision to return. Making sure clients see the right messages, at the right time and place is essential for earning their patronage, but many dealers are so focused on generating online engagement, that they have little time to spend on in-dealership marketing.
Digital Dealership System takes care of the process for you with our frontend, customer-facing services. When you work with us, you can be confident your clients are seeing the messages that work best for them and you. Here are just some of the products we offer.
Showroom Digital Signs
Whether in the sales office, waiting room or showroom, displays which show customers the information they need and the promotional material you want are invaluable for the in-dealership experience. Keep customers occupied, informed and impressed with displays customized to show client data such as wait times, vehicle status, sales appointments and more. Leave a distinct impression with an eye-catching video wall in your showroom, playing your preferred promotional material. Whatever your dealership's signage needs are, Digital Dealership System can find you the perfect match.
Lounge Room TVs
Entertainment mixed with promotion is a powerful in-dealership marketing tool often overlooked by fixed operations-oriented dealerships. Digital Dealership System works with your business to bring custom live TV to your clients. Those waiting in the lounge can enjoy sports or movies, while still keeping track of their vehicle's status through live, on-screen updates. Commercials for your dealership can replace the advertisements played on each channel, to make sure you aren't accidentally promoting your competition.
Service Digital Signs
Consumers today value transparency over anything else. Digital signs improve the trust between your dealership and its clients by showcasing up-to-date pricing and service rates on your displays. You can even showcase how your offers compare to the competition, all while customers keep track of their service progress.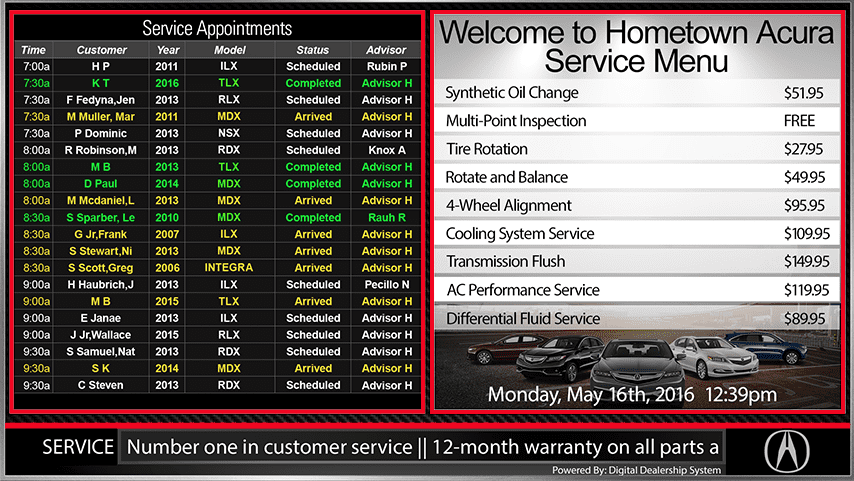 Employee Motivation
Keeping staff energized can be a challenge. Salespeople can get easily discouraged when it seems their boss isn't paying attention. Those new to the job can feel overwhelmed, with no way to know how their performance compares to their colleagues. It's important for you and your team to keep track of progress, so that achievements can be celebrated and efforts concentrated. Digital Dealership System helps you do exactly this, through products which keep your departments keyed in and focused throughout the day.
Sales Leaderboard
Digital Dealership System's Sales Leaderboard provides constant feedback on how close your staff is to achieving their goals, while also helping your staff keep track of your dealership's top performers, online sales, industry trends and more. Employees can see their progress, the business's customer satisfaction index, and even stay up to date on the performance of competitors, making sure they stay on top of your dealership's needs.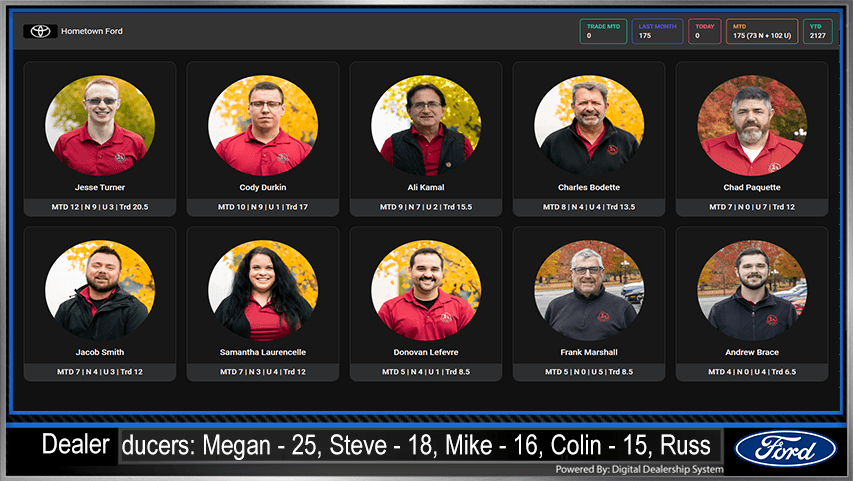 Service Leaderboard
Your fixed operations staff are just as important to the dealership experience as your customer service team, even though they may interact with clients for shorter periods of time. The service leaderboard keeps your technicians and service advisors up to date, polished and on time with visual information on production, effective labor rate, gross/net values, appointment schedules and more. Your service operations are one of the most fast-paced parts of your business, but Digital Dealership System makes sure your team doesn't lose track.
Management and Organization
Overseeing any team is a challenge, but in a dealership, where multiple business operations are at play, it can be downright impossible without the right tools. Thankfully, a solution is readily available.
Digital Dashboard
One of Digital Dealership System's newest products is the Digital Dashboard, a one stop shop for managers to keep track of all their departments. The dashboard lets you view the sales and services leaderboards, online leads and follow ups, up to date financing and insurance information, along with technician tracking. The product also integrates with widely-used dealership and customer relationship management systems, making it easy to migrate data between platforms. For dealership owners, the dashboard is essential for keeping your finger on the pulse of frontend and backend operations.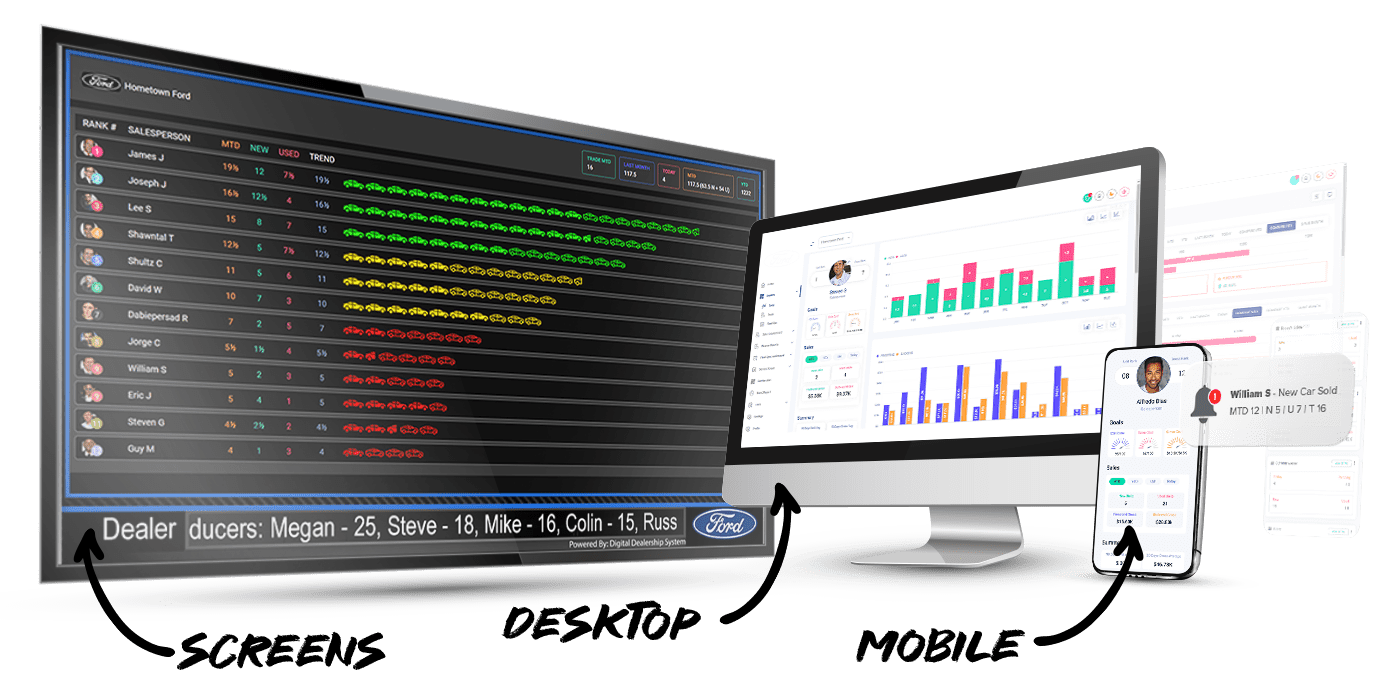 Mobile App
Keep track of your dealership on the go with the Digital Dashboard mobile app. Whether working from home, on vacation, or just away from your desk, your phone can now give you control over your business operations with just a few taps.
These are just some of the ways Digital Dealership System can help your business stand out from the competition and improve your company's relationship with its clients and staff. By helping managers keep track of business operations, giving sales and service staff a way to monitor their performance and making sure customers have the best experience possible at your location, our services will keep your dealership at the front of everyone's minds. If you're a small to mid-sized dealer that wants to increase store profitability, customer retention and customer satisfaction index, you can always expect to elevate your experience when you work with Digital Dealership System.
If you'd like to learn more, you can visit our website here to schedule a demo or appointment. Digital Dealership System is also going to the 2023 NADA show this month! Catch us at Booth 949 from January 26-29 to hear more about our services and how your business can benefit from our help.
---
Did you enjoy this article? Please share your thoughts, comments, or questions regarding this topic by connecting with us at newsroom@cbtnews.com.
Be sure to follow us on Facebook, LinkedIn, and TikTok to stay up to date.
While you're here, don't forget to subscribe to our email newsletter for all the latest auto industry news from CBT News.