Welcome to this episode of The Friday 5 with Steve Greenfield, Founder and CEO of Automotive Ventures, an auto technology advisory firm that helps entrepreneurs raise money and maximize the value of their companies.
Well, it's the first week of the month, and that means that we've published yet another Automotive Ventures Intel Report.
In this month's Intel Report, I provide our readers with an overview of the automotive Agency Model.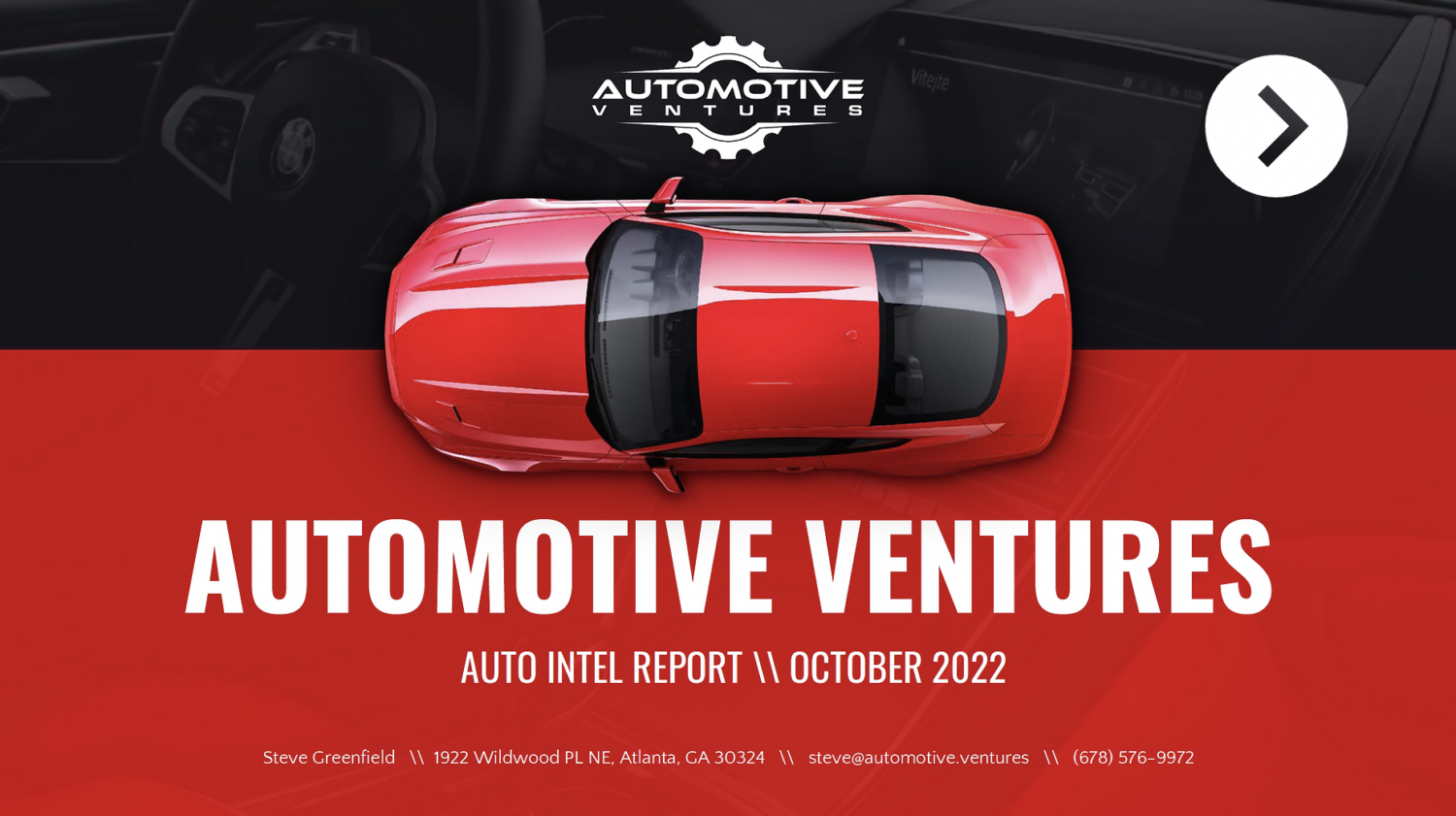 We're coming off the two most profitable years ever in automotive retail, and if we've learned any lesson, it's that artificially limiting supply can dramatically drive profitability.
The automakers have taken notice and have a keen interest, going forward, in both limiting supply and providing the consumer with pricing transparency while eliminating discounting.
OEMs have generally decided that they'd like to control more of the consumer experience, especially as shopping and buying behaviors shift online.
Automakers are attempting to redefine themselves as technology players, as the vehicle's operating system, software-enabled over-the-air (OTA) updates and subscription services and enhanced autonomous ADAS systems are going to increasingly differentiate how consumers decide on which makes or models to buy.
Automakers are planning on a future where the "software-defined vehicle" enables a new wave of subscription products to be sold to the driver post-purchase (think of things like horsepower increases, activating rear heated seats, or unlocking range on a battery). Over-the-Air (or OTA) updates to the car's software will reduce visits for service and potentially enable far stronger loyalty and customer lifetime value.
OEMs are also concerned about the literal hundreds of new automakers that have emerged in markets like China over the past few years, many of whom will have global brands and may bring the fight into markets where legacy OEMs have enjoyed defensible market share.
The legacy automakers have committed to spend billions of dollars to retool production lines from internal combustion engines to electric in an anticipated bet that consumer demand for EVs will continue to grow strongly.
Automakers are taking the opportunity, as they transition to EVs, to redefine the consumer experience and the distribution channel.
In many cases, the legacy automakers are looking at new online-only OEMs (such as Tesla, Rivian, and Lucid) and are exploring how best to mimic elements of their business models. 
Automakers are feeling that the strategic direction of their automotive retail model will likely determine the future success of the entire company. And they feel a sense of urgency to try out new retail models in the short term.
The "Agency Model," while not consistently defined, is an evolution away from a more typical franchised dealership model toward "agents" who sell products on the OEM's behalf. This model is attractive to the automakers because they see the potential to reduce operating costs (primarily marketing and inventory expense), eliminate discounting (theoretically, consumers pay the same price at every dealership), and normalize the customer experience.
Retail partners often remain involved but in a new role as "agents" that receive a commission or handling fee for providing certain services. OEMs interact directly with customers and take responsibility for the sales transaction. The dealer remains the face to the customer but is no longer the contractual partner and acts as an agent.
Many of the big consulting firms are pushing the agency model for the benefit of OEMs, projecting that the transition may help them realize up to 8% of the retail price inefficiencies, through:
Elimination of discounting (all dealers will price new cars identically, at MSRP)

Reduction of dealer and consumer-facing incentives and rebates

Centralizing and eliminating "back office" costs

And, Elimination of headcount
The agent model offers OEMs the chance to control the sales channel, gain direct customer access, control prices, and increase sales efficiency.
For dealers, the direct sales model may come with benefits. If all new vehicles sell at MSRP in the future, dealers won't have to worry about margin-eroding discounts. If they don't have to hold inventory in stock, their carrying costs will be reduced. This may even mean less investment in real estate.
With larger dealer groups, receptivity to the agency model increases, while the concern goes down. This is due to the fact that bigger groups are more likely to be the preferred channel of distribution (vs. smaller players), will have more say in strategic decisions, and have a greater influence and "voice at the table" to partner with OEMs.
We are seeing evidence of automakers moving more quickly towards an Agency Model in international markets.
Earlier this summer we saw Stellantis terminate sales and service contracts with European dealers for its 14 brands, effective June 2023. And Mercedes-Benz announced plans to cut 15 to 20% of its dealerships in Germany and about 10% of its dealerships globally, as part of a broad overhaul of its distribution network.
Toyota has piloted a transition to the Agency Model in New Zealand, as has BMW in South Africa. And Volkswagen is planning a direct/agency sales model for their new all-EV ID. models in Germany.
But we've also seen evidence of friction in this transition. There are currently lawsuits brought by both Mercedes and Honda dealers in Australia against their respective OEMs, as both automakers pushed through an evolution from franchise to agency model.
Back here in the U.S., concern exists among dealers that OEMs may "spin off" the EV divisions of the legacy business and try to apply a different arrangement/agreement with their dealers/agents. This is why VW's announcement of the Scout brand raised eyebrows, as did Ford's announcement just before NADA this year about the separation of their EV and ICE divisions. More recently, Ford announced that they would support three tiers of dealers: ICE-only and two different EV tiers.
So, where does all of this leave the franchise dealer?
These trends may fundamentally reshape the automotive value chain, drastically impacting the economics of the dealer. Potentially disruptive trends across the industry will continue to accelerate and will require dealers to respond in how they position their businesses in the future.
What we know is this: dealers will continue to play a crucial role in delivering on growing customer expectations for a seamless, multi-channel purchasing and ownership experience…and OEMs will require healthy dealer networks in order to deliver on these customer experiences.
Dealers need to remain vigilant: staying abreast of the news cycle, attending their dealer meetings, and looking for nuances in communications from their OEM. Staying lean and nimble is going to be important, as will be keeping a mindset to embrace change and being ready and open to adapt.
What's unclear to me at this point is that all of this is predicated on automakers being able to control their historical urge to produce more vehicles in a race to win market share and to run their factories at full capacity to recover huge fixed costs.
As OEMs take the inventory risk on their balance sheet (in contrast to the historical model of "wholesaling" new cars to dealers as soon as the vehicle is off the production line), what kind of tolerance will they (or the Wall Street analysts who cover their stocks) have for inventory backing up for the inevitable EV model that is a "dud" and isn't received well in the market? Only time will tell. 
If you're interested in hearing more, head over to AutomotiveVentures.com and subscribe to the monthly Intel Report.
Companies to watch
Every week we highlight interesting companies in the automotive technology space to keep an eye on. If you read my monthly industry Intel Report, I showcase a few companies each month, and we take the opportunity here on the Friday Five to share some of those companies each week with you.
SKAI's uses artificial intelligence and silhouette recognition to transform video surveillance into action items. Measure, manage and monetize blind spots.
SKAI is like having your home security Nest app at the dealership – only with true AI bringing the cameras to life!
The reason that I love SKAI is that up until now, the cameras within dealerships haven't been enabled to unlock additional value. The promise of SKAI is that dealers will be able to configure their own trigger events, whether that's a customer who isn't being attended to, or even a customer who slips and falls within the dealership. I'm certain that dealers will innovate new use cases that can be triggered by applying AI and image recognition to a dealership's existing cameras.
You can check out SKAI at www.SKAIvision.com.
Betterfrost is using cutting-edge science to master defrosting. BetterFrost uses smart, high-power pulses of energy to remove ice in a fraction of the time and energy required with conventional methods.
The reason that I love BetterFrost is their promise of giving back hours of productivity lost as car owners huddle outside to scrape their windshields; reducing Thousands of Accidents that are reported each year from motorists inadequately clearing their windshields for proper vision, and potentially adding Miles of Electric Vehicle Range that are lost as batteries are drained to clear windshields.
You can check out BetterFrost at www.BetterFrost.com.
——
So that's your weekly Friday 5, a quick wrap-up of the big deals in the automotive technology space over the past week.
If you're an early-stage automotive technology entrepreneur looking to raise money, or an entrepreneur who is trying to decide whether and when they should raise money or sell their business, I'd love to speak with you.
Thank you for tuning into CBT News for this week's Friday Five, and we'll see you next week!
---
Did you enjoy this week's episode of the Friday 5? Please share your thoughts, comments, or questions regarding this topic by connecting with us at newsroom@cbtnews.com.
Be sure to follow us on Facebook, LinkedIn, and TikTok to stay up to date.
While you're here, don't forget to subscribe to our email newsletter for all the latest auto industry news from CBT News.