Welcome to this episode of The Friday 5 with Steve Greenfield, Founder and CEO of Automotive Ventures, an auto technology advisory firm that helps entrepreneurs raise money and maximize the value of their companies.
Earlier this week I published the August Intel Report and introduced the Automotive Ventures Retail Risk Assessment.

The goal of the Retail Risk Assessment will be to track the trends impacting the industry, and continuously readjust and report on both probability and potential magnitude of these trends as they evolve. 
At Automotive Ventures, we aim to work closely with the dealer body to develop roadmaps for action to prepare for and neutralize some of the bigger threats exposed by the Risk Assessment.
My hope is that monitoring these trends on behalf of the industry should allow participants to be better informed and prepared for the future. Staying vigilant and on top of these trends will help industry players stay competitive and ultimately thrive in this accelerating period of change.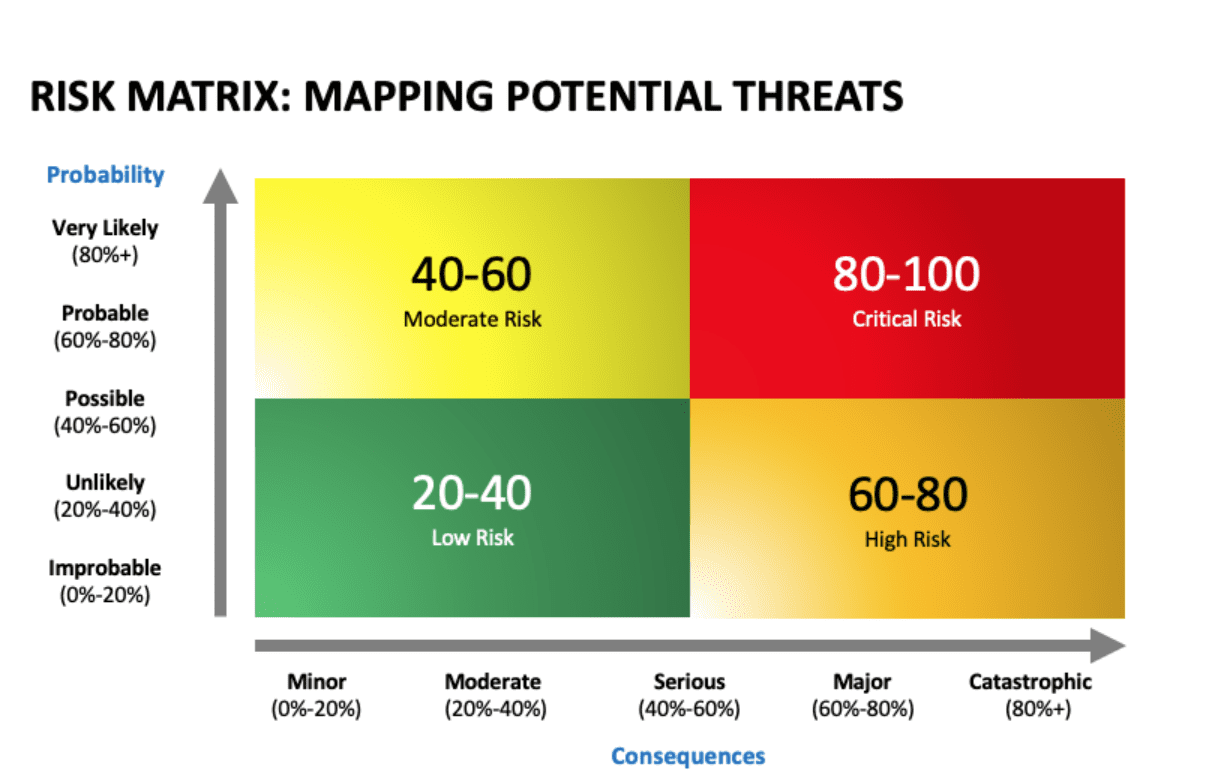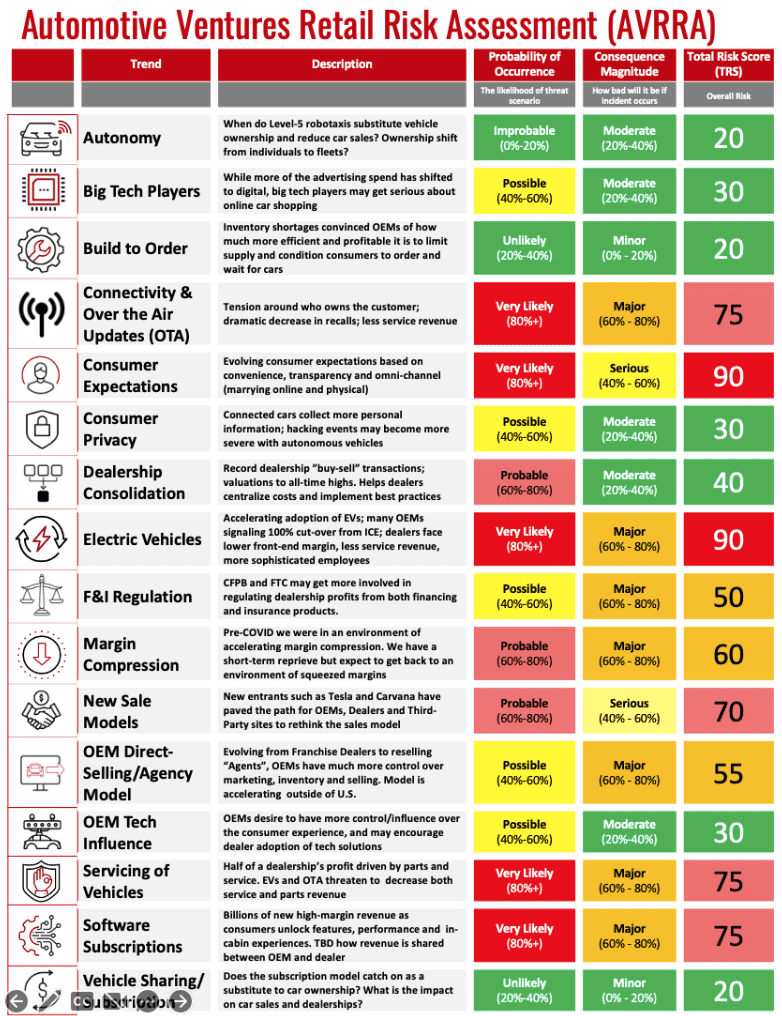 Agency Model
Also this week, interesting news coming from Australia about the Agency Model and its impact on franchise dealers down under. 
In this case, 38 Australian Mercedes-Benz dealers are in a $650 million dollar legal battle against Mercedes-Benz in a test case described as one of the most significant in franchise-law history.
Mercedes-Benz is one of a growing number of car makers switching to an Agency Model in Australia, which includes fixing both sale prices and commissions.
But, car dealers argue Mercedes has breached the franchising code AND consumer law.
Previously, dealers bought cars from Mercedes and could set their own sale price. But, under the agency model, which came into effect in January, the manufacturer retains ownership of the cars while dealers become agents that sell cars at a fixed price for a set commission. 
38 of the nation's 55 Mercedes-Benz dealerships have launched legal action against the company in the Federal Court seeking compensation. 
Dealers argue they were forced to sign new agency model deals with Mercedes that will dramatically reduce their profits and wipe out years of goodwill with customers. 
Dealers allege Mercedes hatched a secret plan in 2016 to switch to an agency model, undertook a sham consultation process, and pushed forward with a decision despite the majority of Australian dealers being against it. 
They claim that in a bid to capture the profits of dealers, Mercedes has broken Australian Consumer Law by engaging in "unconscionable" conduct, along with breaching the franchising code's good-faith provisions.
Dealers involved in the case are seeking $650 million dollars in compensation from the car marker.
In March 2019, Deloitte modeled the impact of the agency model for dealers.
It found, for example, that under the agency model one particular dealer's profits would decline by more than 50 percent compared to the dealership model. 
Last year a Senate inquiry, launched after General Motors decided to axe the Holden brand, found an inherent power imbalance between car dealers and manufacturers. 
The inquiry also examined Japanese car manufacturer Honda's treatment of dealers in its move to a fixed-price agency model.  
Subsequent legislative changes introduced by the Australian Coalition government doubled fines for breaches of the franchising code, and added other protections for car dealers, including "fair and reasonable compensation for franchisees in the event of early termination".
In a statement, a spokesman for Mercedes-Benz Australia said the company was defending its position in court.
Jaguar, BMW, Land Rover, VW and Honda are just some of the other companies moving to a fixed-price sales model in Australia.
I will continue to keep an eye on how the Agency Model is progressing in markets outside of the U.S. and be prepared to report back as new issues develop.
Companies To Watch
Every week we highlight interesting companies in the automotive technology space to keep an eye on. If you read my monthly industry Intel Report, I showcase a few companies each month, and we take the opportunity here on the Friday Five to share some of those companies each week with you. 
Today, we have two companies to watch: Collabtic and EDRV.
Collabtic
Collabtic is a collaboration, information and communication platform for service organizations. Collabtic enables technicians, subject matter experts, trainers to efficiently work together to quickly diagnose and resolve machine issues.
The reason that I love Collabtic is that a shortage of skilled technicians is one of the biggest pain points for dealers right now. In fact, it's one of the areas we're looking at for our new DealerFund.
Companies like Collabtic have the promise of making technicians more efficient and productive, which should alleviate the strain that dealers are under from being able to hire, train and retain service technicians. 
You can check out Collabtic at www.Collabtic.com.
EDRV
EDRV provides electric vehicle charging APIs for operators and developers.
EDRV allows you to operate your electric vehicle charging network with eDRV's suite of apps, or build your own application from scratch using their APIs. Connect any open charger, accept any payment method, or use our integrations to launch your service at scale in weeks.
The reason that I love EDRV is that there are a growing number of different chargers that don't have an effective way to communicate with each other, or integrate into third party software. With EDRV, they provide the API layer that allows software companies to integrate seamlessly with various charing infrastructure.
You can check out EDRV at www.EDRV.io.
——
The Future of Automotive Retail has finally been published. 
The book is my attempt to provide the industry with a framework for the various threats and opportunities that are swirling and offer some practical advice on how best to navigate the next 5 to 10 years. 
In the book, I make the argument that our industry is going to see more change in the next 10 years than it's experienced in the past 100.
You can find the new book on Amazon or just go to FutureofAutomotiveRetail.com. 
If you get a chance to read it, drop me a line and let me know what you think at steve@automotiveventures.com. I'd love to discuss it with you.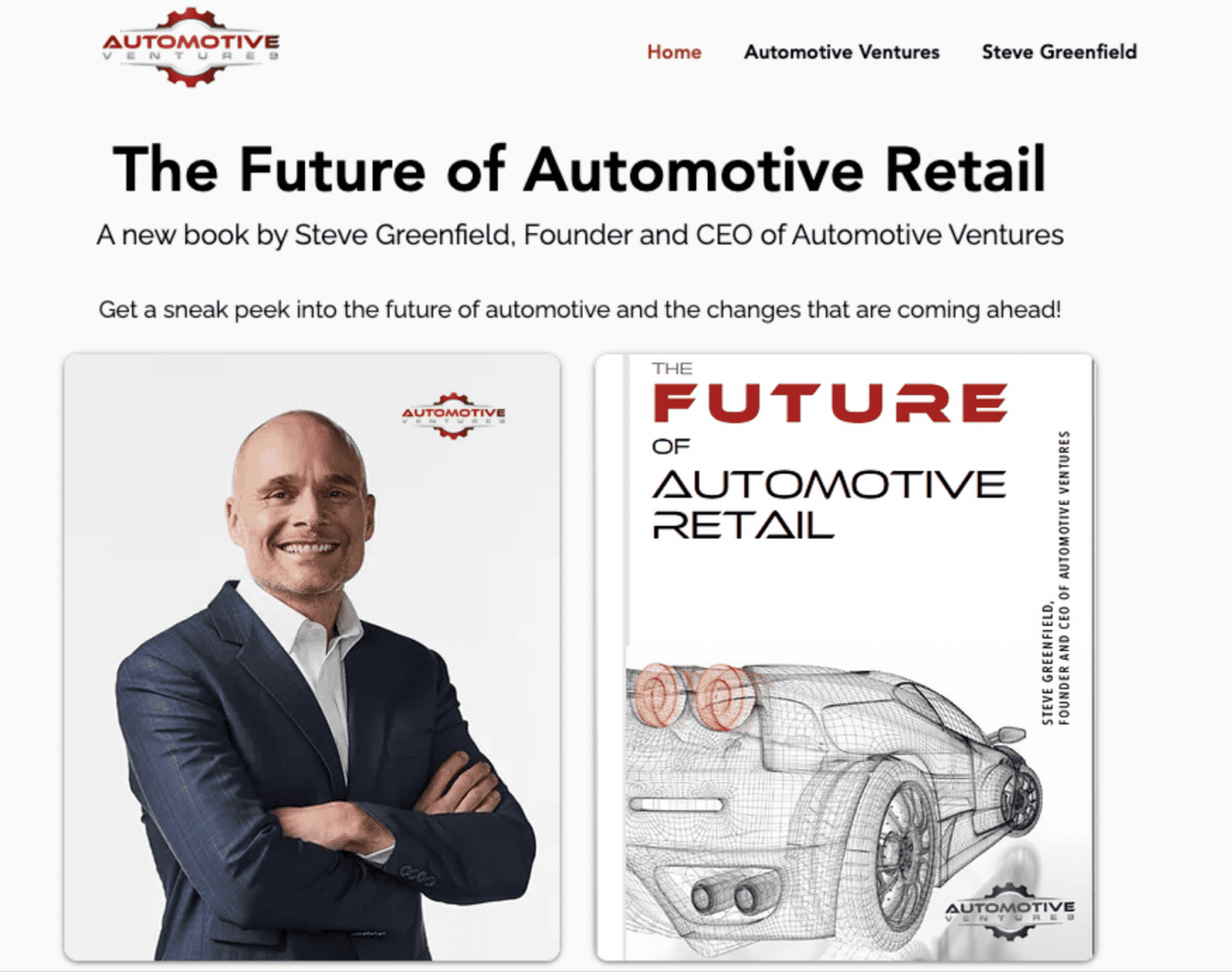 So that's your weekly Friday 5, a quick wrap-up of the big deals in the automotive technology space over the past week.
If you're an early-stage automotive technology entrepreneur looking to raise money, or an entrepreneur who is trying to decide whether and when they should raise money or sell their business, I'd love to speak with you.
Thank you for tuning into CBT News for this week's Friday Five, and we'll see you next week!
---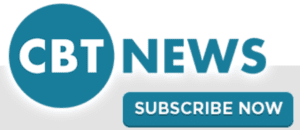 Did you enjoy this episode of the Friday 5? Please share your thoughts, comments, or questions regarding this topic by submitting a letter to the editor here, or connect with us at newsroom@cbtnews.com.
Be sure to follow us on Facebook, LinkedIn, and TikTok to stay up to date.
While you're here, don't forget to subscribe to our email newsletter for all the latest auto industry news from CBT News.