It is no secret that there is a substantial amount of market information out there, especially concerning the automotive industry. There is always a new article, blog post, or case study to view. Keeping up with all this data can seem overwhelming and almost impossible at times. While it may be challenging to decide the information to keep up on, there is content that you should try to view.
Many auto analysts and businesses that collect a considerable amount of consumer and dealer information release annual reports regarding their data. These reports can inform you of everything from consumer tastes to takeaways about the overall dealership experience. This information can help you make actionable plans for expanding the sales impact of your dealership. So, which ones should you bookmark and keep an eye on every year? Take a look at four automotive industry reports you want to read.
2017 Autotrader Car Tech Impact Study
It is no secret that automakers have outfitted today's vehicles with some of the most advanced technology we have seen in years. Consumers are aware of this, and many are looking to have newer technology features in their cars. The 2017 Autotrader Car Impact Study surveys over 1,000 U.S. residents to see how vehicle technology impacts the car buying behavior of consumers. The study reveals features that consumers know about, ones they would like to see in their cars, and the types of features consumers prefer. For example, the study revealed that half of the customers surveyed are willing to sacrifice on vehicle color, style, and brand to receive the latest technology.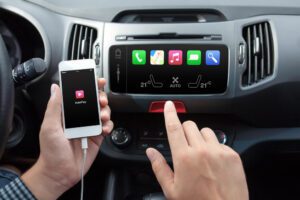 How It Can Help: This information can help you understand how to integrate technology features in your sales conversations with customers. It also gives you the data you need to know the types of features that are most important to the average car buyer.
2018 Cox Automotive Car Buyer Journey Study
Do you ever wonder how your customers are finding your dealership and how they are making decisions about the cars they buy? While you may have some analytics monitoring this information, Cox Automotive is monitoring this data on a large scale. This study reveals research on where and how customers decide to begin their car buying process. It details online shopping trends, customer satisfaction with parts of the dealership purchasing experience, and the impact monthly and yearly price pays on consumers. One of the most crucial takeaways from last year's study was the finding that less than half of the car buyers involved in the study were satisfied with how long the dealership process took.
How It Can Help: This study reveals where individuals are starting their research process, and which factors play the most significant role in their purchasing decision. You can use this information to understand how to position yourself and your dealership to make the car buying process work for you.
Cox Automotive's 8 Key Market Trends – 2018 Fall Update
Toward the beginning of last year, Jonathan Smoke, Chief Economist at Cox Automotive, put together a list of eight key trends that would play a significant role in the automotive market. In December 2018, Smoke revisited the list to discuss the results and add a new trend that gained significance toward the end of the year. The study looks at how the automotive market was impacted by economic momentum, the new and used vehicle market, interest rates, dealer sentiment, and a few other factors that grew in significance throughout 2018. For example, Smoke found that CUVs were outselling all car segments combined. This information shows that there is a sweet spot regarding size for the average car buyer. Smoke also added tariffs as a ninth trend since the conversation around them is continuing into 2019.
How It Can Help: This study gives a brief but effective overall look into the most critical sales, consumer behavior, and financial factors of 2018. Many of these trends may find their way into 2019, and knowing how and why they took shape can better help you prepare for how to address them.
2018 NADA Dealership Workforce Study
Other than consumers, understanding the individuals that work with or for you is crucial to maintaining a good dealership environment. The NADA Dealership Workforce Study provides you with data that you can use to promote retention, create a strategy for benefits and compensation, and monitor demographic shifts. This study includes data collected from 2017, but it is likely that NADA will release 2019's (using data from 2018) as well. A key highlight from this study is that employee turnover increased three points to rest at 46 percent for the year. Also, all nine key dealership positions saw an increase in compensation.
How It Can Help: If you are wondering where the baseline is for compensation and benefits as well as information regarding turnover and how the industry is fairing when it comes to hiring and retention, this is a study worth reading. However, it is worth noting that the entire research study does come at a cost.
Final Thoughts
It is almost impossible to be successful without paying attention to valuable research and data. Many automotive organizations are taking the time to collect information dealers and automakers can use, and a good majority of them are sharing the information at no cost. Viewing these reports is a great way to ensure your dealership is in line with the industry and is preparing for current or new trends. Most of the studies mentioned above will have new versions that are distributed this year, so continue to monitor the homepages for new insights.