Whether used car managers like it or not, the car price rating systems on websites like CarGurus and Cars.com are meant to be a helpful tool for customers seeking cars. We'll explore the idea of price ratings, whether or not customers take them seriously, and how you use them to your benefit.
What are price rating systems?
The software or website you use to change the prices of used and new vehicles likely has a system in place to tell you how "far off" you are from the rest of the market. 
The reality of the pricing systems on CarGurus and Cars.com, amongst other sites, is that the information about market pricing is calculated much the same, but it is presented to the customer instead.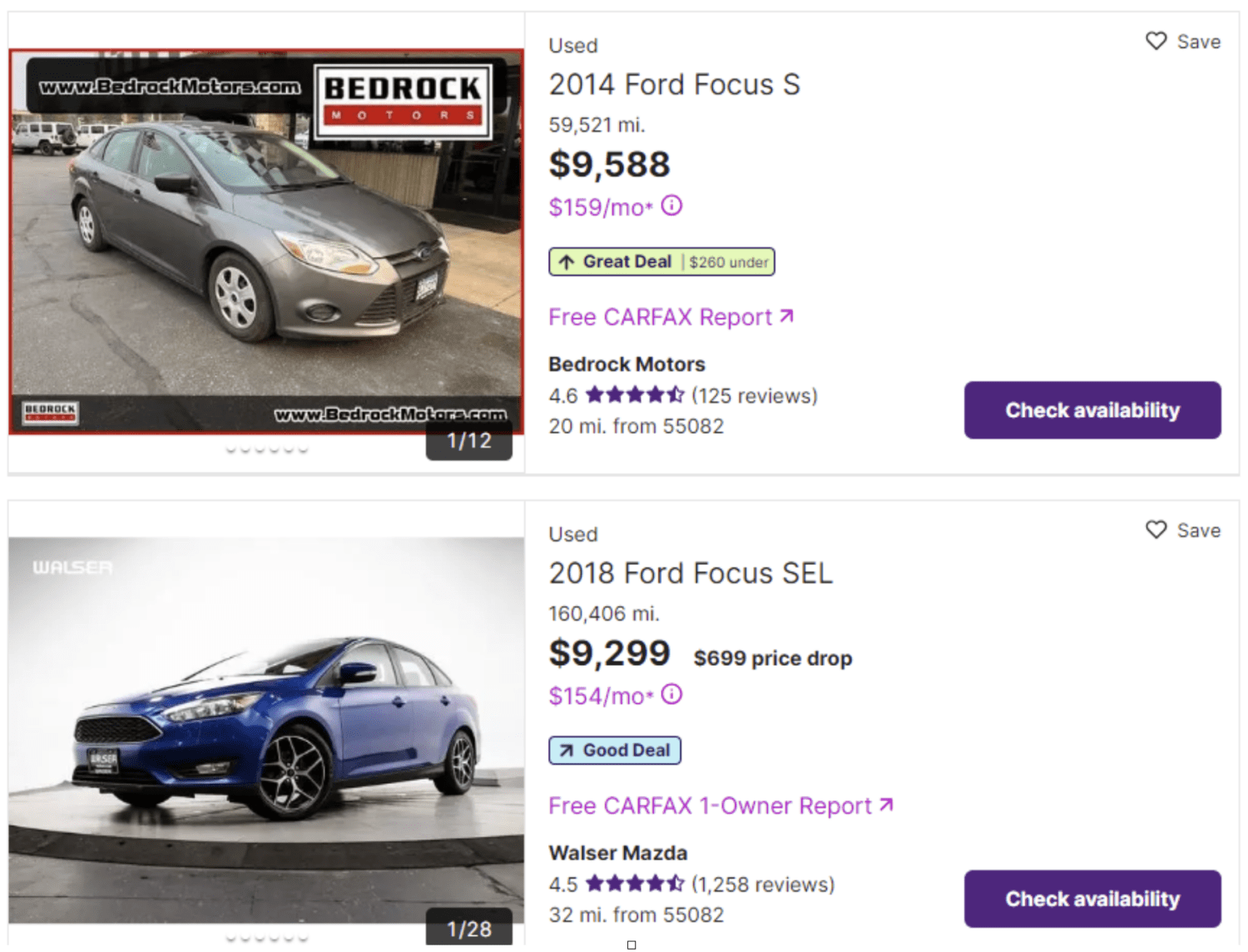 These particular vehicles are a "Great Deal" and a "Good Deal" respectively. There is also a "Fair Deal" on Cars.com that applies to far fewer vehicles. CarGurus has other categories including the dreaded OVERPRICED.
This generally tells customers how the price of the vehicle compares to other similar vehicles within your search area.
Do customers really use price rating systems?
As a person who formerly sat at a desk on the show floor of a dealership, yes, they do. I heard countless conversations about the use of pricing rating systems – and heard further discussions between advertising reps from multiple third-party listing sites and used car managers.
While CarGurus and other sites don't exactly publicly list how often people interact with their pricing rating system, a quick search about price ratings on these sites brings up many results – mostly from dealers and car sellers, asking why it changes because customers bring up pricing.
So yes, they do use the price rating systems. The alternative here is to search across multiple websites to find pricing for the same vehicles, noting that some dealerships aren't on every site. The time savings here make the price rating systems very appealing.
What should a dealer do about price ratings?
I have a couple of honest suggestions here: Embrace price rating systems. Why?
A relatively small number of vehicles end up in a category besides Great Deal or Good Deal. A search on CarGurus for a used Mazda CX-5 reveals that most cars achieve at least a rating of Fair Deal on an in-demand vehicle.
The customer at least started a conversation! Keep in mind, that customers still definitely negotiated prices before price ratings become available.
Explain market pricing: You can go so far as to say you adjust prices all the time – assuming that you do in fact adjust prices all the time.
There is one caveat here: most third-party sites don't account for the rarity of a listing. If there are only a handful of vehicles within a typical search radius, you can definitely acknowledge that the customer is going to have to drive a long way or wait a long time.
In short, there isn't much you can do technically or otherwise about price ratings. The reality is that you'll have to sell the customer on the value of your dealership and vehicle. Consider the price rating an indicator that the customer has done some research, and move forward accordingly.
Conclusion
Price ratings tell the customer how your vehicle is priced compared to similar vehicles in the area, and are here to stay. Try to embrace them and you'll be able to better explain to a customer how market pricing works and potentially have an engaging conversation about their intentions when buying a car.