For car dealerships, sustainability is more than a buzzword; following environmentally friendly practices is good business. It's an approach that sends a strong positive message to customers and the community and can ultimately help the bottom line.
Let's examine where the "going green" movement and today's dealerships intersect.
The state of sustainability in automotive today
To say the car business is at a crossroads is an understatement. Automakers are not only transitioning away from ICE-powered offerings, but purchasing is also becoming more digitally based. Dealers are caught in the middle.
At least during the last great industry shift 50 years ago, moving to more fuel-efficient and less-polluting vehicles didn't disrupt the traditional car-buying process.
Forces driving the trend
The pressure for greater sustainability in the auto segment comes from multiple groups but arguably began due to the "Tesla effect." The EV automaker proved that a compelling electric vehicle didn't have to come from traditional manufacturers, leading the "charge" away from conventional transportation options.
And there are other players to consider. Both federal and state governments are actively trying to get consumers to ditch gas pumps for charging stations. The power of the purse (meaning incentives and tax credits) is the most significant influencer.
Of course, consumers have a role in this movement, too. According to Pew Research, 67% of Americans believe electric vehicles are better for the environment. At the same time, a majority of Millenials and Gen Z adults support ending ICE-powered car production by 2035. 
How dealerships can embrace sustainability
Besides the EV charging stations that dealers invariably add, automotive retailers can employ other tactics to ride the green wave. These efforts can range from low-cost conservation techniques to more capital-intensive approaches. Examples include:
Recycling:

From beverage containers to paper products, collecting and recycling these consumable materials is a low-effort way to join the sustainability movement. 

Reducing usage:

Installing low-flow toilets and faucets can cut down on water usage, while LED lighting and auto-shut-off switches can reduce electricity needs. 

Switch computers:

Changing out energy-hungry desktop computers for eco-friendly laptop units can significantly decrease electricity usage. 

Conduct an energy audit:

Whether through a local utility company or a third-party firm, an energy audit can determine areas for improvement. Many audit programs can also identify incentives and tax credits that your business may be eligible for. 
Implement renewable energy solutions
While there are many types of renewable energy (geothermal and wind, to name a few), for most car dealers, these solutions mean one thing, solar. Solar panels continue to get more affordable, and many areas offer tax credits. 
Rooftop areas of the showroom, service building, and parking structures are ideal for solar panel installations. Some local utilities will buy surplus electricity, creating a potential revenue stream. 
Switch to eco-friendly products and services
Adopting green measures can often be as simple as changing office and lounge supplies. Switching from styrofoam to paper cups is a starting point; even using recycled napkins, paper towels, and copy paper helps. At the same, a move to non-toxic cleaning products is another way to continue your company's green journey.
More elaborate steps can include recycling car wash run-off for gray-water use and offering hybrids or EVs for service loaners. 
The benefits of going green
There are numerous advantages to making your dealership more eco-friendly, including:
Feel-good factor:

Making your business more environmentally conscious can lead to the satisfaction of knowing you're doing the right thing. 

Marketing value:

There's tremendous marketing value in going green. You can tout these efforts in advertising and outreach to the local community. 

Improved bottom line:

With thoughtful investment and implementation, taking an eco-centered approach to your business can lead to improved profitability, even if you're only reducing utility bills. 
Making it real: One dealership's approach to sustainability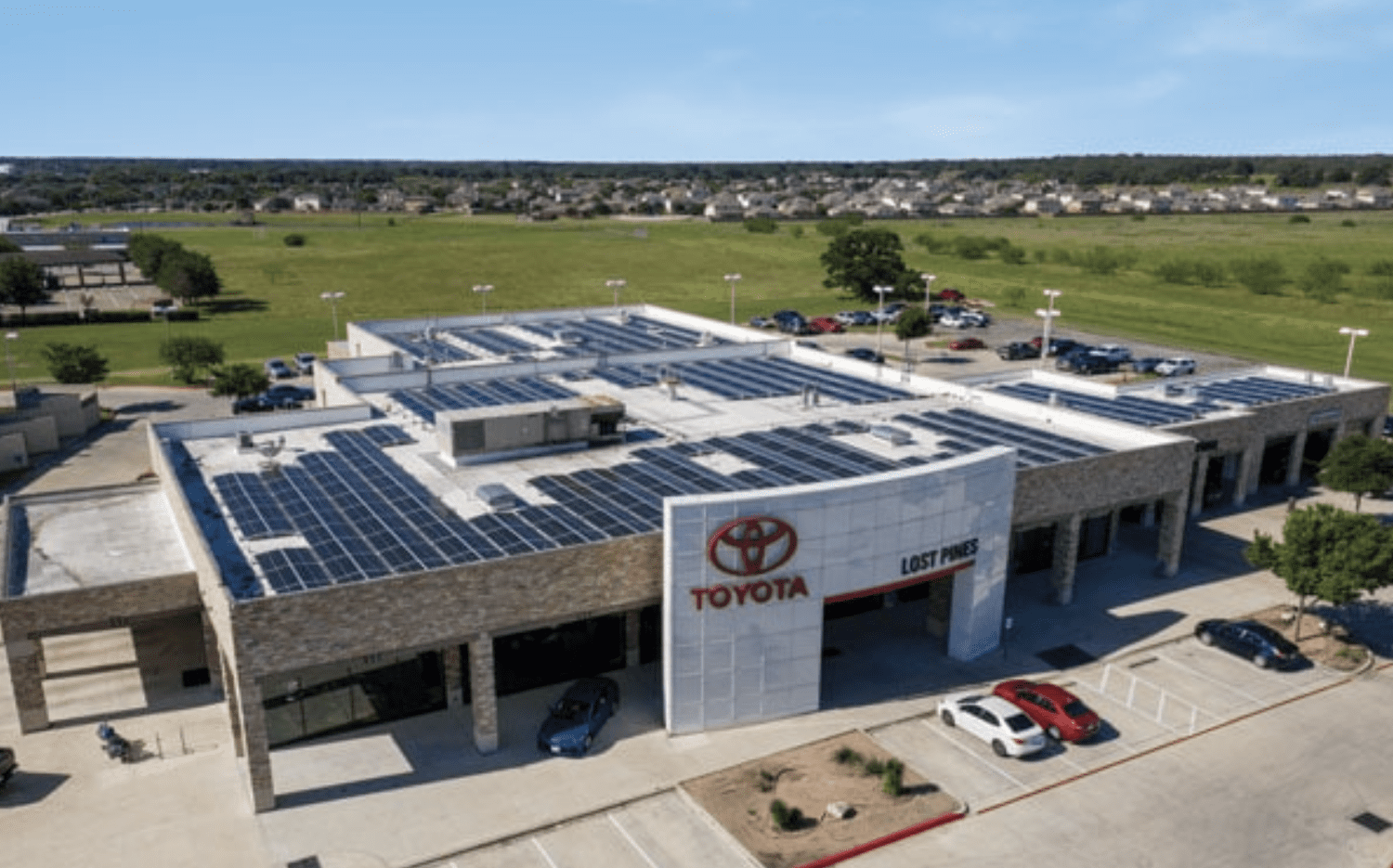 Lost Pines Toyota, near Austin, TX, takes sustainability to the next level. It proudly highlights its status as a LEED Gold-Certified Business and a "Commitment to Green Initiatives." These efforts include using more than 700 solar panels that yield a 60% energy offset, the equivalent of removing almost 255 tons of carbon dioxide from the atmosphere.
The dealership also promotes its many other green measures, like using environmentally friendly cleaning supplies, relying on recycled beverage cups and paper, and embracing digital technology (tablets for service advisors and electronically stored data). There's also an active recycling program for paper products, lubricants, filters, coolant, batteries, tires, and other vehicle components.