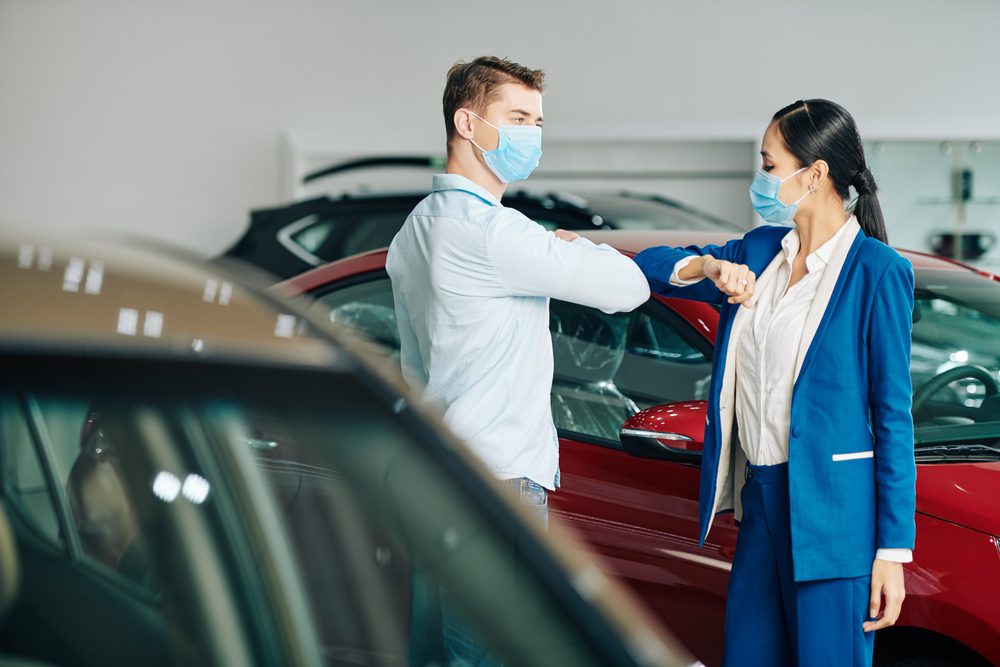 Is your dealership marketing team finding their balance when it comes to crafting the right advertising messaging during this COVID-19 pandemic? This action can be a challenging tightrope to walk. You and your team still have a product to sell, but you want to do it in a way that is sensitive and effective.
Today, your typical customers are not only thinking about the automobiles they want to buy, but they are also considering their overall finances amid a public health crisis. However, even in this new reality, some dealerships have figured out how to stay relevant and provide messaging that consumers need. Here are five great examples of dealerships who are successfully advertising during COVID-19: 
Ford and Lincoln Dealers – The FordDirect Video Marketplace
In May of this year, art and technology company, Waymark and Ford partnered together to create the FordDirect Video Marketplace. This initiative provided access to videos that Ford and Lincoln dealers across the country could take and customize to meet their marketing needs. In addition to commercial-based videos, the company also put together response videos that dealers could edit to address COVID-19 concerns.
Video has become increasingly crucial in resonating with audiences, something that has grown during the COVID-19 pandemic. Ford's work with Waymark is a great reminder to make video marketing a priority. This act could mean creating short ten-second videos on how you sanitize your dealership, instructions on purchasing a vehicle online, or virtual automobile walkthroughs. Even if you feel you don't need them now, it always helps to be prepared by having some video templates and messaging ready to go when you need them. 
Art Moehn Auto Group – Keeping it Simple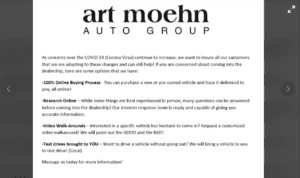 Get this; you don't have to make your messaging complex for it to resonate. Missouri-based auto group, the Art Moehn Auto Group, put together a brief but effective message of how things were changing at their dealership. In March, this team detailed how they were offering a 100% online buying process, video walkarounds, and at-home test drives on their Facebook page.
The messaging is short, but it outlines all the ways this group was changing its approach to the dealership purchasing process. This goes to show that you don't have to create a fancy graphic or even a video to convey the most basic and crucial points about how things may be changing at your dealership. Sometimes, the best and most transparent medium is a text-based image. 
All Star Automotive Group – Having a Page Dedicated to COVID-19

While it is always a great idea to spread your message on social media, you need to have a hub where your customers can find the most up-to-date information on how COVID-19 impacts dealership operations. It may seem simple, but this may be something that slips your mind to do. All Star Automotive Group has a COVID-19 landing page that discusses their efforts to protect customers while also providing up-to-date information on the phase of reopening they are currently in and how it corresponds with state guidelines.
Nevertheless, one of the best parts of this messaging is the "Hotline" numbers they include at the bottom of the page. The term "Hotline" leads customers to believe that these numbers will lead them to someone ready to help them immediately. The page also includes an email that the dealership team says is monitored 24/7. This verbiage lets customers know that they have a reliable way to reach whom they need to.
Ultimately, pages like this are where you want to reinforce your efforts and offer up-to-date information that can then be shared on social media. The last thing you want is to include information like this on a social media site that is then buried under other posts. Again, you should always have a central hub for immediate COVID-19-related information. 
Sonic Automotive – Highlighting Your Team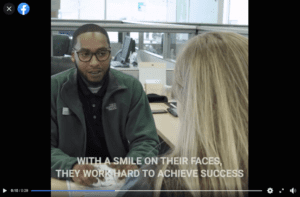 At a time like this, you don't want your customers to see you as a faceless entity. You want them to see that your team is made up of people like them who are ready to help. On Labor Day, Sonic Automotive used the holiday as an opportunity to showcase their dealership staff. The automotive group posted a video to their Facebook account that highlighted their teams. It showed them taking phone calls, talking with customers directly, and collaborating on company tasks.
A video like this lets your customers know that there is a team of individuals working to make things happen. Choosing to highlight your staff sends the message that providing exceptional service is a team effort. Again, while this video was done to commemorate Labor Day, this is an excellent use of video that can be used to bolster confidence in your customers throughout this pandemic. 
Ryan Chevy – Talk About What You Are Doing to Help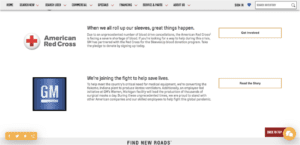 Dealerships are connected to the communities they serve. As a result, it is a great idea to show ways that you are helping. A growing number of customers like to know that the brands they work with are helping their communities. Louisiana-based Ryan Chevy took a recent opportunity to display their community support. Clicking on their banner, "We are open and ready to help," takes customers to a page where they outline what they are doing to address COVID-19.
In addition to safety precautions, it also includes ways that potential customers can donate blood to the American Red Cross, and how GM facilities are being used to build ventilators to aid medical personnel. This is a great way to balance out "sales" with "community-based messaging." Again, yes, you want to include those incentives, discounts, and new model walkthroughs. However, coupling this information with your efforts to help is a worthwhile advertising tactic that lets your customers know that buying from you allows them to contribute to a more significant cause.
Find a "Balanced" Marketing Voice During COVID-19
The dealerships that can pivot and find their own unique voice during this pandemic will succeed. It helps to go back to your dealership values and principles and think of ways that you can align this with your marketing tactics.
These dealerships above found ways to advertise and spread the word about how things have changed in compelling ways that fit their approach and audiences. Again, your goal will be to balance empathy, creativity, and consumer preferences. Doing this correctly will enable you to not only reach your audience, but potentially attract new customers. 
---
Did you enjoy this article from Chanell Turner? Read other articles from her here.
Be sure to follow us on Facebook and Twitter to stay up to date or catch-up on all of our podcasts on demand.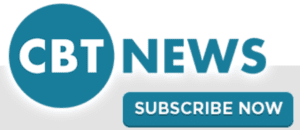 While you're here, don't forget to subscribe to our email newsletter for all the latest auto industry news from CBT News.