U.S. new-vehicle inventory levels rose sharply in December and crested to 1.8 million for the first time since May 2021.¹ That bit of good news has been tempered by an affordability crisis, where high vehicle prices — combined with high interest rates — are driving shoppers of new vehicles to consider used, shoppers of used to entertain lower price points and are motivating all shoppers to consider more dealerships while searching for the best price.
That crisis is compounded by what's happening within dealerships. According to the 2022 NADA Dealership Workforce Study, turnover rates of sales consultants at auto dealerships average 41%,² with the average salesperson lasting a little over two years.

This becomes a challenge, because shoppers today want a sales experience that gains their trust and advocacy through a combination of product knowledge and convenience.
A New, Evolving Path to Profitability.
Ensuring shoppers receive a quality sales experience means more than simply getting back to the selling basics of automotive retail. It also means investing in ways to sell smarter so that your sales force can go forward with new intelligence to maximize the effort.
At the most successful dealerships, training, technology, and positive reinforcement of selling processes and practices work together to create a culture that helps retain employees, converts more leads, and impacts the bottom line. And it all starts with a new kind of training fueled by new intelligence.
Unlock the Full Potential of Your Sales Force with Smarter, Data-Based Training.
Many of today's salespeople only started working at their dealerships during the pandemic. Consequently, the sales skills they learned were in line with a marketplace in turmoil, where lack of inventory and chip shortages required little more from salespeople than helping customers fill out orders.
Training salespeople to understand retail selling dynamics is a critical first step to making your dealership a place where consumers can find the knowledge they need and then act on it with confidence. Think of it as "the price of entry" in creating a sales force that's knowledgeable and engaging.
The next step is all about training smarter — helping your sales force understand that it's not enough to cater to those who stop by the dealership. The key is to spend time between in-person sales encounters interacting with valuable leads. That's where daily defection data comes into play.
Lean Into the Three Benefits of Daily Defection Data.
Today, gaining a competitive edge means being able to react more quickly than your competition on metrics that matter. And for managers, it means delivering real-time training opportunities, ensuring you have the right people at the right time with the right message.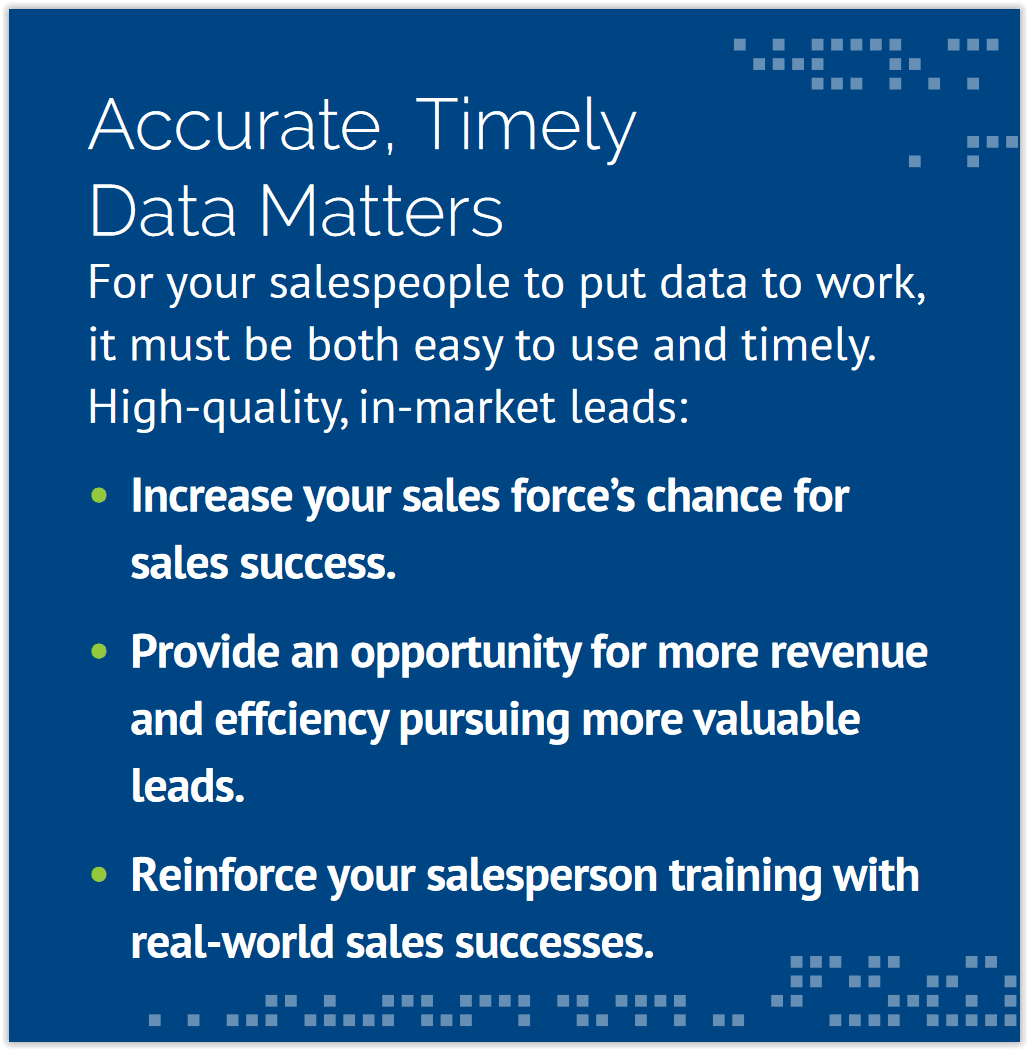 Daily defection data provides you with three valuable opportunities:
It gives you the opportunity to support sales people with near real- time feedback on what's working and what isn't. That ensures they are better trained and optimized for selling vehicles.
It allows you to train your sales force on known lost opportunities, providing valuable real-world lessons to identify areas for improvement, evaluate salespeople and educate your staff daily.
It allows your salespeople to pivot communications to relevant customer messaging, thereby nurturing relationships to encourage future business. Even better, having access to same brand defections provides the opportunity to foster repeat business through relevant service messages. A recent Urban Science analysis found that service-loyal customers are twice as likely to come back to the dealership where they regularly get their vehicles serviced, compared to purchasing at other same-brand dealerships.³
Leading dealers are continually looking for the latest technological tools to help them gain a competitive advantage. The ability to flag lost leads at the speed of conversion is technology that's available today. In addition to providing managers with the data they need to deliver impactful training; it notifies salespeople the next day so they can better focus their resources on pursuing customers while they're still in-market. Without being able to see daily individual lead level defection data, your sales force does not have the advantage of acting now.
Use In-Market Leads to Save Time, Save Money, and Retain More Sales Staff.
The best salespeople all have one thing in common: they're "wired to win." Having next-day defection data available to your salespeople allows them to win more often by:
More meaningfully engaging with people still shopping
Helping increase their conversion rate and — ultimately — their confidence in their ability to close a sale.
Higher interest rates are making it even more expensive for consumers who finance a new vehicle which, understandably, makes it harder for salespeople to sell. Sixty-four percent of retailers polled in an Automotive News Dealer Outlook Survey thought higher interest rates would reduce consumer new-vehicle demand.⁴ All the more reason to focus your salespeople on the kind of high-quality, in-market leads that drive commissions, enhance confidence and bolster the relationship between management and your sales force.
It's time to "amp up" your training with daily defection data. It's not only the smart way to move forward, but also helps you uncover new insights and makes your training much more actionable. Doing that may very well result in a domino effect, where your salespeople actively seek out those leads that help them get the sales, they're after while helping you pave new paths to profitability.
Science as a Solution.
Since our founding over four decades ago, our proven, scientific approach to automotive retailing has continued to improve and evolve. It's an approach that stays ahead of the technological curve to help improve marketing, sales and service performance — and continues to be the industry standard — giving you the best opportunity for success in your dealership.
Let us show you how we can help you out-compete the competition. If you'd like to talk to someone at Urban Science about how we can help you harness the power of timely defection data to help your dealership run more efficiently, call or email me.

Eric DeMont, Global Practice Director
+1-313-748-7466
"Is Worst of New-Vehicle Inventory Shortage in Rearview Mirror?" https://www.autonews.com/sales/car-inventory-shortage-are-we-past-worst-it#:~:text=U.S.%20 new%2Dvehicle%20inventory%20levels,2021%2C%20according%20to%20Cox%20Automotive
"National Automobile Dealers Association Dealership Workforce Study," https://www.nadaworkforcestudy.com/files/NADADemoTrendsReport.pdf
DataHub Stats," Urban Science® DataHubTM
"Dealers Anticipate Knocks to Floorplan, F&I, Demand," https://www.autonews.com/dealers/dealers-fear-rising-interest-rates-will-hurt-floorplan-fi-demand