Welcome to another edition of The Friday 5 with Steve Greenfield, Founder and CEO of Automotive Ventures, an auto technology advisory firm that helps entrepreneurs raise money and maximize the value of their companies.
Next up, Carvana and Root, the leading insurtech carrier, today announced an exclusive partnership to develop integrated auto insurance solutions for Carvana's online car buying platform.
In connection with the partnership, Carvana will invest approximately $126 million in Root.
Car IQ, a payment solution developed specifically for fleet vehicles, raised $15 million dollars in Series B funding.
The round was led by Forté Ventures with participation from new investors Ally Ventures, BlackBerry, State Farm Ventures, and TELUS Ventures and existing investors Alpana Ventures, Avanta Ventures, Citi Ventures, Quest Venture Partners, and Scrum Ventures.
Car IQ provides a contactless payment network that allows connected cars and trucks to pay merchants and service providers without a credit card. With Car IQ, vehicles can pay for a wide variety of services including fueling, tolling, parking, and more without needing to add extra hardware to the vehicle.
Just months after raising $28 million, Jerry has raised $75 million in a Series C round that values the company at $450 million dollars.
Existing backer Goodwater Capital doubled down on its investment in Jerry, leading the "oversubscribed" round. Bow Capital, Kamerra, Highland Capital Partners and Park West Asset Management also participated in the financing, which brings Jerry's total raised to $132 million since its 2017 inception.
Jerry, which says it has evolved its model to a mobile-first car ownership "super app," aims to save its customers time and money on car expenses. The startup launched its car insurance comparison service using artificial intelligence and machine learning in January 2019. It has quietly since amassed nearly 1 million customers across the United States as a licensed insurance broker.
Daimler-backed car-sharing marketplace Turo confidentially filed paperwork with regulators for a U.S. IPO, seeking to take advantage of the country's red-hot capital markets.
The company's platform allows car owners in 5,500 cities across the United States, Canada and the U.K. to rent out their vehicles. It has over 450,000 listed cars ranging from pickup trucks and minivans to luxury options such as Lamborghini, Rolls-Royce and Porsche vehicles.
Carputty has raised $7.2 million in a seed round led by Kickstart Fund, which contributed $3 million. The funding round also included Kinetic Ventures, University Growth Fund, and Aries Capital Partners.
Carputty currently has two solutions, including:
Flexline, which can allow consumers to have one or more vehicles on a single platform, all while having interest rates determined by their unique profile versus what a dealer determines with markup.
And V3 Valuation, which can provide predictive analytics to help consumers obtain the best values for their vehicles, saving money by pinpointing the best time to add or remove a vehicle from their Flexline, using past, present and future values to their benefit.
Micromobility startup Voi Technology has raised $45 million dollars, funds that will be used to research and develop technology that will improve safety, keep users from riding on sidewalks and ensure scooters are properly parked.
The funding comes a month after Voi launched a pilot in the U.K. with Irish startup Luna to test how computer vision technology might be used to solve parking and sidewalk riding issues. The R&D spending will include "pioneering the use of computer vision software to prevent pavement riding".
Voi, which already has scooters in 70 cities across the U.K. and Europe, is aiming to expand. And technology that solves parking, safety and sidewalk clutter is viewed by Voi as key to winning city partnerships and maintaining the ones it already has.
Fetch Package, a last-mile package delivery company for apartment communities, has raised $50 million dollars in a Series C round of funding and closed on a $10 million dollar venture debt facility.
Ocelot Capital led the Series C round, which also included participation from GreenPoint Partners, Alpaca VC and Rose Park Advisors. Existing backers Iron Gate Capital, Signal Peak Ventures, Venn Ventures, PANDO Ventures and Seamless Capital also put money in the round.
Fetch launched its operations in Dallas in February of 2017 with the goal of solving "the package problem" for apartment communities.
Niron Magnetics, the company developing the world's first high performance permanent magnets free of rare earths, today announced it has raised $21.3 million dollars in new financing. The Volvo Cars Tech Fund and Volta Energy Technologies join existing investors Anzu Partners and the University of Minnesota.
Niron will use the funding to build its pilot production facility in Minnesota and accelerate the development of its Clean Earth Magnet technology.
Niron's production process is up to 95% less damaging across certain environmental impacts than alternatives, as its input materials require no toxic mining and refining.
Freight forwarders often keep track of rates on spreadsheets they email to customers, but the pandemic has made that difficult because prices are constantly fluctuating. Freightify, a startup that refers to itself as the "Shopify for maritime freight," provides white-label rate management and e-booking tools that freight forwarders can use to set up online stores, reducing the time they need to spend on administrative work.
The startup has raised $2.5 million dollars in pre-Series A funding led by Nordic Eye Venture Capital, with participation from Tradeworks.vc, Venture Catalysts, 9Unicorns and Blume Ventures Funders Fund.
Cepton, a leader in high performance MMT lidar solutions, and Growth Capital, a publicly traded special purpose acquisition company, have entered into a definitive business combination agreement for an aggregate $58.5 million dollar private placement in connection with the business combination.
Cepton has from its inception focused on ADAS, the largest-end market for lidar. Cepton has a shared vision of how lidar could become instrumental in dramatically reducing traffic collisions, in eliminating the human and financial toll of avoidable vehicle and pedestrian accidents, and in enabling safe autonomous driving for passenger vehicles. Cepton has deep lidar and optical technology expertise to deploy state-of-the-art lidar sensors aimed at the automotive market.
Bridgestone Americas, Sumeru Equity Partners, Danlaw, and other shareholders have reached an agreement for Bridgestone to purchase Azuga, and the Azuga fleet management platform for $391 million dollars.
The acquisition of Azuga will rapidly advance Bridgestone's comprehensive solutions for small to enterprise-sized fleets, providing real-time vehicle operations insights and data analytics that will improve safety, increase efficiency and enhance customer service experiences. Bridgestone will leverage Azuga's robust fleet data capture platform to advance the development of Bridgestone core tire products and AI solutions.
Elroy Air has raised a $40 million dollar Series A, including financing from Lockheed Martin's venture capital arm, to ramp up the building, testing and validation of its inaugural autonomous cargo drone.
The funding round saw participation from MARLINSPIKE CAPITAL and Prosperity7 Ventures, as well as existing investors Catapult Ventures, DiamondStream Partners, Side X Side Management, Shield Capital Partners and Precursor Ventures. This latest round brings Elroy's total raised to $48 million dollars to date.
Elroy is focused on building "a dual-use system," fit for both the defense industry and the commercial market. Elroy's flagship autonomous cargo aircraft, Chaparral, is designed to fly at a 300-mile range, carry 300-500 pounds of cargo and have automated flying and cargo handling capabilities. The idea is to minimize the need for humans not only in the pilot seat, but on the ground, manually loading and unloading payload.
ClearRoad, which uses plug-in devices to charge drivers based on mileage and location rather than fuel, has raised a $2.35 million dollar seed round from investors.
If the U.S. transitions to electric vehicles — as predominant market and political trends suggest it will — then the gas tax is doomed. And yet the country has done little in the way of preparing for an alternative to fund roads.
ClearRoad aims to build up such an alternative.
Octane Lending has raised $52 million dollars in a Series D round that values the company at over $900 million dollars. Progressive Investment, a member of the Progressive Insurance group, led its latest financing, which included participation from existing backers Valar Ventures LLC, Upper90, Contour Venture Partners, Citi Ventures, Third Prime and Parkwood LLC, as well as new investors Gaingels and ALIVE.
Octane Lending, which offers "instant" financing for large recreational purchases, boasts impressive financials in a startup world whose inhabitants are mostly unprofitable. For one, Octane is both net income and operating cash flow positive, and expects to originate more than $1 billion dollars in the next 12 months. It has been doubling revenue annually, and projects that the company will see over $100 million dollars in revenue this year. Its valuation is now more than double what it was at the time of its July 2020 $25 million dollar raise.
U.S. tractor maker John Deere will acquire agriculture tech startup Bear Flag Robotics for $250 million dollars, with the goal of developing over the next year systems Deere can sell to allow farm tractors to operate without a human driver in the cab.
Over the next 12 months Deere and Bear Flag intend to develop their automated tractor technology for commercial production in higher volume. The company's technology is designed so it can be installed on an existing tractor.
So far, Bear Flag has focused its development on automating tractors for tilling fields on California farms that aim to plant two or more crops a year. Self-driving tractors that run 24 hours a day can allow farmers to squeeze in extra plantings.
Fresh off a strategic partnership with Toyota Motor Corporation to build an autonomous forklift, Third Wave Automation has raised $40 million in a Series B round led by Norwest Venture Partners, including participation from prior investors Innovation Endeavors and Eclipse, along with Toyota Ventures.
The injection of capital came after Third Wave's partnership with Toyota Industries Corporation, which builds a third of the world's forklifts. Third Wave and Toyota Industries will develop an autonomous forklift together.
Chipmaker Qualcomm has offered to acquire Swedish auto technology supplier Veoneer for $4.6 billion dollars, trumping an earlier bid by Canadian rival Magna International.
Qualcomm hopes to grow its automotive chips business by creating open and competitive platforms for automakers along with Veoneer.
Magna had offered to buy rival Veoneer in July for about $3.8 billion dollars in cash, looking to boost its efforts on building driver assistance tech geared toward autonomous vehicles.
Veoneer makes advanced driver assistance systems that add features ranging from collision warning to parking assist. Veoneer's systems also collect data from cameras and radar to monitor surroundings, interpret the situation and take action.
MotoRefi announced a $5 million dollar investment from Curql Fund. With the investment, MotoRefi said it has officially become a credit union service organization or CUSO.
Curql Fund I is the only fund of its kind that connects credit unions with innovative fintech companies, with more than 45 of the nation's largest credit unions participating.
This additional funding comes after MotoRefi announced it had raised $45 million dollars in Series B funding in May, bringing the company's round total to $50 million dollars.
In international news this week, U.S. electric vehicle charging company ChargePoint has acquired ViriCiti, a provider of electrification solutions for eBus and commercial fleets, for about 75 million euros (or $87.9 million USD) to expand its operations into Europe.
Amsterdam-based ViriCiti is ChargePoint's second acquisition in the European market, and comes less than a month after it agreed to acquire the operating software firm has·to·be.
Fubon Financial Holdings has led an $64 million dollar investment round in U.S. battery maker Nanotech Energy.
Nanotech Energy makes batteries for the fast-growing electric vehicle market, as well as consumer electronics.
Nanotech Energy will use the new Series D funding to build a graphene battery manufacturing facility in Reno, Nevada and open a European headquarters in Amsterdam. The Reno facility, due to open in the second half of 2022, will bring hundreds of jobs to California, Nanotech Energy said. Nanotech Energy also plans to increase capacity in its current Chico, California factory for graphene itself, graphene-based conductive inks, adhesives, shielding and silver nanowires.
India's trucking system has a big inefficiency problem that continues to drag the economy. BlackBuck, one of the handful of startups that is digitizing the freight and logistics across India, has just attained unicorn status after securing new funds.
Tribe Capital, IFC EMERGING ASIA FUND, and VEF led the $67 million dollar Series E financing round in the six-year-old startup, valuing it at $1.02 billion dollars (up from about $850 million dollars in a 2019 Series D round).
BlackBuck is the 16th Indian startup to become a unicorn this year.
BlackBuck connects businesses with truck owners and freight operators. The startup has developed a simplified app for truck drivers in India, who are typically not very literate, to help them accept work and easily navigate to their destination using Google Maps. On the client side, businesses can fire up a similar app to place orders.
About 700,000 truckers and 1.2 million trucks in India today are connected to the platform, which sees more than 15 million transactions each month.
Inceptio Technology, an autonomous driving truck technology and operating company, announced the closing of a $270 million dollar Series B equity financing.
This round of financing was jointly led by JD Logis, DEPPON Express, IDG Capital, CMB International, SDIC Fund Management Co, Mirae Asset Global Investments, Eight Roads, and Broad Vision Fundstics, Meituan, and PAG.  also participated in the investment, and the existing shareholders GLP Hidden Hill Capital, NIO Capital and Eastern Bell Capital actively followed.
The successful closing of the Series B will allow Inceptio Technology to accelerate the development of its self-developed full-stack autonomous driving system, and speed up its deployment in electrification.
Dubai based start-up Udrive, announced that it has closed a $5 million dollar funding round led by regional business leaders and three venture capitalists.
Founded in 2016, Udrive – the app-based pay-per-minute car rental service in the UAE was the first in the region to fractionalize mobility by introducing the rent-by-the-minute idea, which allows customers to pay only for what they use.
Unlike traditional rental services, with Udrive no humans are involved in the rental process which is managed via the app. Over the last four years, the company has empowered over a quarter of a million UAE citizens, residents and visitors to complete over 1.4 million trips, delivering estimated savings of approximately 25 per cent, compared to traditional mobility alternatives.
Companies to Watch
Every week we highlight interesting companies in the automotive technology space to keep an eye on. If you read my monthly industry Intel Report, I showcase a few companies each month, and we take the opportunity here on the Friday Five to share some of those companies each week with you.
First up this week is Claim Genius.
Claims Genius is the industry's full-service AI-based auto claims solution for the global automotive industry.
Claims Genius helps to reduce claim processing time by up to 50%, reduce claim costs by up to 50%, increase claim accuracy and increase customer retention.
Our second company to watch this week is AutoFleet.
AutoFleet is the leading Vehicle as a Service platform for fleets.
Use AutoFleet to electrify your fleet today.
Design and launch the optimal electrification strategy for your operation, and receive results within days.
AutoFleet allows you to launch on-demand delivery and ride services by leveraging unutilized vehicles.
——————-
People often ask me why I'm affiliated with CBT News.
Besides having an outstanding, extremely talented, and hardworking team up here at the studio, I greatly appreciate the valuable role that CBT News plays in the automotive industry.
Every day, I eagerly look forward to my morning email from CBT News to ensure I'm getting the most up-to-date and relevant information on the industry.
I encourage you to tune in to CBT News to ensure that you're getting the automotive news that matters.
---
Did you miss enjoy this week's episode of The Friday 5? Please share your thoughts, comments, or questions regarding this topic at newsroom@cbtnews.com.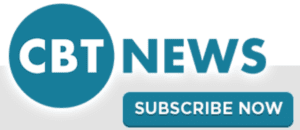 Be sure to follow us on Facebook and Twitter to stay up to date or catch-up on all of our podcasts on demand.
While you're here, don't forget to subscribe to our email newsletter for all the latest auto industry news from CBT News.