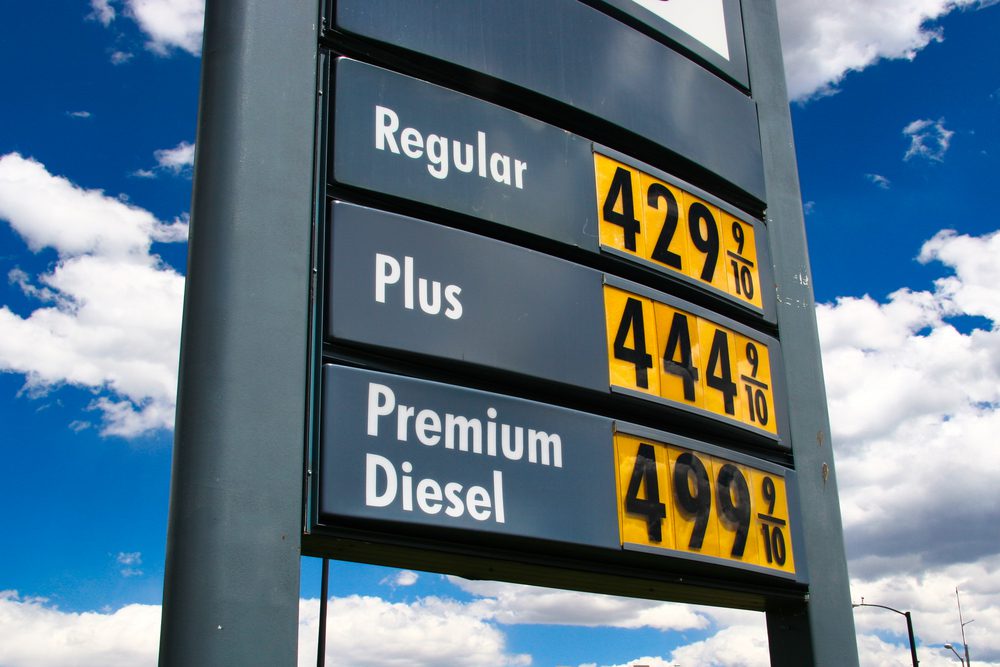 Long weekend travel is going to cost even more this year. Consumers will be doing a double-take at the pumps as they fill up their cars with the national average gas price for regular grade rising to $4.48 per gallon. In all but three states, the price of a gallon of gas has risen past $4.
There doesn't seem to be any relief in sight either. According to AAA, stations are switching to summer-blend gasoline that costs more to produce, thus driving fuel prices up to seven cents per gallon or more. At the same time, crude oil prices have stayed well over $100 per barrel, and as of Tuesday morning, hovered around $115 per barrel. 
AAA spokesperson Andrew Gross said, "The high cost of oil, the key ingredient in gasoline, is driving these high pump prices for consumers. Even the annual seasonal demand dip for gasoline during the lull between spring break and Memorial Day, which would normally help lower prices, is having no effect this year."
The Russian attack on Ukraine continues to factor into high oil prices. Sanctions from many nations that import oil from Russia have caused oil reserves to be drawn down slightly. The reduction in oil stores tends to be seen as economic uncertainty, pushing the price of oil and fuel up as a result. The invasion into Ukraine appears to be a drawn-out affair for Russian president Vladimir Putin, despite Ukraine's expectation that the war will be over by year's end. 
Now at nearly $1.50 more per gallon than a year ago and $.40 higher than just one month previous, gas prices are bound to put pressure on the thriving auto industry as they strain consumers' pocketbooks. But what does that look like?
More interest in electric cars
As fuel prices reach uncomfortable levels, vehicle owners are looking for alternative fuels to ease the pain. CarGurus data shared with TIME reveals that 52% of those searching for a vehicle today are considering something more fuel-efficient than their current vehicle, namely due to the high prices at the pump. The same dataset found that 40% of vehicle owners in the US "expect to own an electric car in the next five years". 
Senior customer insights analyst at CarGurus, Ali Chapman, told TIME, "Gas prices have really pushed shoppers to consider EVs that otherwise wouldn't have sooner. And it's led to increased activity in EVs on our site."
The problem is that EV availability is slow to ramp up and still costs significantly more than a comparable ICE vehicle, making fuel savings a wash.
Shopping for more fuel-efficient models
In recent years, less popular subcompact and compact models as well as fuel-efficient midsize cars have been slowly phasing out of automakers' lineups. Today, those vehicles are in increasing demand. With fuel prices appearing to stay high for months – perhaps never to drop to previous norms – dealers are likely to see these compact, fuel-sipping models fly off the lot. But with few to choose from and low inventory levels, consumers can expect to pay a premium for saving at the pump, and the purchase seems transitory until EVs come down in price.
Less driving
Other motorists frustrated by rising gas prices simply intend to drive less. Public transit and shared mobility options are expected to see a rise in ridership, keeping the miles off of the odometer. Not only does it lower fuel costs but pares down maintenance and helps retain resale value. 
Dealers can expect their service customers to be cognizant of pricing as their budgets are stretched from higher expenses. Car shoppers are going to be increasingly conscious of fuel economy ratings, and a slow shift from large SUVs and pickups to more efficient models could be seen especially as the war drags on and oil prices stay high. 
---
Did you enjoy this article from Jason Unrau? Read other articles on CBT News here. Please share your thoughts, comments, or questions regarding this topic by submitting a letter to the editor here, or connect with us at newsroom@cbtnews.com.
Be sure to follow us on Facebook and Twitter to stay up to date or catch up on all of our podcasts on demand.
While you're here, don't forget to subscribe to our email newsletter for all the latest auto industry news from CBT News.