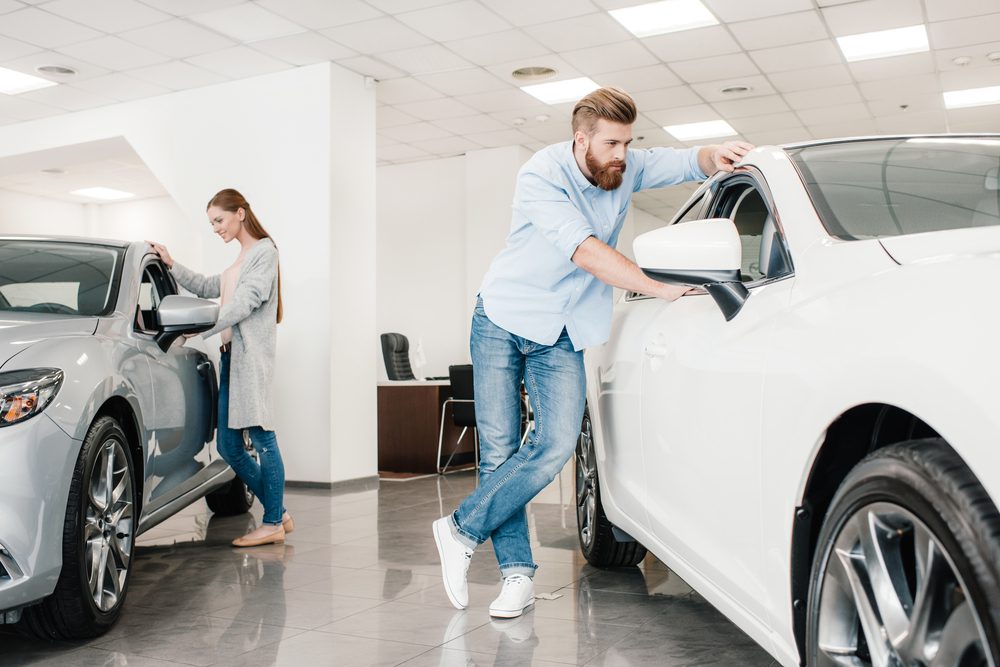 According to Edmunds, the average down payment for new vehicles climbed to over $6,000 for the first time. And it's becoming evident that this new economic landscape is causing potential car buyers to dig deeper into their pockets to finance new cars.
Jessica Caldwell, executive director of insights at Edmunds, described a couple of the causes of this historical and economy-altering event, saying, "Shrunken inventory continues to wreak havoc on both the new and used vehicle markets, and shoppers who can actually get their hands on a vehicle are committing to never-before-seen average payments and loan terms."
What new terms do car buyers have to deal with, and how does this impact dealers?
Monthly car payments rise — for both used and new cars
Car buyers are not experiencing any relief when it comes to financing. Per a press release from Edmunds, the average monthly payment for new cars is expected to rise to $648 this quarter, the highest on record. For used vehicles, the price is estimated to increase to $538, $14 higher than the average monthly payment in Q4 2021.
Both numbers are likely to correspond to the rise in the overall average amount financed for new cars. New and used cars increased from $35,040 and $23,958 in Q4 2021 to $39,340 and $30,830 in Q1 2022, respectively.
Loan terms on the rise for used vehicles
For those taking on the inflated cost — particularly for used vehicles, many are increasing their loan terms to soften the blow. In Q1 2022, the loan durations rose from 68.2 months in Q1 2021 to 70.4.
This situation could harm car buyers. Ivan Drury, Edmunds' senior manager of insights, detailed the issue in a recent press release, remarking, "If you're financing a three-year-old vehicle with a 70-month loan, you'll have a nine-year-old vehicle by the time you complete your payments. That's risky business when you consider wear-and-tear, and you could be at greater risk of needing to roll negative equity into your next car loan."
Additionally, the longer loan terms could hurt their pockets in another way: paying more in interest over time.
How inflated prices impact dealers
Many dealers have to manage the conundrum of prioritizing affordability while still attempting to make a profit. A couple of scenarios could play out on a large scale if the average price of cars financed continues to increase.
Consumers could bypass dealers altogether
A look back at another time of automotive disruption shares some insights. UCLA studied the impact of the used car shortage in Japan due to the tsunami in March 2011. They found that many auto dealers absorbed some of the rising costs, decreasing their profits. Additionally, dealer supply couldn't keep up with demand, so many consumers bought directly from sellers.
In a way, the latter has already occurred, specifically during the pandemic. However, regarding the former, some dealers may choose to absorb some of the higher vehicle costs to keep consumers engaged or to avoid the next scenario.
Dealers taking cues from automakers on pricing
While higher markups will be inevitable, some automakers want to have some say in how much dealers increase their pricing. In February, both Ford and General Motors warned dealers about the number of fees they are tacking on in addition to the sticker price.
Ford, specifically, has proposed penalties limiting the number of vehicles that go to dealers who charge a lot more than the sticker price and even prohibit them from getting popular models. The goal is to avoid having their brand and reputation impacted by rising prices.
These are times of unprecedented issues negatively impacted by supply chain shortages, a global pandemic, and inflation. Dealers will likely have to get creative and balance pricing with the automaker and consumer preferences, which is challenging.
Nevertheless, the economy is cyclical, so car supply and pricing issues will eventually smooth out. But, the timing of this occurrence is anyone's guess.
---
Did you enjoy this article from Chanell Turner? Please share your thoughts, comments, or questions regarding this topic by submitting a letter to the editor here, or connect with us at newsroom@cbtnews.com.
Be sure to follow us on Facebook and Twitter to stay up to date or catch up on all of our podcasts on demand.
While you're here, don't forget to subscribe to our email newsletter for all the latest auto industry news from CBT News.