When automakers release their new vehicle sales figures, they are predicted to show significant year-over-year growth with a modest slowdown from last month's sales pace. The new vehicle inventory reaching its highest level over two years is a substantial factor in the volume increase. Higher sales volumes are anticipated to be supported by more robust fleet sales.
For August, the seasonally adjusted annual rate, or SAAR, is anticipated to finish at 15.4 million. From the 15.7 million level in July, this is a little slowdown in sales rate. Even if a minor slowdown in the pace from last month is anticipated, much of it can be attributable to statistical corrections because this month includes two more selling days than last and one more than August 2022.

August's sales volume is expected to increase by almost 19% above the supply-constrained market of August 2022. Additionally, sales of new vehicles are anticipated to increase by nearly 3% from the previous month. Pent-up demand from consumers and businesses is still being met as new vehicle supply and pricing increase, particularly in rental fleet sales.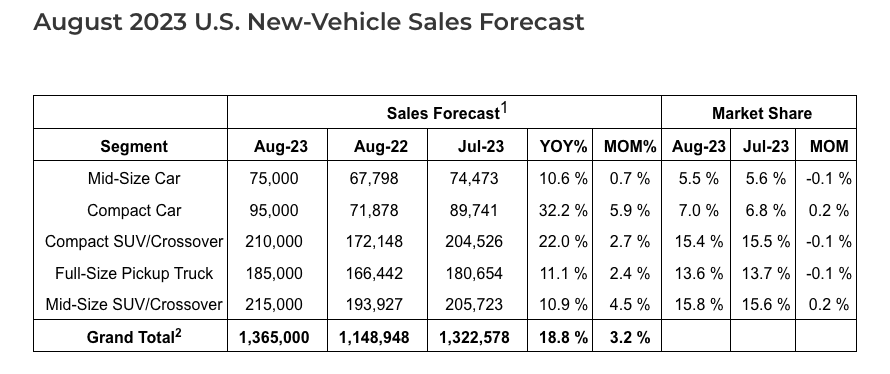 "The supply recovery continues to improve across the country, and this is driving the market's sales gains this year," says Charlie Chesbrough, senior economist at Cox Automotive. The recovery of supplies is also prompting manufacturers to offer more discounts. However, increasing interest rates and their effect on affordability remain significant barriers to a more healthy vehicle market.
New vehicles' affordability and sales strength have improved or remained consistent thus far this year. However, the second half of the year will likely experience some slowdown due to economic headwinds brought on by high interest rates and persistently high prices. In addition, while some pent-up demand has been fulfilled, higher incentives and more fleet sales should continue to provide support.