Most dealers view their CRM as a technology solution that's designed to improve processes or as a way to communicate with customers. While this is correct, your CRM is a lot more than just software.
Whether or not a CRM can help your dealership operate more profitably is probably 50 percent related to technology and process, and 50 percent related to people and culture. In fact, I believe it's really critical to ending the false pretense that one feature or another in a CRM is what's going to make or break your success.
CRMs are designed to be integrated with your culture so the entire team uses and embraces it. Ideally, your CRM is perceived as another team member. If you're not happy with your CRM, take a moment to evaluate your store's processes—there's a good chance you're making one or more of the following mistakes.
Lack of Focus on the CRM
Advertising Partner

In every store, there needs to be a CRM power user; someone who knows the ins and outs of the software and champions usage on a daily basis. In the most successful dealerships, this person is the GSM or GM. Usage mandates must come from the top down. You can't expect your sales team to do something that your managers aren't doing.
Make CRM training and usage mandatory for everyone, especially senior level management.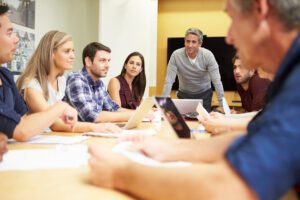 No Performance Mandates
I've always said discipline is the bridge between goals and accomplishment. Your staff needs to be held accountable for all aspects of usage.
Your team needs to know how many leads, ups, calls and appointments they must have to meet performance goals. Every team member needs to know exactly what is expected of them, from logging ups to follow up after the sale.
What are the top six activities in your road to the sale? Assign those activities to your salespeople on a daily basis and make sure they get done.
If your team isn't doing what they need to do, find out why. If cultural obstacles are the reason, find a way to remove those obstacles. Set daily, weekly and monthly goals and have daily save-a-deal meetings. Better yet, tie a clearly defined incentive or bonus structure to the activities based on your business goals, and be sure to change this often (monthly).
A word of caution on managing these mandates: If you judge a salesperson on what their sales ratios are, they will start logging fewer ups so it looks like they're closing more. Don't manage in a way that makes your sales team defensive, or they will start tweaking the data.
Not Enabling a Mobile Experience
Most CRMs today enable a mobile experience, but not all dealerships are maximizing that advantage. Look, most of your car shoppers don't have to buy a car, so it's our job to get people excited and enthusiastic. If you're forcing prospects to communicate or buy a product in a way that they're not comfortable with, whether its phone, text or email, they'll ditch you fast.
A mobile experience goes hand-in-hand with real-time communication and hyper-personalization. Make sure you have mobile-friendly research and buying tools on your website and in texts and emails. Consider implementing online buying tools and incorporating them into a mobile-based sales process controlled by the dealer.
Not Marketing Fixed-Ops
Currently, dealers are losing about 70 percent market share to independent repair shops. The Pep Boys and Jiffy Lubes of the world dominate search engine results, yet only one in three consumers is committed to their service provider. This represents a huge untapped market for dealers.
It's time to think beyond sending out emails and mailers with service reminders and oil change coupons. Your CRM holds data that can be used to create targeted marketing messages to various customer segments.
Marketing communications need to tout not just the "what" but the "why." Promote your value proposition, trained technicians, OEM parts and friendly service providers.
Not Embracing Technology in Marketing
Today's customers are demanding. They want transparency, fast, personalized and informative conversations, more friendliness and less pressure from the sales staff.
Are you leveraging the power of digital marketing to meet their demands? Video marketing, in particular, is a must-have strategy to get consumers to respond and engage with your dealership. In addition to email campaigns, leverage the power of texting and social media to connect with your customers.
Technology is such an integral part of the marketing experience that I have to wonder why dealerships still have internet departments. Customers and salespeople are all online, so in reality, the entire showroom is an internet department.
Are you making one of the above mistakes with your CRM? If so, don't blame your lack of success on CRM technology. Blame it on your culture and start working with your people to find a solution.