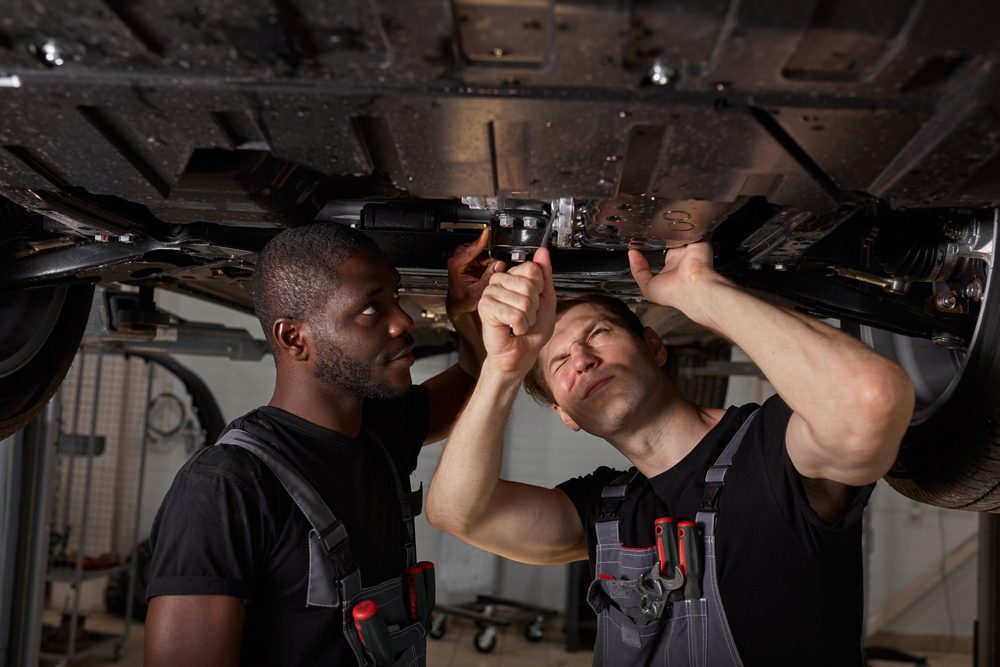 Staffing shortages are affecting dealerships across the country as they struggle to hire new employees and keep their turnover rate low. According to The Society for Human Resource Management, the "Great Resignation" is causing a massive shift in employment as nearly 40% of American workers have left their former jobs or are actively seeking new employment.
Within dealerships, fixed ops is getting hit hard and this impacts the bottom line of the entire business. If dealerships want to hire, grow and maintain a strong fixed ops team, they should turn their attention toward creating an employee-focused culture that can help mitigate staffing shortages. Here are some unique strategies your dealership can use to combat staffing shortages in fixed ops. 
Solution 1: Grow your own techs in service
One of the many growing issues for incoming service technicians is cost. At many dealerships, technicians must provide their own equipment, which can be expensive, especially for a technician just starting out. Dealerships can help combat this problem by giving new techs an option to buy/rent out equipment, eliminating a major barrier. 
Additionally, education for new technicians is becoming increasingly costly. Offering educational courses and additional training to help incoming technicians hone their skills can be a bonus for both the technician and the dealership. 
Solution 2: Use crowdsourcing in the parts department
Another significant problem in day-to-day operations at the service department is getting parts delivered when the parts department is lacking drivers. For dealerships that don't have enough full-time delivery drivers, if they have them at all, getting and delivering parts in a timely manner is challenging. 
Using crowdsourced drivers, such as with RevolutionParts' Local Delivery, can help dealerships receive and deliver parts fast without a full-time driver. Drivers from companies like DoorDash, Lyft, and Postmates can deliver parts to your service lane or your local retail and wholesale customers, usually within an hour. 
Solution 3: Grow revenue with sales-minded parts advisors
If your parts department is short staff, it doesn't mean you can't grow your parts business. Your parts advisors shouldn't be there just to fulfill parts orders but should be selling parts. What this means is parts advisors should be just as sales-minded when interacting with customers as members of the sales department. They need to have the skills to identify problems, communicate effectively with customers, and ultimately close more sales. 
Training the parts department in sales-based techniques can help you grow your parts business online and over the counter. You should provide training to show them how to recommend parts, accessories, and even services like maintenance and repairs to customers. You should also empower advisors to be problem-solvers and make decisions without needing a manager's approval. 
As your team increases sales, be sure to provide sales-based incentives to keep your team motivated, such as rewards, commission, and recognition. Celebrate sales wins with your team.
Solution 4: Add additional selling channels that don't need additional staff
A lack of staff doesn't have to mean a lack of growth. Parts departments can grow revenue by selling online without adding additional employees. Most parts departments who sell online don't hire additional staff until they are selling over $30k in parts and accessories a month. This can help your department grow revenue without adding additional staff. While this may seem like a large undertaking, successful dealers often refer to it as "selling parts in their sleep."
Here are some ways your pares department can sell online: 
A Website Plugin – with a simple plugin, like the one provided by RevolutionParts, you can instantly upload your entire parts catalog onto your dealership's website. This is great for your local business.
Online Marketplaces – marketplaces like Amazon and eBay have over 356 active users to sell parts to.
Parts Web Store – a parts web store allows your dealership to sell parts nationwide, expanding its reach.
Solution 5: Create a positive culture throughout the dealership
During the "Great Resignation" movement, the noticeable change in employment rates has often been attributed to poor company culture, lack of incentives, and low pay. Your dealership doesn't just need to compete to sell vehicles and parts; it also competes with other businesses for employees.
Employees seeking other work are looking for companies that can offer them a positive work environment. When looking for new hires, look for individuals who are willing to contribute to improving that company culture, not solely what skills they can provide. While your new hires will need a base set of skills to work in each department, sometimes the most qualified candidate with a negative outlook can hurt your business more than help. The last thing you want is a new hire to drive away your current dedicated employees. 
On top of a positive work environment, provide your employees with incentives to stay, such as employee recognition, bonuses, additional benefits, and better pay. Happy employees tend to stay longer and work harder; studies from Oxford show that happy employees are 13% more productive.
The Big Takeaway
Incoming workers are looking for companies that can offer them more opportunities, a better company culture, and the chance to develop skills. Combatting staffing shortages doesn't have to take a toll on your dealerships, and there are ways to grow business without needing to rely on additional staff. By implementing these five techniques, dealerships can hire more staff and grow their fixed ops despite the challenges.
---
Did you enjoy this article from Ibrahim Mesbah? Read other articles on CBT News here. Please share your thoughts, comments, or questions regarding this topic by submitting a letter to the editor here, or connect with us at newsroom@cbtnews.com.
Be sure to follow us on Facebook and Twitter to stay up to date or catch up on all of our podcasts on demand.
While you're here, don't forget to subscribe to our email newsletter for all the latest auto industry news from CBT News.