Partnerships with other small businesses in your area can be a powerful tool for your dealership's growth. As the saying goes, "The whole is greater than the sum of the parts." Working together will allow both businesses to reap benefits neither could on their own.
There are four key advantages to partnering with local businesses:
Expand your customer base.

Partnering with another business can expand your name recognition with costumes you may normally not reach. Not everyone will pass your dealership regularly or hear your ads on the radio. But if you partner with their favorite mechanic or local Farmer's Market, you'll be on their radar.
Widen your reach.

Not only are you limited in the people you can reach via traditional solo methods of advertising, but you're also limited in geography. Generally, businesses advertise most in their immediate surroundings. By partnering with another business you can widen your range to neighborhoods you'd not been able to reach before.
Access new resources.

Contacts, marketing, skills; there are many resources that can help your dealership grow. Partnering with others who have access to these resources allows you to access them as well.
Increase your revenue.

All of these amount to increased revenue for your dealership, as you are able to bring in even more customers than you would be able to on your own.
Additionally, by reaching out to partner with others to build strong relationships with other small buisnesses, you'll be
Where to Start
When building a partnership with another local business look around for other businesses that align with your values and vision. Consider what you want the partnership to represent and what the outcome would look like.
Once you have an idea of what kinds of things you want from a partnership, take a look around your community to find local businesses that match the description. Reach out to them with your partnership plan and begin discussing the steps needed to work together.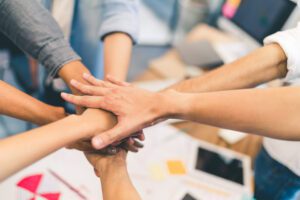 You'll need to choose a business structure, and hammer out clear parameters of your partnership. A partnership is not a merger, and it should be understood on both sides why you're partnering and what that relationship will look like.
A good idea would be to take a test run of the relationship by planning a co-sponsored community event. This will allow both sides to see how they work together while engaging in local outreach. After the event, you'll both be in a better position to judge how you should move forward.
Future collaboration can look different depending on the partners and needs. You may continue to run events together, you might include each other's services in your ads, or you may offer deals on each other's services if used in conjunction.
Overall, partnering can be mutually beneficial for your dealership and the local business with whom you partner. You'll both get the word out and farther than you would be able to on your own, and you'll find your community reciprocating the in-town support.