My friend Ed Mugg, one of the founders of the video platform CoVideo along with Jason Price, used to tell me in the early days of their development that "if a picture is worth a thousand words, then a video is worth much more."  He approached me in the early days of our training business and shared with me his strategy to make video easy for dealerships and salespeople and by doing so it would increase engagement with online shoppers. This was way back around 2005 and between he and Jason, they convinced me it was a compelling connection strategy.
Roll the tape forward to modern day and everyone who has a smartphone is now an amateur videographer and even some full-length movies have been shot using only a smartphone.  This technological evolution has produced some of the most candid and high caliber video on the web and the sky is the limit in the future. I remember in 2009 while working with LaGrange Toyota in Georgia the dealer principal Michael Stogner telling me how much he loved the new strategy and he was going to require anyone working with leads to create a personalized video for the customer.
Back then the video was produced with a Flip Camera which often caused the computer to meltdown when offloading and then uploading to YouTube. We created their YouTube channel and if you visit the channel today, you'll see they have uploaded 29,700+ videos, mostly 1 to 1 for individual customers. Another client, Tampa Harley Group, has been creating videos of their inventory and posting on YouTube, garnering 37,000,000 views from their 12,700+ videos while Harley-Davidson corporate has 36,000,000. Another compelling example that automotive videos rock is the car dealer son's channel SaabKyle04 (named after his 1st car) that has a whopping 614,000,000+ views from his in-depth reviews of vehicles.
Advertising Partner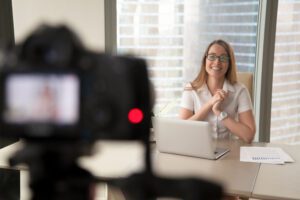 Take heart from a quote from the CEO of YouTube that I will paraphrase here "People come to YouTube for Texture, not Polish."  Don't worry too much about the quality. Most any content is appreciated. Some of the most prolific views come from general walkarounds where a product specialist simply presents a "Six Position Walkaround' of a vehicle in a video that generally runs from 1 to 2 minutes.  View counts are high when the content is clear and offers insights unavailable from written descriptions. Imagine customers pausing videos and zooming in on features to ensure a vehicle has the equipment they are asking for.
Other strategies include the most searched term when someone visits YouTube… "How to _______?"  It's common now to see sales team and service team members producing valuable videos on how to use features or how to check operational elements on their vehicles.  These videos are compelling and helpful and build a richer connection to dealership customers. It's also best if each salesperson creates their own How To Library and Video Walkaround library instead of using someone else's material.  The benefit is notoriety and will build an individual employee's brand and this helps with overall dealership branding.
One of my all-time favorite videos is the "Be-Back Video" that is utilized when a customer leaves without buying and a salesperson sends a quick video to show the vehicle and themselves, so they remain top of mind. Another exceptional video is when the dealer or dealer manager sends a thank you video to customers after a purchase. This builds a nice connection and affords the customer a greater appreciation of the dealership where they just spent thousands of dollars.  Dealership Service departments that leverage video to present check-up outcomes and repair issues receive instant credibility versus describing an issue via phone, text or email.
Some things to consider when creating video:
Remember CAR – FACE – PLACE!  I learned this from a long-term video producing dealership, Don Ayres Honda in Fort Wayne, Indiana.  80% on the CAR, 10% on the FACE of the Employee, and 10% on the PLACE. The Face and Place video parts provide additional credibility.

When sending it's nice to use a Platform such as Co-Video, BombBomb, CarFilm and others that allow you to have a nice framework with clickable links to inventory.

Use an Animated GIF with a dry erase board with the team member waving with a sign that says "Hi customers name."  This strategy increases view rates.

End your videos with a Call to Action so the customers knows what you'd like them to do after the video.

Smile and enjoy the process.  The video allows you to let your personality shine through and to join your customer in the Excitement of a Car Purchase.

Focus on the customer and what they would appreciate seeing.  Add commentary that is useful.

Don't make your video sound like the stereotypical loud talking car guy because it will turn off most customers.  Best to produce a Silent Video than to create one that they want to mute because of the salesperson.

Get out there and just do it.  Convince yourself that it will take at least 100 videos to get comfortable.  This is probably the most important part. Persist!!
If I can ever be of assistance as you kick around your video strategy, please contact me at david@kain.auto.