Welcome to another edition of The Future of Automotive, with Steve Greenfield, Founder, and CEO of Automotive Ventures, an auto technology advisory firm that helps entrepreneurs raise money and maximize the value of their companies.
Right to Repair lawsuits against Tesla
First up this week, Tesla has been sued in a pair of proposed antitrust class actions accusing the company of reducing competition for maintenance and replacement parts for its electric vehicles, forcing owners to pay more and wait longer for repair services.
The lawsuits allege that Tesla designed its electric vehicles, warranties, and repair policies to discourage owners and lessees from using independent shops that are outside of Tesla's control.
As we've reported prior on this show, right to repair legislation seems to be gaining steam lately, as the combination of EVs and vehicle connectivity provides more opportunities for manufacturers to close off their systems to non-OEM approved maintenance and repairs.
For example, we've recently seen right to repair cases against both Harley-Davidson and John Deere for similar practices.
Tesla's alleged restraints on service and repair, according to the new lawsuits, caused exorbitant wait times for drivers who otherwise would have gone to an independent repair shop.
The right to repair lawsuits call for Tesla's repair services and parts monopoly to be dismantled and for the company to be ordered to make its repair manuals and diagnostic tools available to individuals and independent repair shops at a reasonable cost.
We'll keep a close eye on how this one plays out, as it may have big impacts on franchise dealerships.
EVs and higher insurance premiums
Next up this week, for many electric vehicles, there is no way to repair or assess even slightly damaged battery packs after accidents, forcing insurance companies to write off cars entirely – leading to higher insurance premiums and increasing the cost of ownership for EVs vs. ICE vehicles.
The battery within an EV often costs tens of thousands of dollars and can represent up to 50 percent of an EV's price tag, often making it uneconomical to replace them, even if they only suffer minor damage.
For example, a replacement battery for a Tesla Model 3 can cost up to $20,000, for a vehicle that retails at around $43,000.
While some of the legacy automakers claim that they're making battery packs easier to repair, Tesla has taken the opposite approach with its Model Y, whose new structural battery pack has been described by experts as having "zero repairability."
Tesla's decision to make battery packs "structural" – or part of the car's unibody construction – has allowed it to cut production costs but risks increasing insurance costs that have to protect against expensive catastrophic failure of the battery.
Unless Tesla and other automakers produce more easily repairable battery packs and provide third-party access to battery cell data, already-high insurance premiums will keep rising as EV sales grow and more low-mileage cars get scrapped after collisions, insurers and industry experts said.
According Policygenius, the average U.S. EV insurance payment is $206 per month, which is 27% more than for a comparable combustion-engine vehicle, Reuters reports.
Not surprisingly, Tesla does offer its own insurance product in a dozen U.S. states to Tesla owners at lower rates than other insurance providers.
Companies to Watch
Every week we highlight interesting companies in the automotive technology space to keep an eye on. If you read my monthly industry Intel Report, which you can subscribe to for free, I showcase a few companies each month, and we take the opportunity here on this segment to share some of those companies each week with you.
Today, we have two companies to watch: TotalCustomerConnect and Altelium.
TotalCustomerConnect
Total Customer Connect aims to increase automotive retailer profitability by improving dealerships' customer experience through every point of the customer lifecycle. TCC provides innovative customer-centric solutions for automotive dealerships with measurable results in customer pay revenue and building quality customer relations.
The reason that I love TotalCustomerConnect is that they have deep expertise around dealership fixed operations and offer both marketing services and software to help deliver dealers with results.
You can check out TotalCustomerConnect at www.TotalCustomerConnect.com.
Altelium
Altelium provides warranties, insurance, and consultancy to empower businesses working with batteries at any stage of their life cycle. Their intelligent platform provides: real-time and AI-enhanced insurance technology; one dashboard to manage your data and policies; and complete visibility at your fingertips.
The reason that I love Altelium is that insurance and warranties are traditionally based on historical information analyzed to predict future behavior. But with EV batteries, we haven't been collecting data long enough to forecast future performance. Altelium addresses battery warranty solutions based on real-time battery performance insights.
You can check out Altelium at www.Altelium.com.
So that's it for this week's Future of Automotive segment.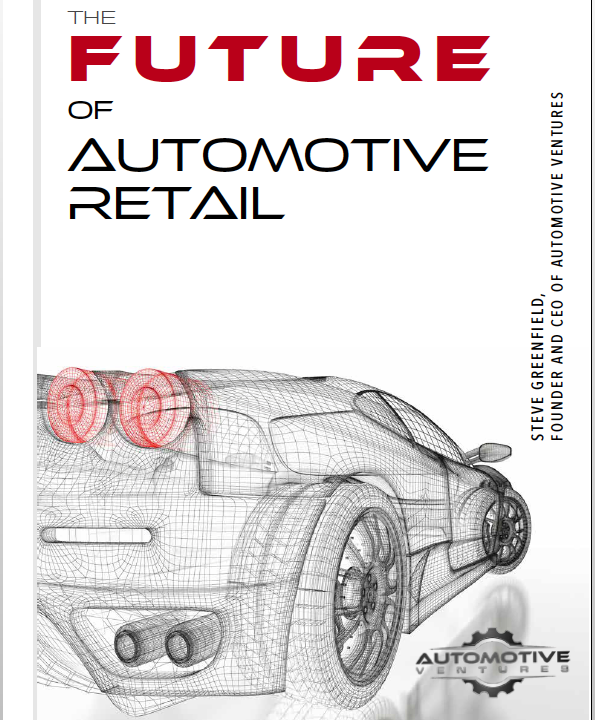 If you're an AutoTech entrepreneur working on a solution that helps car dealerships, we want to hear from you. We are actively investing out of our new DealerFund.
If you're a dealer who wants to invest in early-stage AutoTech companies that benefit your business, let me know. We are still accepting new investors into the DealerFund.
If you're interested in joining our Investment Club to make direct investments into AutoTech and Mobility startups with small checks, join the Club. There is no obligation to start seeing our deal flow.
And don't forget to check out my book, The Future of Automotive Retail, on Amazon.com.
Thank you for tuning into CBT News for this week's Future of Automotive segment, and we'll see you next week!