Welcome to another edition of The Friday 5 with Steve Greenfield, Founder and CEO of Automotive Ventures, an auto technology advisory firm that helps entrepreneurs raise money and maximize the value of their companies.
We've got a lot of deals to announce this week, so let's dive right in.
Well, we finally got to witness the IPO of ACV Auctions, and to say that shareholders received the offering well would be an understatement.
First, the offering was oversubscribed. ACV raised $414 million dollars at an offering price well above its marketed range. The company previously expected to raise only about $314 million dollars.
ACV shareholders sold 16.55 million shares in the IPO for $25 each. The company had marketed shares at $20 to $22 each, a range that it earlier elevated from $18 to $20.
In addition to an oversubscribed offering, ACV shares gained 25% in its first day of trading, to close at $31.25 on Wednesday.
The IPO implies a market value for the company of about $3.9 billion dollars.
ACV's biggest backer, Bessemer Venture Partners, now controls as much as 29% of the shareholder voting power after the listing.
The shares trade on the Nasdaq under the symbol ACVA.
Congratulations to the ACV team for such a successful IPO.
——————-
We reported here a couple of weeks back that Vista Equity Partners was in conversations with Apollo Strategic Growth Capital about a potential SPAC to take three of Vista's portfolio companies public, Solera, DealerSocket, and Omnitracs, in what could be a $15 billion dollar transaction.
Word this week is that Vista's negotiations with Apollo have been called off.
We'll keep an ear out if anything changes and report back here on the Friday Five.
Big news this week in one of the hottest areas of the auto tech landscape, Digital Retailing.
Nasdaq company Upstart Holdings, a leading artificial intelligence lending platform, announced it has entered into a definitive agreement to acquire Prodigy Software, a provider of cloud-based automotive digital retailing tools to dealers.
Prodigy Software acquisition by Upstart was for a total consideration of $100 million dollars; 85% payable in shares of common stock and 15% payable in cash.
Congratulations to the Prodigy team!
Automotive Keys Group, a portfolio company of Kinderhook Partners, has acquired MIDWEST KEYLESS INC, a re-manufacturer and distributor of replacement OEM and aftermarket keyless entry remotes & keys as well as key-cutting and programming equipment.
Financial terms of the transaction were not disclosed.
Midwest Keyless serves over 3,000 locksmiths and automotive professionals throughout the United States and Canada and provides leading technical support and ongoing education through its on-staff experts and training seminars on programming and key-cutting equipment.
Self-driving truck startup TuSimple filed for a U.S. initial public stock offering. The company, backed by Volkswagen AG's commercial trucking unit TRATON GROUP and UPS, is developing self-driving trucks with Navistar that are slated to start production in 2024.
It launched a self-driving freight network partnership with UPS and Berkshire Hathaway's supply chain unit, McLane Company, in July that it said should be operational nationwide by 2024.
Founded in 2015, TuSimple's revenue more than doubled to $1.8 million dollars in the year ended Dec. 31, 2020. Net loss attributable to common stockholders widened to $198.8 million, from a loss of $145 million dollars a year earlier.
Chinese autonomous driving startup Momenta.ai has received $500 million dollars from SAIC Motor Co., Toyota Motor Corporation and auto parts supplier Bosch as the global auto industry pursues the autonomous future.
Other investors in the funding round include Daimler AG, Temasek, YunFeng Capital and Tencent.
The four-year-old firm is testing autonomous cars in Beijing and China's eastern city of Suzhou, and has a research centre in Germany's Stuttgart.
Company to Watch
Every week we highlight interesting companies in the automotive technology space to keep an eye on. If you read my monthly industry intel report, I showcase a few companies each month, and we take the opportunity here on the Friday Five to share some of those companies each week with you.
Five64, was founded by Hoke Smith and is located in Cleburne, TX.
Five64 is a one-stop solution for interstate and state vehicle registration — including all 50 states plus the District of Columbia. The company's fee calculator determines taxable value, accurate taxes, and fees.
Dealers can quickly calculate fees and print forms. Five64 identifies to whom the check is payable and how much should be paid. In some States there can be more than one check needed to pay the taxing authority. You control the process, no middleman required.
You simply enter the Buyer's Address, VIN, and the Sales Price, then select the Calculate Fees button. Five64 will return a Summary and a Detailed Version of the Tax, Title, and Registration Fees. The Summary is used by Dealers to update their Buyer's Purchase Order.
State Forms include a Cover Sheet, Fee Breakdown, and required Forms such as the Title Application, Power of Attorney, and VIN Inspection. State Forms are editable, and group print at one time, providing the required documents to send to a Buyer for signature, and/or to submit to a State for title and registration.
With more vehicle transactions happening online, it's more critical than ever that both dealers and online players have the ability to conduct cross-state vehicle registrations without error, as well as calculating what can sometimes be dauntingly complex accurate taxes and fees, to derive the proper and accurate monthly payment.
Five64 provides a key building block of many companies' digital retailing strategies.
——————-
So that's your weekly Friday 5, a quick wrap-up of the big deals in automotive technology over the past week.
It's an exciting time to be in the automotive space, with a ton of deals going on. Make sure you stay tuned in each week to stay up to date on the auto industry's technology M&A activity. I'll keep my fingers on the pulse of deals being done, so I can share updates with you.
If you're an early-stage automotive technology entrepreneur looking to raise money, or an entrepreneur who wants to chat about the best timing and process to sell your company to achieve the best outcome, I'd love to discuss it with you at steve@automotive.ventures.
——————-
People often ask me why I'm affiliated with CBT News.
Besides having an outstanding, extremely talented, and hardworking team up here at the studio, I greatly appreciate the valuable role that CBT News plays in the automotive industry.
Every day, I eagerly look forward to my morning email from CBT News to ensure I'm getting the most up-to-date and relevant information on the industry.
I encourage you to tune in to CBT News to ensure that you're getting the automotive news that matters.
---
Did you miss enjoy this week's episode of The Friday 5? Please share your thoughts, comments, or questions regarding this topic at newsroom@cbtnews.com.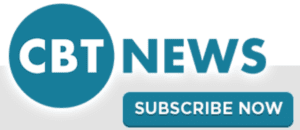 Be sure to follow us on Facebook and Twitter to stay up to date or catch-up on all of our podcasts on demand.
While you're here, don't forget to subscribe to our email newsletter for all the latest auto industry news from CBT News.