Welcome to another edition of The Friday 5 with Steve Greenfield, Founder and CEO of Automotive Ventures, an auto technology advisory firm that helps entrepreneurs raise money and maximize the value of their companies.
This week, instead of being in the CBT News studio, I'm broadcasting from a hotel room in Las Vegas. I'm out at the Conference for Auto Remarketing, and it's actually kind of nice to be back at a physical conference. 
So let's get started. 
Wall Street's record-breaking run for stock market flotations shows no signs of slowing down. With more than six months until the year ends, U.S. IPOs have already totaled $171 billion dollars, eclipsing the 2020 record of $168 billion.
Driving the IPO rush are sky-high corporate valuations in the stock market, inflated by the Federal Reserve's low-interest rates and monetary stimulus in the wake of the COVID-19 pandemic. This has fueled a wave of speculative frenzy that benefits not just traditional companies going public, but also special purpose acquisition companies (or SPACs) formed strictly to raise money through IPOs.
The IPO gold rush is set to reach new heights in the second half of 2021, as a number of high-profile startups such as China's largest ride-sharing company DiDi, online brokerage Robinhood and electric-vehicle maker Rivian prepare to launch multi-billion dollar share sales.
All of this is supporting a very healthy M&A and Investment environment for the AutoTech landscape. So with that, let's jump right into the technology deals of the past week.
First up, Waymo added $2.5 billion dollars more in funding. The new round comes a little more than a year after the company raised $3 billion dollars in its first external funding round.
Much has changed in the interim. Waymo expanded testing of robotaxis without human backup drivers last October. It saw CEO John Krafcik depart in April. This month, the company added another key partner, logistics firm J.B. Hunt, as the industry gravitates toward trucking as a first application of commercial autonomy.
Waymo did not disclose the valuation of the company. Investment firm Morgan Stanley estimated its value at $105 billion dollars as of September last year.
The same companies that participated in Waymo's first funding round have participated in this latest one. They are AutoNation and global parts supplier Magna International, as well as Waymo parent company alphabet, the Canadian Pension Plan Investment Board, Mubadala Investment Company, Fidelity Management & Research, Perry Creek Capital, T. Rowe Price Associates and global tech investment firm Silver Lake, which led the first round. The lone newcomer to the group this time is Tiger Global Management.
In the vehicle insurance space, USAA is acquiring Noblr Car Insurance and will use the company's usage-based insurance platform for a new offering. Terms of the transaction were not disclosed.
USAA drew a distinction between its current telematics-powered program, called SafePilot, and its plans for the Noblr technology. SafePilot will be operated as a "behavior-based" insurance product, using primarily data about driving habits. The Noblr-powered program will primarily use data about trip frequency — or more "usage-based".
SafePilot is currently available in four states and collects data via mobile app. USAA says that as many as half of its new signups in those states opt into the program. Frequency of use is part of its algorithm along with harsh braking and distracted driving, but with driving habits for some permanently changed by the pandemic, USAA sees increased value in usage-based pricing in addition to behavioral.
Chipmaker NVIDIA is acquiring DeepMap, Inc., the high-definition mapping startup. The company said its mapping IP will help Nvidia's autonomous vehicle technology called NVIDIA DRIVE.
One of the biggest challenges to achieving full autonomy in a passenger vehicle is achieving proper localization and updated mapping information that reflects current road conditions. By integrating DeepMap's tech, Nvidia's autonomous stack should have greater precision, giving the vehicle enhanced abilities to locate itself on the road.
DeepMap — founded by former employees of Google, Apple and Baidu — can use Nvidia Drive's software-defined platform to scale its maps across Autonomous vehicle fleets quickly and without using too much data storage via over-the-air updates. Nvidia will also invest into new capabilities for DeepMap as part of the partnership.
Nvidia is expected to finalize the acquisition in Q3 2021.
The rush to back LIDAR companies continues as more automakers and robotaxi startups include the remote sensing method in their vehicles.
Latest to the investment boom is Hesai Technology, a Shanghai-based lidar maker founded in 2014 with an office in Palo Alto. The company just raised over $300 million dollars in a Series D funding round led by GL ventures, the venture capital arm of storied private equity firm Hillhouse Capital, smartphone maker Xiaomi Technology, on-demand services giant Meituan and CPE, which is the private equity platform of CITIC Capital.
The proceeds of the funding round will be spent on mass-producing its hybrid solid-state lidar for its OEM customers, the construction of its smart manufacturing center, and research and development on automotive-grade lidar chips. The company said it has accumulated "several hundred million dollars" in funding to date.
Lidar is not limited to powering robotaxis and passenger EVs, and that's why Hesai got Xiaomi and Meituan onboard. Xiaomi makes hundreds of different connected devices through its manufacturing suppliers that could easily benefit from industrial automation, to which sensing technology is critical. But the phone maker also unveiled plans this year to make electric cars.
Meituan, delivering food to hundreds of millions of consumers in China, could similarly benefit from replacing human riders with lidar-enabled unmanned vans and drones.
Hesai, with a staff of over 500 employees, says its clients span 70 cities across 23 countries. The company touts Nuro, Bosch, Lyft, Navya and Chinese robotaxi operators Baidu, WeRide and AutoX among its customers. 
Electric Era, a Seattle startup that is designing and building battery systems for electric vehicle charging stations, has raised a $3 million dollar seed round led by REMUS Capital.
The first hurdle to EV adoption was range anxiety, regarding how far a vehicle could run before recharging, and now the challenge has shifted to where and how quickly drivers can recharge.
Electric Era has created an energy storage device using lithium battery cells that pairs with fast charging stations being built around the country. The storage is needed to buffer the draw on the electrical grid caused by lots of cars plugging in for rapid charges. Utility operators can slap charging stations with large fees when the demand for power spikes, so a battery system like Electric Era's can provide energy off the grid, avoiding those charges.
Electric Era is going through certification, safety and qualification testing for its products. The company expects to deploy its first units to customers in coming months.
The startup recently moved to a new, larger space in Seattle. The team will be able to build 40 energy storage units a week.
Motorway is a U.K. startup that allows car dealers to bid in an auction for privately owned cars for sale. The startup has had rapid success by removing a lot of friction in the process. It's now raised $67.7 million USD in a Series B round led by Index Ventures, along with new investors BMW i Ventures and Unbound. Existing investors Latitude and Marchmont Ventures also participated. The funding will be used to extend its platform and grow the current 160-person team.
Motorway claims it allows consumers to sell their car for up to 1,000 british pounds more than they could via other means, by uploading its details via a smartphone app that also using computer vision to assess the state of the car. Over 3,000 professional car dealers then bid for the vehicle in a daily online auction. The highest offer wins the car, which is then collected for free by the winning dealer within 24 hours.
Motorway says it has sold 65,000 cars since its launch in 2017 and seen sales hit 50 million british pounds in May 2021 alone, 2.5 million pounds worth of transactions a day, and more than 4,000 completed car sales a month. With only 5% of all vehicles in the U.K. sold online right now, there is plenty of headroom for this market to grow.
Many people in emerging markets depend on informal public transport to move across cities. But while there are ride-hailing and bus-hailing applications in some of these cities, there's a big need for journey-planning apps to improve mobility for users and reduce the time they spend commuting.
South African-founded startup WhereIsMyTransport is one such company filling that gap. It has announced a $14.5 million dollar Series A extension to continue its expansion across emerging markets; the company already has a presence in South Africa and Mexico.
Naspers, via its investment arm, Naspers Foundry, co-led the investment with Cathay AfricInvest Innovation Fund. According to Naspers, the size of its check was $3 million dollars. Japan's SBI Investment also participated in the round.
The extension round is coming a year after WhereIsMyTransport received a $7.5 million Series A investment from VC firms and strategic investment from Google, Nedbank and Toyota Tsusho Corporation.
WhereIsMyTransport maps formal and informal public transport networks. The company then uses data to improve the public transport experience, making commuting safe and accessible.
In addition, WhereIsMyTransport licenses some of this data to governments, operators, and third-party developers for research, analytics, insights and consumer and enterprise solutions purposes. 
CARRO, one of the largest automotive marketplaces in Southeast Asia, announced it has hit unicorn valuation after raising a $360 million dollar Series C round led by SoftBank Vision Fund 2. Other participants include insurance giant MSIG Asia and Indonesian-based fund EV Growth.
About 90% of vehicles sold through Carro are secondhand, and it offers services that cover the entire lifecycle of a car, from maintenance to end of life, when the vehicle is broken down and recycled for parts.
Founded in 2015, Carro started as an online marketplace for cars, before expanding into additional verticals.
The company's operations are divided into three areas: wholesale, retail and fintech. Its wholesale business works with car dealers who want to purchase inventory, while its retail side sells to consumers. Its fintech operation offers products for both, including B2C car loans, auto insurance and B2B working capital loans.
Carro's last funding announcement was in August 2019, when it said it had extended its Series B to $90 million dollars. The company's latest funding will be used to fund acquisitions, expand its financial services portfolio and develop its AI capabilities, which Carro uses to showcase cars online, develop pricing models and determine how much to charge insurance policyholders.
It also plans to expand retail services in its main markets, which are Indonesia, Thailand, Malaysia and Singapore. Carro currently employs about 1,000 people across the four countries and claims its revenue grew more than 2.5 times during the financial year ending March 2021.
China's Full Truck Alliance is aiming for a valuation of over $20 billion dollars in its U.S. IPO, marking another high-profile Chinese stock market listing in New York this year.
Full Truck Alliance, which calls itself the "Uber for trucks" and is more popularly referred to as Manbang in China, said it is offering 82.5 million American Depositary Units at between $17 and $19 dollars per unit. Each unit represents 20 Class A ordinary shares.
At the top end of the price range, FTA could raise as much as $1.57 billion dollars from the IPOwhich would make it the largest U.S. listing for a Chinese company this year. 
India's multi-brand car workshop and spare parts platform GoMechanic raised $35 million dollars in its Series C round led by Tiger Global Management.
Tiger Global spearheaded the financing with a $26.3 million dollar investment. Existing investors Sequoia Capital, Orios Venture Partners and Chiratae Ventures (which was formerly IDG Ventures India) have invested as well.
The fresh round takes the total investment in GoMechanic to $55 million dollars to date. Previously, it had raised $20 million dollars across two institutional rounds.
GoMechanic has been valued in the range of $315 million to $320 million dollars post investment.
The five-year-old company claims to have over 500 service partners on its platform and has serviced over 2 million cars. 
Brazilian intercity bus startup Buser Brasil has raised 700 million reais (or $138 million US dollars) from LGT Capital Partners, Lightrock, SoftBank, Monashees and other venture capital firms to fund new services aimed at a ten-fold expansion next year.
The travel app, which now serves nearly 4 million users, aims to modernize ground transport in Brazil, where some 300 million bus tickets were sold in 2019, according to Valor Capital Group, which also contributed to the round.
Buser said the fresh capital would help finance 1 billion reais of investment over the next two years, including expansion into cargo shipping, urban transportation and a marketplace for traditional bus companies.
The startup said it has earmarked 200 million reais to finance new buses for its partners and 400 million reais for opening new destinations across the country.
Companies to Watch
Every week we highlight interesting companies in the automotive technology space to keep an eye on. If you read my monthly industry intel report, I showcase a few companies each month, and we take the opportunity here on the Friday Five to share some of those companies each week with you.
Today, our companies to watch are Widewail and Karus.ai.
First up, we have Widewail, which was founded in 2017, and is located in Burlington, Vermont.
Widewail helps businesses of all shapes and sizes manage their online reputation. Through its full suite of powerful review management products and services, Widewail helps thousands of businesses engage with their customers, increase online visibility, and grow their business.
Widewail focuses on review generation, review management, and social media management that work together to deliver a seamless experience. When combined, Widewail's products and services are your behind-the-scenes online reputation management engine that grows your business.
If you're looking to build loyalty, create community, and harness the power of your happy customers through online engagement, Widewail is an innovative company that is worth looking into.
Our second Company to Watch this week is Karus, founded in 2020 and located in Boise, Idaho.
Karus is a credit intelligence platform that powers real-time decisions. Using data aggregation and mining, signal processing, and machine learning, The Karus Platform delivers cash flow inputs to investors, lenders, and originators.
Starting with the $1.36 Trillion dollar Auto Debt Market, Karus' technology provides predictive insights for both private loan pools and securitizations.
Karus provides solutions to Institutional Investors, Lenders, and Originators across the entire ecosystem and enables them to rapidly source, vet, cleanse and analyze millions of rows of data, understand borrower and lender behavior, and gain access to additional sources of capital.
The Karus Portal, which delivers their analytics and visualizations, is designed to seamlessly integrate with credit investors' daily work flows and supplement existing investment diligence platforms.
Every datapoint and table available in their web application is also available via their API suite. This allows developers and sophisticated investors to integrate Karus insight and data directly into existing workstreams & reporting tools.
Karus is a company to watch in the credit intelligence area of the auto tech ecosystem.
——————-
So that's your weekly Friday 5, a quick wrap-up of the big deals in automotive technology over the past week.
It's an exciting time to be in the automotive space, with a ton of deals going on. Make sure you stay tuned in each week to stay up to date on the auto industry's technology M&A activity. I'll keep my fingers on the pulse of deals being done, so I can share updates with you.
If you're an early-stage automotive technology entrepreneur looking to raise money, or an entrepreneur who wants to chat about the best timing and process to sell your company to achieve the best outcome, I'd love to discuss it with you at steve@automotive.ventures.
——————-
People often ask me why I'm affiliated with CBT News.
Besides having an outstanding, extremely talented, and hardworking team up here at the studio, I greatly appreciate the valuable role that CBT News plays in the automotive industry.
Every day, I eagerly look forward to my morning email from CBT News to ensure I'm getting the most up-to-date and relevant information on the industry.
I encourage you to tune in to CBT News to ensure that you're getting the automotive news that matters.
---
Did you miss enjoy this week's episode of The Friday 5? Please share your thoughts, comments, or questions regarding this topic at newsroom@cbtnews.com.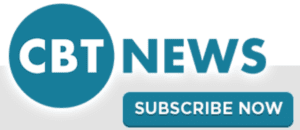 Be sure to follow us on Facebook and Twitter to stay up to date or catch-up on all of our podcasts on demand.
While you're here, don't forget to subscribe to our email newsletter for all the latest auto industry news from CBT News.