There are many good reasons to show off Certified Pre-Owned (CPO) cars to your dealership's customers. To start with, CPO vehicles have longer warranties and coverage than non-CPO used cars. They're also generally in better condition than other used cars, given the thorough inspection they need to go through to earn their CPO status. Many manufacturers even require they be accident-free, so customers can feel confident in that they're not investing in a clunker that will end up costing more than a new car. And unlike a new car, buyers don't have to worry about the customary depreciation that usually comes in the first year. Gently used, affordable, and well protected, there's a lot to love about CPO vehicles.
In 2018, CPO car sales hit record numbers, according to Cox Automotive, with sales reaching almost 3 million. If you're looking to showcase CPO cars at your dealership, Autotrader has got you covered. The third-party car-listing site has put together two lists of sought after CPO cars, one for general vehicles and the other for luxury autos. To keep both lists affordable to the majority of shoppers, Autotrader capped the budgets for each list at $40,000 and $65,000 respectively.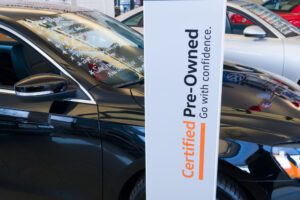 Among Autotrader's best CPO cars for 2019 is the Chevrolet Tahoe (2015-18). This popular, versatile model becomes affordable in CPO form, with a generous warranty and two scheduled maintenance visits. Another great selection, at an average of $19,800, is the CPO Honda Civic (2016-18). Civics are popular sedans even in a market that doesn't isn't showing cars much love these days. And if you're looking for a more rugged ride, Autotrader recommends customers check out CPO Jeep Wranglers (2013-17), which could go for between $30,100 and $43,300. Other notables on their list include CPO Mazda6s, Nissan Rogues, and Toyota Tundras.
Over on the luxury car side, in 2019, Autotrader has a great lineup as well. Luxury CPO vehicles allow those who normally wouldn't be able to access the luxury market to have a chance at affording the car of their dreams. Cars like Porsche's bestselling Macan (2015-18) as a CPO vehicle can cost $56,907. The sleek Jaguar F-Type can be had at $60,166. Another great possibility on the luxury CPO car list at Autotrader is the Acura MDX (2014-18). A new one typically comes with a price tag of upwards from $44,000. CPO options of the car can go for a reasonable $33,000. Further rounding out the list are the Cadilac Escalade, Chrysler Pacifica, Infinity QX60, Kia Cadenza, and Lexus RC, all in CPO format.
Looking forward toward the rest of the year, CPO cars are set to continue growing as an option for many shoppers, specifically because of their safe affordability. Brian Moody, the executive editor of Autotrader, sums up the allure perfectly. "As more features are added to today's vehicles, new-car prices continue to rise, with even 'affordable' models costing as much as $35,000 or $40,000. … CPO vehicles are thoroughly inspected, covered by warranties and offer the latest designs, making it difficult to even tell the difference between their new car counterparts." With this in mind, consider adding CPO cars to your pitch today.