It's no secret that the dealership model is under attack in America. From subscription alternatives that could bypass traditional dealers to startups like Carvana claiming they provide a better way to buy a car; it sometimes feels like everyone is out to eliminate the dealership from the equation. Many even predict that automotive retail is the next great industry to be disrupted; in some scenarios by a yet unnamed "Amazon of car dealers."
I disagree. While I believe true disruption may be on the horizon, vehicle subscriptions and the online sales model – innovations dealers could employ today if they chose to – won't be the cause of some industry-wide collapse. They may slow the growth of those dealers hesitant to adopt these, but they won't come close to dismantling an industry.
So, while I don't think the industry should lose too much sleep over an Amazon of car dealers, that doesn't mean individual dealers shouldn't fear disruption. Soon, your dealership could be disrupted by – and begin losing sales and service dollars to – the Chick-fil-A of car dealers.
Emulating Chick-fil-A is Easy
Dealers who can become synonymous with the kind of service Chick-fil-A provides (by improving the customer experience in both sales and service), will be the long-term market share winners. Moreover, they'll earn great CSI and enjoy higher grosses. The funny part about all this, is that it's not hard to become the Chick-fil-A of car dealers.
Chick-fil-A, often lauded as this phenomenal provider of mind-blowingly great customer service, really doesn't do anything that special. In fact, Chick-fil-A doesn't even provide mind-blowingly great customer service. Chick-fil-A provides a good chicken sandwich in a reasonable time by people with manners. That's it.
The customer experience at Chick-fil-A is good. Compared to their competitors, it's great. Compared to a First-Class seat on Emirates Air, it's better than getting a tooth pulled. But, what Chick-fil-A has discovered (and most every car dealer has not), is that you don't have to blow customers' minds with delight, you just must get things right the first time.Today's customer is not looking to have a love affair with your dealership. They just want to be treated like a welcomed guest; have their concerns addressed and their expectations met. Heck, some of them just want their oil changed in under three hours!
Study after study show how a good customer experience leads to higher sales; and that customers are willing to pay more for good service. So, what's keeping your store from being known as the Chick-fil-A of car dealers?
The Customer Experience Matters
Studies tell us people don't like the car-buying process; they don't like dealing with our service departments; and they often don't trust our teams to give them the most complete information. However, due to a multitude of factors (including state franchise laws and the fact that nearly everyone still wants to test drive before they buy), traditional dealerships will continue to thrive into the foreseeable future.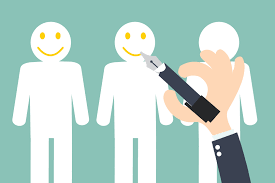 This doesn't mean your customers aren't looking for and expecting something better. It also doesn't mean they won't abandon your dealership when they find it. The questions you should be asking your team are, "How can we be that 'something better' for our customers? How can we grow revenues in a flat market without sacrificing profits? How can we deliver a great customer experience every time?"
In other words, "How can we become known as the Chick-fil-A of car dealers?
Why would being known for a great customer experience (like Chick-fil-A provides) matter to your bottom line? It's simple: in today's market – where pricing is transparent, and reviews are plentiful –where someone shops for a car or services their vehicle often comes down to the customer experience. Let me give you a quick example.
Assume there are two Toyota dealers near a prospect's home, each about seven miles away in opposite directions. Both sell the same new Toyotas for about the same price. Price and convenience are relatively equal in this instance, correct?
What if one of these dealers offered a concierge-type service in their sales department – one that included at-home test drives? What if that dealer was also known for providing a great customer experience in their service drive? Would these two facts – if known to buyers like this one – make a difference in where they shopped (all else being equal)?
Moreover, if this dealership really did provide a great customer experience every time – if they were the Chick-fil-A of car dealers – would their customers even consider the other Toyota dealer for their next car or would they give this dealer the first chance at their repeated business?
The Chick-fil-A Test
If you think your team is doing the best they can to provide a great customer experience, take a few minutes in each department to conduct what I call "The Chick-fil-A Test."
Simply watch as customers approach your service advisors on a busy morning. Do your advisors immediately look up, smile and greet every guest as if they're expected? Do your advisors listen to the customers' needs and always respond in a positive manner that lets the customer know they've been heard and their vehicle is in good hands?
Is this same courteous, helpful attitude that instills confidence in the customer repeated in your parts, sales and F&I departments with every guest? Why not? That's what the cashiers at Chick-fil-A do during every busy lunch and dinner rush. If they're not too busy to manage expectations and smile when their counter is swarming with customers, what's our excuse?
To be the Chick-fil-A of car dealers requires not much more than managing customer expectations and ensuring your teams radiate courtesy and instill confidence in your customers. It's not hard, it just takes work.
Good selling!