Isn't 'Selling' a blast on those busy days?
Even when you're there 8 or 10 hours, when you have appointments who show and buy, and then grab a quick up or service customer and end up selling 3 or 4 cars that day, don't you leave work more pumped than when you got there?
Waiting and hoping is demotivating.
I spent my first 5 years waiting for my dealer to send us floor traffic. Then if we were on rotation taking 'ups', I had to wait my turn or fight for the next up if it was open season.
We waited for traffic, then hoped for a 'live one' who said they were ready to buy 'now', who had good credit, and wasn't buried in their trade.
Before long I hated selling cars. I quit my dealership 4 or 5 times trying to find one with more / better traffic and I changed careers almost as many times those first years, too.
In between selling cars, I also helped build RVs, sold loans at a Mortgage company (I did sell some, but never got paid for what I sold – so that didn't work out), and was hired in sales at Carrier air conditioners.
Carrier was the only place I'd worked that had a real training program. Even though the salespeople who worked there were driving Porsches and Mercedes while I was driving an old VW that wouldn't start half the time – I didn't pay any attention in the training program.
Why would I need to learn more about selling?
'Selling' hadn't been my problem in the car business.
I'd sold Chryslers, Plymouths, Jeeps, Chevys, Toyotas and used cars at a pot lot and never got past 8 or 10 a month – but I wasn't the problem.
The problem was they never had enough traffic, the customers who came in either weren't ready, had bad credit, or they were stuck in their trade, the used car manager never bid the trades high enough to make a deal, and most of my managers didn't try hard enough to make a deal when I'd write somebody up.
Trying to sell air conditioners was the same, the customers they gave me weren't ready to buy, or couldn't afford it – so I never sold even one.
The arrogantly average attitude I'd developed selling cars beside other arrogantly average salespeople and managers had me totally convinced that I didn't need to learn more about how to sell. I could sell.
I just needed the right product, lots of traffic and better management.
—————
Like I did, most people shift the blame. Feeling good about ourselves is healthy, and our brains want to help.
But as we lie to ourselves about why we aren't selling more, we're teaching our minds to shift the blame to some other source besides ourselves.
Accepting responsibility and doing something about it is positive, makes you stronger and helps you grow. Yes, initially that's tougher than blaming everyone and everything else.
But in the long run, shifting the blame is even tougher, because it will make you angry at everyone and everything you perceive as holding you back.
As I learned about selling and success, I realized we either learn more, enjoy more success and stay motivated, or we'll be constantly demotivated by our lack of success.
You'll either train your brain to look for ways to improve, or you'll teach your mind to pretend that you're 'perfect' and everyone else is at fault.
In the end, your success is up to…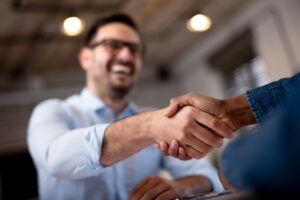 The person in the mirror.
Choose Your 'Pain'
If you haven't heard this before, or if you haven't already experienced it many times…
There are 2 kinds of pain in life…
Discipline or Regret
Your mind is always trying to protect you, that's why it helps us justify things like not selling more.
If you listen closely though, your mind is also reminding you of what you should be doing.
None of us make the best decision every time we do things, but when you know what you should do and then do the opposite most of the time because it's easier, hang on because the pain of regretting those choices won't be far behind.
Just start making more good decisions every day. Sure, they're tougher, but they're so much easier and less painful in the long run.