Yes, business must continue, but it may have to do so in many new ways. Being open to creative solutions from peers, suppliers and vendors can be valuable right now. Change is hard, especially under duress. I reached out to some automotive industry thought leaders for some insights on creative approaches you may want to consider.
Christy Roman, President at Now Digital, a digital marketing company, provided this insight. "We have been talking about dealers becoming more customer-centric for years. Now they are being forced to. Consumers for years have wanted a more transparent car buying experience, whether online or in person.  Now is the time to provide customers a shopping and service experience that works for them, including  seamless online buying."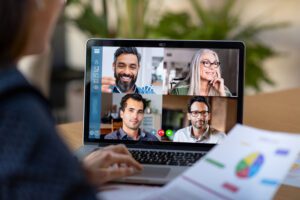 Tony Dupaquier, Director of The Academy, a company that specializes in F&I solutions and training says, "I have been doing several webinars and social videos using meeting platforms like ZOOM to conduct the F&I transaction. It is being adapted quickly and the results are amazing. Some are running record high F&I numbers."
Jill Trotta, Vice President/GM of Marketing, Sales, and RepairPal Express at RepairPal, Inc. stated, "One of the biggest things I see happening is the division that is happening between businesses. Some are digging in really deep to help their employees and retain their employees. Others are dumping employees and laying people off. When things open back up, I feel it's going to separate the companies into two buckets. Those who have dig deep to help their employees and their communities and those who contracted to protect themselves without regard to their employees and communities. This is a time that will define the strength of the leadership of your organization."
"Investment in performance-based marketing can help bring in new customers during this time. What you have in place now might not be the thing to get you through these times, try something new, the instinct might be to contract at this time, but investing in new marketing channels might be the silver bullet you need to tap into another lead source for new customers."
And from Kathy Gilbert, Director of Customer Success, Minority Dealer and Women Retail, CDK Global LLC, "One of the best pieces of advice I can share doing this time as a corporate leader is to stay close to your employees and make sure that they know that you are here for them. This includes Employee Assistance Programs, especially for those that are alone, struggling mentally or suffering for some reason.
"We are laser-focused on what's important to the customers, but we rely on our employees to be the face to our customers. Our employees want to do the best for our customers doing this time, and it's important that we stay connected to them. So, we've provided tools to remotely manage and lead teams in these trying times.
Helping our leaders to manage and lead teams under normal circumstances has its challenges. So, leading a team remotely and making sure to keep your people engaged.  We're sharing ways to encourage productivity, engagement and boost morale remotely."
My wrap up on this topic is this: The best approach is to create a culture that embraces change and encourages creativity to solve challenges. Communicate with care, concern and compassion to support your employees, suppliers, vendors as you work through the change cycle.
Related: Maintaining Mental Health During a Crisis
---

Did you enjoy this article from Jody Devere? Read other articles from her here.
Car Biz Today, the official resource of the retail automotive industry.

Be sure to follow us on Facebook and Twitter to stay up to date or catch-up on all of our podcasts on demand.
While you're here, don't forget to subscribe to our email newsletter for all the latest auto industry news from CBT News.