According to a recent report, service departments now comprise 49 percent of a dealership's gross profit. CBT Automotive Network sits down with Jim Roche, VP of marketing and management services for Cox Automotive's Xtime, to discuss this boost in the industry.
In the latest 2018 service industry study organized by Xtime, the objective was to bring together the perspectives of both dealers and consumers to explore the current state of the service market. After interviewing over 3,500 consumers and 400 fixed-ops employees across a variety of dealerships, this is what they found.

Jim explains, "With sales flattening in the down part of the cycle, in addition to margin compression in new and used vehicles, dealers are shifting and re-focusing to fixed-ops to safeguard growth and profitability."
Fixed-ops growth is also essential to customer loyalty. If your service department has repeat customers, then that is an incredible drive of vehicle re-purchase.
Service visits to dealerships are also up from 30% to 33%. As vehicles get more complex, consumers feel more comfortable taking them to dealerships, which has created an increase in the value perception of the service department.
While this appears to be good news, dealerships still face challenges on the horizon. The industry is continually riddled with consumer misconception. However, Jim points out that service prices at dealerships are competitive, not more expensive. So the real problem must be marketing one. Dealerships simply must make their pricing visible to the market. Jim suggests advertising in the dealership as well as online.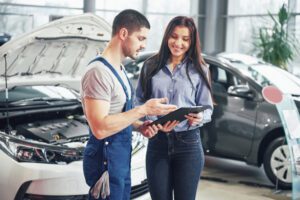 86% of dealers are also approaching full capacity in their service department, and without expanding, there will be no way they can reach demand. Jim reminds us, "The most important thing to remember is a lack of capacity is the enemy of retention." No consumer wants to book two or three weeks out for service.
Jim closes with the encouragement to introduce the customer to the service department at the point of sale, and use integrated CRMs to deliver an enhanced online experience.
Click here to read more about the 2018 service industry study.