The automotive world received a jolt today as AutoNation CEO Mike Jackson announced his decision to step aside after nearly 20 years with the company. Jackson made the announcement on CNBC this morning.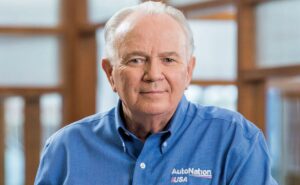 Jackson has been a massive success story in the industry. Since he took the helm at AutoNation in 1999, the company's stock has more than tripled and the company now has more than 300 locations. In 2017, AutoNation's revenue rose to $21.5 billion.
AutoNation has also held onto the coveted spot as the number one auto retailer in the united states under Jackson's watch.
Observers credit Jackson's dedication to streamlining operations, bringing in more luxury and imported autos and embracing digital as reasons for AutoNation's success.
Unlike many of his contemporaries who shy from controversy, Jackson has never been afraid to speak his mind whether discussing fuel efficiencies or the trump administration.
AutoNation's board has hired executive search firm Spencer Stuart to find a successor and will consider both internal and external candidates.
To read more on Mike Jackson's Tenure as CEO of AutoNation click here, or visit us on CBTNews.com.