We are less than four months away from 2020. Depending on your perception of the New Year, this is either good or bad news. However, there are ways to ensure the close of 2019 sets you up for a stellar start to 2020.
Many consumers know that the end of the year brings discounts and promotions. However, while it is crucial to provide deals that benefit customers, you also want to ensure these incentives are attractive enough to make up for any sales lag that occurred during 2019.
So, what are some unique promotional ideas you can use at your dealership to encourage a sales surge at the end of this year? Take a look at our essential tips below:
Invest in Promotional Products
This tip is a short-term strategy that can facilitate long-term results. According to Promotional Products Association International, promotional products or "swag" really resonate with customers. For example, promotional products draw up to 500 percent more referrals from satisfied customers than an appeals letter alone. So, in preparation for the end of the year, see about offering promotional products that include your dealership's logo. These items could be tote bags, pens, caps, or even mugs. Customers pay attention to "swag" and offering it to test drivers, and potential buyers can expand the reach of your brand.
Connect Your Brand with a Charitable Cause
We are coming up on a season that is densely packed with many prominent holidays. From Halloween to Thanksgiving and Christmas, these festive events can cause buyers to feel more inclined to donate to charitable causes. So, don't just offer the same standard incentives. Allow potential buyers to save money on a car while helping a charitable cause in the community. For example, you can partner with a nonprofit, and ensure 10 percent of every sale of a vehicle purchased during a specific time goes toward that organization. You can also hold a volunteer event at your dealership and allow potential customers to participate. From there, you can further cultivate a relationship with them.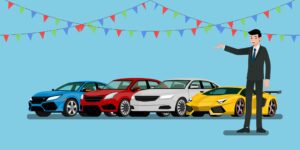 Offer Deals Connected with End-of-the-Year Birthdays
Make sure you are keeping an eye on your CRM, and the profiles of past customers and test drivers. Take the time to see who is celebrating a birthday, and send them a repair or maintenance discount. This tactic is an excellent way to get them into the shop so you can provide an excellent customer experience, and hopefully get them re-invested in interacting with your dealership. It not only shows that you care enough to pay attention to their birthday, but it also allows you to reinforce the customer-dealership relationship. 
Offer a Special Holiday Referral Bonus
This step is an excellent way to get your customers to become ambassadors for your dealership. While it is a great idea to offer a referral bonus throughout the whole year, you may want to up the ante and add a bit more money to the incentive. Also, you might want to have a tier of referral bonuses. For example, you can offer one that provides a more substantial incentive for someone who refers a customer who purchases a car, and then a smaller reward for those who successfully refer a family member or friend to your maintenance and service department for a routine servicing.
Add Urgency by Adding Visible Countdowns to Promotions
If you are offering any incentives, be sure to establish a time limit when possible. A sense of urgency can impact customers. So, if you are running any standard end-of-the-year promotions, attach a countdown clock wherever you are advertising the incentive. You can show this on your dealership website, and even within an email newsletter. Also, be sure to remind customers on your mailing list during specific points of the duration of the countdown (one week, 48 hours, and 24 hours). Providing urgency by adding a deadline to the promotion is a great way to push those customers who may be in the final stages of research to ultimately buy from you. 
Final Thoughts
The end-of-year can be a mutually beneficial time for your dealership and your customers. Consumers are looking for deals, and many dealerships will be offering them. However, the tactics above can help you stand out from the pack and provide even more convenience and satisfaction to your customer base. Ultimately, incentives and promotions are an excellent way to say, "thank you," or "trust us," and the practices above can help you accomplish this.