Welcome to another edition of The Future of Automotive, with Steve Greenfield, Founder, and CEO of Automotive Ventures, where I put recent automotive and mobility news items into context, in terms of the broader thematic areas that will potentially impact the industry.
I'm glad that you could join us.

Automotive Ventures portfolio company Recurrent, the company that provides battery reports for EVs, has published its latest Used EV Market Report, and it's chock-full of valuable information.
Updated quarterly, the Recurrent Used EV Market Report tracks trends in used electric car pricing and inventories as a free resource for EV buyers and sellers.
There are a few themes in the latest publication that might be of particular interest. First up, used EV prices continue to fall, with nearly 40% of all inventory on dealership lots now priced under $30K. And an increasing percentage of used EVs are now priced under $25,000, the threshold to qualify for federal tax credits, which in turn makes those units even more affordable for consumers. This is a key pricing threshold for dealers to keep in mind for their used EV stock.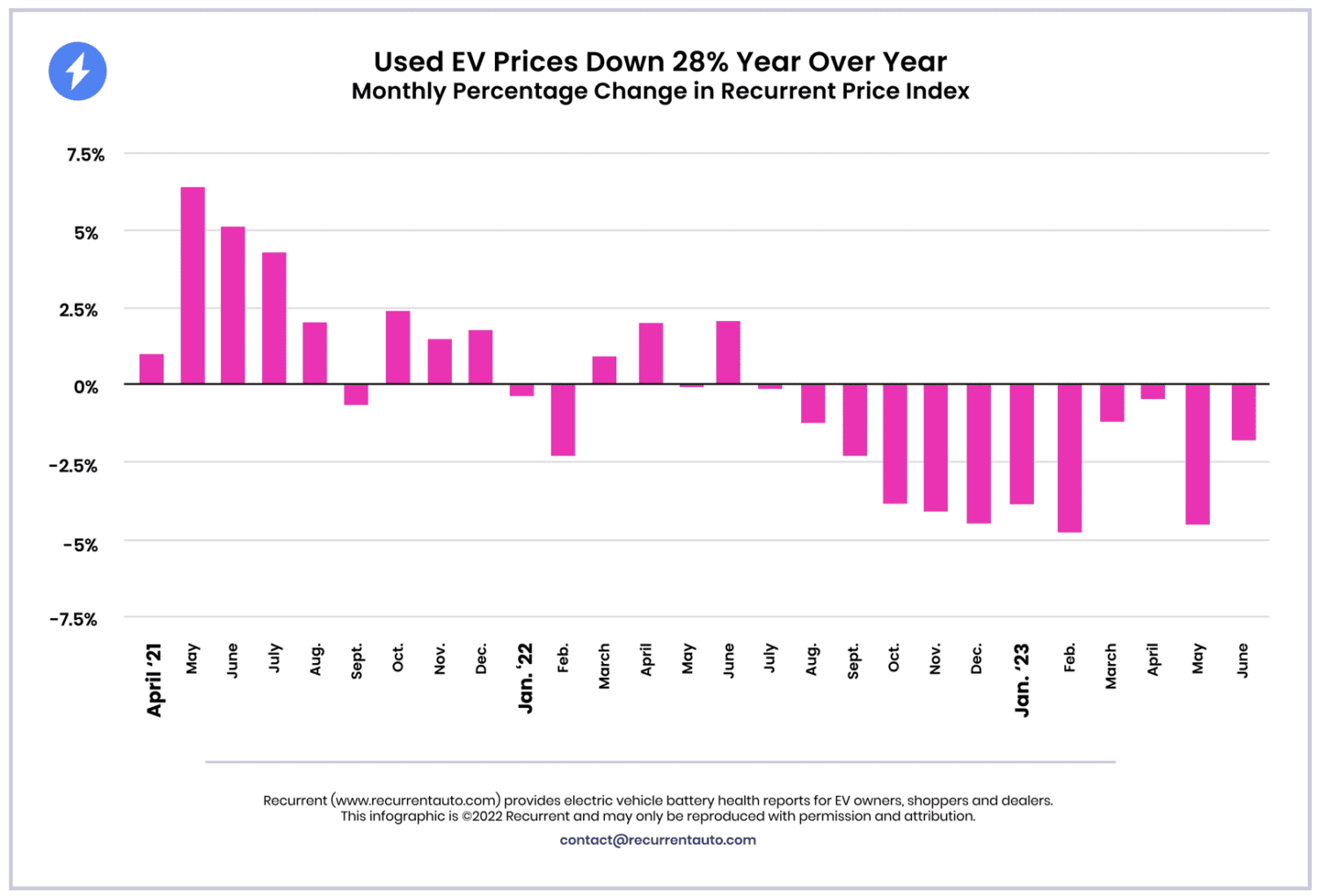 Second, the report points out that if you're a consumer looking for a specific make or model of used EV, where you look matters. The report calls out those states that have the most inventory by brand.
And finally, the report points out that used Teslas, which make up around 30% of the total used EVs available for purchase, typically hold their value pretty well – but not last year's models. As we've reported a number of times before on this segment, Tesla continues to drive down its own prices on new vehicles in a bid to capture market share, which then accelerates one-year depreciation on their used units.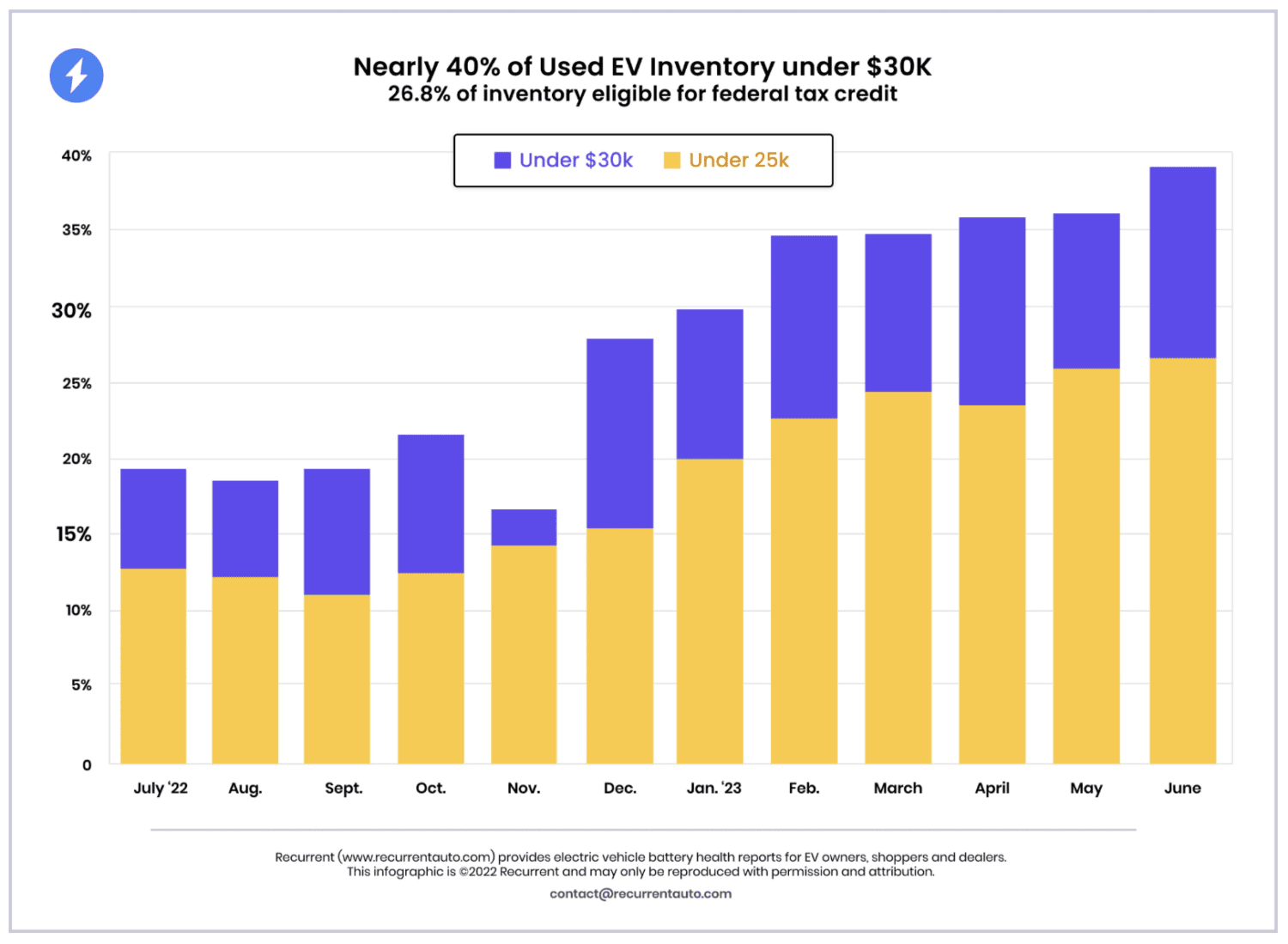 You can get your free copy of the Recurrent Used EV Market Report at www.RecurrentAuto.com.
And it's worth noting that Recurrent also has a "tax credit eligibility tool" for EV shoppers. Consumers or Dealers can access the tool by simply entering a VIN number. That page on the Recurrent website is an excellent resource for used EV tax credits and consumer eligibility.
Companies To Watch
Every week we highlight interesting companies in the automotive technology space to keep an eye on. If you read my weekly industry Intel Report, I showcase a few companies, and we take the opportunity here on this segment to share those companies with you.
 Today, we have two new companies to watch: Privacy4Cars & Peaxy.
Privacy4Cars
Our first company to watch this week is one of Automotive Ventures' current portfolio companies, Privacy4Cars.
Privacy4Cars is the first and only technology company focused on identifying and resolving data privacy issues across the automotive ecosystem. Their mission is to offer a suite of services to expand protections for individuals and companies alike, by focusing on privacy, safety, security, and compliance.
Privacy4Cars created a robust and auditable process to quickly and efficiently delete personal information stored in vehicles as a result of users connecting their phones to vehicle infotainment systems, using the navigation system or universal garage door openers.
Dealerships should be aware that 4 out of 5 pre-owned vehicles are resold while containing Personal Information of previous drivers and passengers (including minors), and that the expanded FTC Safeguards Rule requires dealers to protect electronic Personal Information. 
As a dealership, you can ensure that every car you touch is wiped of consumer personal data, and Privacy4Cars backs it up with a Deletion Certificate that you can provide to your customer, and they stand behind their process with a $1 million warranty.
You can check out Privacy4Cars at www.Privacy4Cars.com.
Peaxy
Peaxy is a San Jose, CA-based cloud software company providing battery lifecycle analytics and digital twins.
The Peaxy Lifecycle Intelligence solution offers cloud-based lifecycle analytics and a unified data vision to streamline battery research and development, manufacturing, integration, and field operations.
I really like this company because of the challenges the industry faces with EV batteries.
Peaxy builds what they call a "battery passport" for each individual battery serial number, that helps track that battery's analytics and performance across the entire lifecycle. 
You can check out Peaxy at www.Peaxy.net.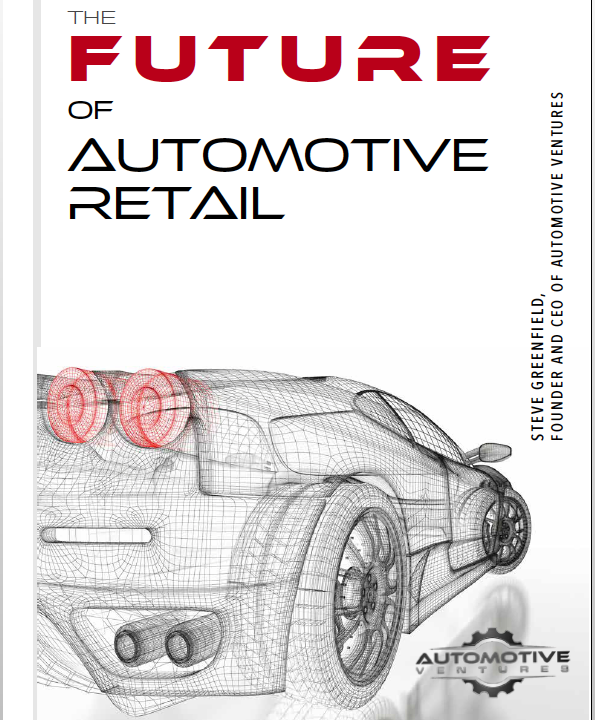 If you're an AutoTech entrepreneur working on a solution that helps car dealerships, we want to hear from you. We are actively investing out of our new DealerFund.
If you're a dealer who wants to invest in early-stage AutoTech companies that benefit your business, let me know. We are still accepting new investors into the DealerFund.
If you're interested in joining our Investment Club to make direct investments into AutoTech and Mobility startups with small checks, join the Club. There is no obligation to start seeing our deal flow.
And don't forget to check out my book, The Future of Automotive Retail, on Amazon.com.
Thank you for tuning into CBT News for this week's Future of Automotive segment, and we'll see you next week!