Click here, to see June Sales Totals for 2019
Talk about hitting it right on the nose. June's overall auto sales came in at analyst's expectations. Edmunds projected an overall increase of 3.4 percent, with the actual being 3.1 percent. A week earlier before the results were published, J.D. Power and LMC expected a rise of 2.5 percent, so according to this data, June came in a bit ahead of most expectations.
This result caps off a first half that has performed better than expectations which caused Cox Automotive to increase its full-year sales forecasts from 16.7 million to 16.8 million. While the numbers are better than expected, the results of 2018 will likely be the lowest they have been since 2014. Can auto sales continue to come in slightly better than expectations for the rest of the year, or will some economic trends make this harder to do? Take a look at our takeaways for June 2018.
Most Major Automakers Won Out
Here is where we see why the overall sales numbers were higher than those estimated. Except for Nissan (which also enjoyed positive gains), all the major automakers beat expectations. Ford Motors and Nissan both came in slightly under two percent. Toyota and Honda came in at 3.6 and 4.8 percent respectively. Volkswagen Group and Fiat Chrysler saw increases of 5.7 and eight percent respectively.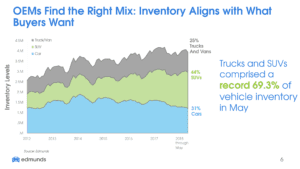 However, the ultimate winners for this month are Subaru and Hyundai-Kia. Hyundai-Kia had a lift in sales of nine percent, and while the vehicles within the Hyundai brand increased 15.7 percent, the Genesis pulled down the group with sales down over 50 percent for the month. Subaru saw a sales increase of 15 percent overall, besting all major automakers for June. General Motors finally released their quarterly results which came in at a rise of 4.6 percent.
The Healthy Economy Vs. High-Interest Rates
The low unemployment rate and the booming housing market has caused consumers to become confident in buying larger vehicles. Customers seemingly feel they can handle the more substantial payments and potential fluctuations in gas prices as they purchase SUVs and crossover vehicles. However, this could change as interest rates continue to rise throughout the year. According to the shopping experts at Edmunds, interest rates were expected to climb to the highest they ever have in June at 5.82 percent, almost two percentage points higher than June 2013. The impact of this could be dire for customers as we move through the rest of the year. Edmunds Manager of Industry Analysis, Jeremy Acevedo, had this to say about the rising rates:
"Auto loan interest rates have been steadily on the rise this year, and we don't see them going down anytime soon, which could mean trouble for automaker sales through the end of the year. While some shoppers may take this as a cue to purchase new vehicles now while rates are still somewhat favorable, we're getting dangerously close to a tipping point. Shoppers with average or subprime credit may end up putting off purchases as financing vehicles get increasingly more expensive."
Another red flag that took place in June and could have an effect on the rest of the summer is the low amount of zero-interest financing loans. According to Acevedo, June and the rest of the summer are the most popular months for zero-interest financing. The fact that June 2018 saw the lowest amount of this in nine years is a potential problem. So, customers with average credit or those still in the market for a new car will likely not experience favorable rates as we come to the close of 2018.
Used Late Models and Incoming Tariffs
It makes sense that automakers and analyst are cautiously optimistic about June's sales because current trends that will likely impact the auto industry are just picking up steam. First, as new car sales seem to continue to become the highest they have been in recent years, it is likely consumers will look elsewhere for their "new" vehicle. Analysist expect car owners to begin selling late model used cars. The increased competition, plus the high-interest rates for newer vehicles, will likely impact the number of new cars sold toward the end of the year.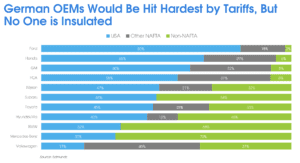 Unfortunately, the worries don't stop there for automakers. The United States government is set to impose a 25 percent tariff on $34 billions of Chinese imports to the industrial machinery, aerospace, and transportation goods industries which will take effect on July 6th. This move will likely add to the increase in pricing for foreign vehicles and auto parts for domestic auto manufacturers. This lift in pricing will be passed down to consumers making vehicle affordability elusive.
Final Thoughts
June is the second consecutive month of growth for 2018, but it is challenging for automakers and analysts to hold onto optimism when higher interest rates, tariffs, and an increase in used models sold are on the horizon. If things hold steady, the last half of 2018 will look incredibly different than the first. The job and function of analysis groups like JD Power, LMC, and Edmunds will become increasingly vital as 2018 rolls to a close.