Respirator masks are selling out on store shelves, Amazon, and eBay. Worldwide, people are stocking up on basic necessities and preparing for the possibility that COVID-19 coronavirus will be declared a pandemic. The virus's reach in North America is extremely isolated to date, but the implications are already filtering into many industries, including automotive retail.
Ground zero for the outbreak is in an area known as 'Motor City' in China – Wuhan in Hubei Province. The In 2019, Hubei Province produced 2.24 million vehicles, accounting for nearly 10 percent of China's total automotive output. In the first half of February 2020, Chinese dealerships suffered a 92 percent decrease in sales compared to the same time in 2019 on the back of production woes, an extended Chinese New Year, and public fears of the virus's spread. 
How Coronavirus Is Affecting North American Auto
The 'Big Three' automakers all depend on products coming from China in various capacities. All three have joint ventures with Dongfeng Motor Corporation, and 50 percent of China's Honda production comes from Wuhan. These ventures include finished vehicles exported internationally as well as auto parts. 
Declining US to China Exports
One of the primary effects on the American auto retail economy is actually an indirect impact. China imports $10.2 billion USD of finished vehicles from automakers in the United States, second only to German carmakers. In a suppressed automotive retail climate in China, the demand for vehicles from overseas will almost certainly take a hit.
What that means is a surplus of vehicles in the United States as well as declining production. As that happens, incentives to buoy the weakened sales for carmakers will naturally be implemented. Of course, lower prices should boost sales at home, but the threat to the American economy on COVID-19 fears is likely to prevent some car buyers from pulling the trigger. 
Related: Work-Life Balance in F&I: It's Easier Than You Think
Declining China to US Exports
Production was halted in many Chines auto factories for much of February after Chinese authorities extended the New Year celebration period and implemented strict screening protocols. While the number of vehicles shipped to the United States from China is only one-sixth the volume going the other way, popular models from carmakers like Honda could be in short supply.
It's not likely that imports of Chinese models will have a severe impact on the economy, however the visuals aren't great. 
Auto Parts Imports into the Unites States from China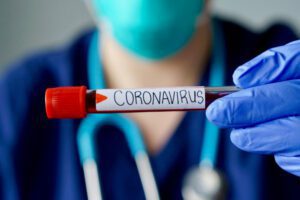 Perhaps the greatest impact on automotive retail will be indirectly, from the auto parts sector. The three countries in the United States-Mexico-Canada Agreement – the new NAFTA, as it's referred to – are all major importers of auto parts from China. Between Mexico and the United States, $13.9 billion in auto parts were imported from China in 2018.
There are implications in auto parts sales, of course, not to mention availability issues for parts and service departments at all dealers. But the other factor to acknowledge is availability for parts to complete assembly on new vehicles. It's too early to say whether there will be definite shortages for factories to complete assembly with interrupted production from China, but it's a real possibility if the novel coronavirus reaches the level of a pandemic.
As manufacturers work to solve the challenges the COVID-19 coronavirus is putting before them, dealers should be aware of any changes in the retail climate. It seems North America is relatively insulated from the actual virus so far, but the economic impact is already being felt.

Related: Fifty-Nine Percent of Employees are Stressed, Here's How to Beat It at Your Dealership
---
Did you enjoy this article from Jason Unrau? Read other articles from him here.
Car Biz Today, the official resource of the retail automotive industry.
Be sure to follow us on Facebook and Twitter to stay up to date or catch-up on all of our podcasts on demand.
While you're here, don't forget to subscribe to our email newsletter for all the latest auto industry news from CBT News.