Change Is Good If You Embrace It
By Michia Rorsheen
Judging by the growing trend towards online car buying, it may appear dealerships face a shrinking role in the self-directed economy. Not so, according to the latest research that suggests dealers will continue to play an important part in the automotive market, if they can adapt.
The fact is, dealers will find growing opportunities in the new high-tech market to reposition and grow their businesses.
One recent study by analyst Millward Brown Digital shows 85 to 90 percent of automotive shoppers do online research during all stages of the buying process.
So, it's vital for dealerships to reach out and assist customers where they are — and that means searching for their next rides on the Internet. If dealers don't do that, they'll miss a lot of chances during the online shopping process — what a study by search-engine giant Google calls "micro-moments" — to prove their dealerships' value and give consumers reasons to visit their showrooms.
Getting Customers Down the Online Funnel
A dealership — your dealership — can learn to identify and use those micro-moments to lead customers even further down the sales funnel.
The "micro-moments" study lists three approaches for dealers to ensure the success of their websites:
1. "Eliminate Steps" by keeping the main goal of your company's website in focus and then figuring out how to make it simpler for a user to reach it. Is your goal to sell more cars? Get out of the way and let your customers buy them.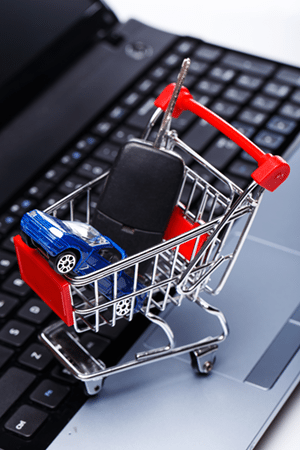 "Consumers…aren't looking for a car salesman or salesperson," says Joe Webb, the founder of automotive e-commerce consulting firm DealerKnows, in an interview posted on software solutions site Whisbi.com. "They don't want someone to sell them a car; they want someone who will get out of their way so they can buy a car." The auto sales industry, he says, "must finally come to the realization that people love buying, but hate to be sold."
2. "Anticipate Needs" by looking over your top visited content and searches through analytics and then, based the online habits of individual customers, placing customized primary calls-to-action prominently on your homepage, with secondary actions and other messaging embedded in the site menu.
Place your contact information directly on the homepage. Same goes for financing options — make the material your customers are looking for easy to find. Build trust with transparency.
3. "Load Like Lightning" and keep your website optimized and up-to-date to ensure load times are fast. Research shows 40 percent of shoppers will wait no more than three seconds before abandoning a retail site.
Give Customers What They Want and THEY'LL BUY MORE
Only 17 out of 4,002 consumers surveyed by online marketing site Autotrader said they liked the traditional way of buying a car, while 72 percent of the participants said they would visit dealerships more frequently if the buying process was improved. An estimated 66 percent said they would be much more willing to buy from a dealership that offered an agreeable experience and 53 percent said they would probably buy a vehicle more frequently if the overall purchasing process improved.
The take-away? The current sales process is hurting car sales! 
Customer Service Wins Over Price
The same Autotrader report also found 54 percent of consumers would buy from a dealership that offered their preferred experience, even if it didn't provide the lowest price.  And, 73 percent were willing to drive farther for a great salesperson, as compared to the 65 percent who said they would drive to get the lowest price.
Dealers Beware: History Repeats Itself
It's hardly the first time new technology has taken an entire industry on a breakneck detour that left slow-to-change companies in the gutter.
Eastman Kodak, for instance, didn't embrace digital technology because it thought its traditional product line was strong enough to carry it into the future.
In its heyday, the New York-based film company owned 90 percent of the U.S. film market and was one of the world's most valuable and recognizable brands. In fact, in 1975, it invented the world's first digital camera — and then shelved it out of concern the technology would cut into its immensely profitable film business.
But, digital products were already redefining the marketplace and Eastman Kodak's notable absence from the segment let outfits like Sony and Canon quickly grow into the dominant players in the market.
The once-mighty film company bled financially until it filed for Chapter 11 bankruptcy in 2012.
Face It, Embrace It
On the other hand, internet startups Beepi and Carvana have embraced the market's changing rules for customer service and are now intent on taking online auto buying to a whole new level. Each company's goal is to make used-car buying easier.
Beepi serves as an intermediary between prospective buyers and sellers, arranging financing, considering trade-ins and also, for an added charge, delivering vehicles to buyers.
Carvana similarly acts as the middleman between buyers and sellers through the selection, purchase and delivery process.
The company showcases its inventory of used autos with an array of digital photos of the interior, exterior, engine, and trunk — giving potential buyers the ability to view each model from a 360-degree perspective.
Beepi, Carvana and the industry's many other new tech-oriented companies are showing dealerships they no longer have a choice between joining the new high-tech market with an online strategy or keeping with traditional ways of selling cars.
There's no denying that building a dynamic, engaging, website for online shoppers takes time and effort. But with 90 percent of car buyers already shopping online, it's time well spent.
Jared Rowe, president of Autotrader, emphasizes how important it is now for dealerships and others in the auto industry to consider new ideas and recreate themselves in order to attract new clients and retain their current ones.
"By recognizing and embracing the need for change, we have a tremendous opportunity to surprise and delight our consumers," he said. "There is good work going on right now to adapt decades-old sales processes," but "consumers are telling us that we as an industry are not moving fast enough."
Dealers don't have to go away, but they do need to embrace change and continue to seek to serve customers needs to survive and thrive.