It's more effective than Pre-Screening
By Pete MacInnis
We've all seen the endless data about consumer dissatisfaction with the car-buying process, particularly with how lengthy it can be. In fact, in a survey we conducted among dealerships, 42 percent estimated that their start to finish sales/financing transaction process takes from three to five hours, while 85 percent say that, ideally, they would like it to take less than two hours.
 We believe that the first important step to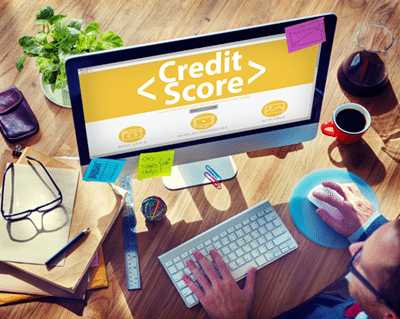 a truly streamlined, connected experience is to begin with prequalifying customers. Not 'Pre-Screening', but 'Pre-Qualifying'.
Streamline the Process with Pre-Qualifying
The reality is that today "internet shopping" is more than a consumer being able to access vehicle information and pricing on a dealer website. Asking today's shopper to submit a lead form and wait around for a return email or phone call (that sometimes never comes) is counterintuitive to online shopping behavior – or to what consumers want or are used to in every other shopping experience.
Shoppers are demanding engaging tools that work in concert to help them efficiently reach their final purchase. In order for dealerships to achieve that, they need processes that efficiently deliver key customer information upfront. Which is precisely what a pre-qualification process does.
What if the following scenario played out in your dealership? A customer walks in and is greeted with a warm and informed welcome because he/she made an online appointment. All his/her details, including vehicle preferences, trade in, and finance pre-qualification, are accessible on a handy tablet computer held by a helpful salesperson who handles the transaction from beginning to end.
That scenario is closer to reality than ever, as is dealer awareness of a need to change the process and to do more to get shoppers into the store and keep them satisfied.  Dealers, increasingly, understand that consumers want to be in control and demand information transparency and immediate gratification – whether they are booking a vacation, buying insurance or looking for their next car.
F&I Can Start Online
There is a that reason soft pull credit applications, either online or in store, are generating a lot of interest in the industry. These tools can help dealers achieve major efficiencies, including getting consumers into the financing process before they even start their test drive.
However, even though pre-screening and pre-qualification are both "soft pull" (i.e., have no impact on a consumer's FICO score and do not require a social security number) versus "hard pull," they are very different in terms of how they work and the impact they make on your dealer processes.
Pre-screening Vs. Pre-Qualification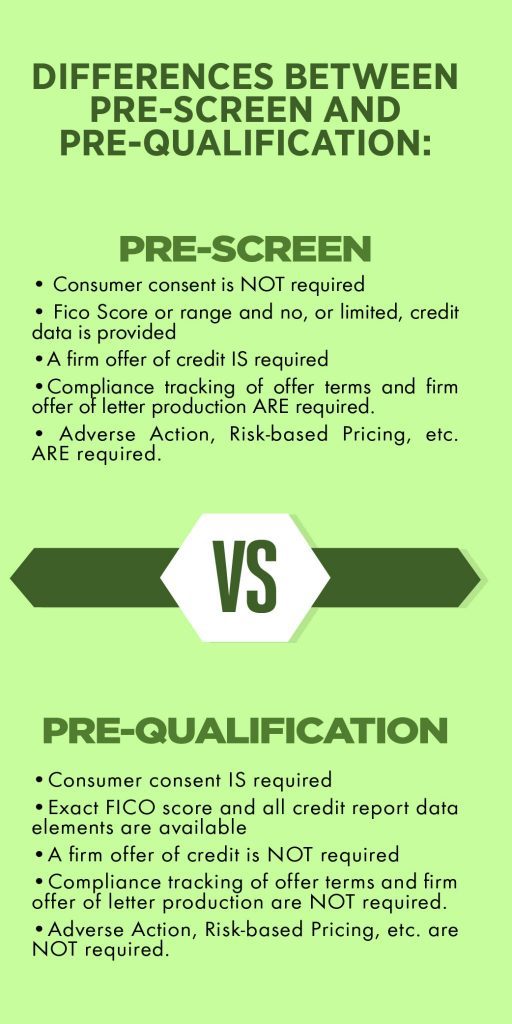 "Pre-screening" has been around for a long, long time and is the process used to send large, direct mail offers for credit cards and loans to individuals in a specific geographical area that fit certain credit criteria. Today, that same "pre-screening" technology can be used to isolate a specific customer and gather some, but not all, of their credit attributes, including a FICO score  – all without the consumer's consent. This can be effective for understanding who a consumer is, but much less effective when it comes to putting actual financing terms together.
First of all, per the FCRA (Fair Credit Recording Act), you are not required to prove consumer consent for a pre-screen credit application. Generally, there are a lot compliance issues around pre-screen products that many dealers aren't aware of or don't tend to follow – which include providing a letter of firm offer of credit and storing the proof of criteria used to make a financing decision. All of which could lead to trouble for a dealership if it fails to comply, especially once the inevitable scrutiny from CFPB regulations come into play for auto finance.
On the other hand, true "pre-qualification" requires customer consent right from the start, and, because consent has been given, dealerships are NOT required to do a firm offer of credit or an adverse action or risk-based pricing notice. This means a true "pre-qualification" product is, by definition, compliant with all federal regulations and must be certified by a credit repository partner – safeguarding the dealer from any issues due to inappropriate use of data and data storage. Dealers should be able to document who has access to the consumer data and show a complete electronic trail and ensure the security of that data.
The bottom line is that "pre-screen" appears easier because you simply ask customers for a name and address, but, in reality, it's a limiting and regulation-riddled option.
Here are some basic differences between pre-screen and pre-qualification.
An Improved, Compliant and More Efficient Process
If collecting limited consumer attributes, like a FICO score, is what your dealership is interested in, Pre-Screen will work for you but it has compliance pitfalls and does not achieve the level of information gathering to advance a sale as Pre-Qual does. 
For example, the standards of FCRA compliance for Pre-Screen can be complex and there are many restrictions on how that data can be used and stored (the information must be kept securely for three years). Also, if you don't end up selling the customer a vehicle, he/she could be concerned that you have accessed his/her credit information without authorization – something that could trigger a complaint to a regulatory agency.
Not handling compliance requirements properly could expose the dealer to fines from the FTC up to $10,000 per violation incident.  With Pre-Qual, you get the customer's permission upfront and, even though it is a soft pull, you will get a full credit report with all the key information that comes with it. It will also include certification from credit repositories, real time credit scores, and simplified compliance requirements.
Because the ultimat
e goal is to improve the process for consumers, while creating efficiencies in-store, we are advocates of Pre-Qual, especially if the dealership has in-store processes/technologies that help expedite and automate the flow of customer information from front to back end. And while there may be some reticence about having to ask consumers permission for the soft credit pull, we believe that consumers are more likely to agree to a Pre-Qual knowing it will not impact their credit – and a big advantage is that granted permission is a key indicator of a consumer's seriousness as a buyer.
Making Car Buyer More Efficient
In the end, with Pre-Qual, both dealership and customer end up with is a shorter transaction process and a much more connected car buying process. Pre-Qual means financing starting upfront, so customers will get through the car buying process faster and with increased satisfaction. And the bonus is that this preps the dealership for impending CFPB changes. In the end, a faster, more informed and a more compliant process equals the ultimate win – selling more cars, faster.