Retail auto sales will be a turning point for the industry in the third quarter, according to a press release from Edmunds.com. As Q3 2020 draws to a close, the research and shopping guide site is predicting that final numbers will reflect an increase of 30.6% compared to the results of the previous quarter.
That increase is a dramatic improvement over the period of April through June when the COVID-19 pandemic wreaked havoc on all retail industries, not just automotive.
Jessica Caldwell, Edmunds' executive director of insights, said in the press release, ""Third-quarter sales make at least two things apparent: Most of the doomsday scenarios forecasted at the beginning of the pandemic fortunately did not hold true, and the American consumer stepped up to become one of the many heroes in this chapter of resilience for the automotive industry.
"Consistently lower interest rates encouraged new-car buyers — who were less likely to be financially hindered by the economic fallout of the pandemic — to pull the trigger on a purchase. Rising used vehicle prices also likely made the new car market more appealing for shoppers on the fence between the two. And car owners also got to leverage the extra value that trade-ins are commanding during COVID-19 to offset the cost of their next purchase."
Industry Not Quite Back to Normal
The incredible resilience and improvement over the previous quarter can allow dealers to breathe a sigh of relief. However, the results have to be tempered as even the optimistic forecast from Edmunds of 3,850,707 new vehicles sold during Q3 reflects a decrease of 11% from the same period in 2019.
Fleet sales also continue to suffer the longer the pandemic drags on. On the backs of struggling businesses and particularly on news of rental fleets shrinking, cancelling new vehicle orders, and selling off – as is the case with the Hertz bankruptcy proceedings – fleet sales are only expected to make up 10.8% of sales in the third quarter. In 2019, they accounted for 17.2% of total sales.
Caldwell says, "Daily rental companies have understandably reduced or delayed orders as Americans continue to stay at home rather than embark upon business or air travel. It will likely take a bit longer for this side of the business to make as dramatic a comeback as its retail counterparts."
Market Share Shifting
In the Edmunds forecast, the market share could be shifting among manufacturers. Compared to the same period last year, Hyundai and Kia have clawed their way to an 8.8% market share (7.7% in Q3 2019). Nissan has backslidden over 24%, dropping from 7.6% market share to only 5.7%.
Although the market share is close between GM, Toyota, Ford, and FCA brands, General Motors has maintained a 2.2% cushion over second-place Toyota. FCA appears to be surging with more than seven percent increase from last quarter, though.
Dealers in North America can expect a strong start to the fourth quarter as COVID-19 seems to be leveling off. That could all be derailed, though, if infections begin to surge in winter and spring, and restrictions or lockdowns are implemented once again.
---
Did you enjoy this article from Jason Unrau? Read other articles from him here.
Be sure to follow us on Facebook and Twitter to stay up to date or catch-up on all of our podcasts on demand.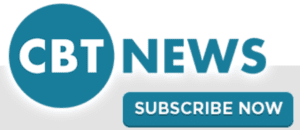 While you're here, don't forget to subscribe to our email newsletter for all the latest auto industry news from CBT News.