Welcome to another edition of The Friday 5 with Steve Greenfield, Founder and CEO of Automotive Ventures, an auto technology advisory firm that helps entrepreneurs raise money and maximize the value of their companies. In this episode, Greenfield takes a look at finance and insurance mergers, innovative tech startups, and ambitious new software providers.
Recessions and Innovation
One positive outcome from the pandemic, and the resulting financial downturn, is that Americans are starting new businesses at the fastest rate in more than a decade.
Historically, financial recessions have been a good time to launch businesses. Many of today's best-known companies were founded during the Great Recession in 2009, including Uber, Groupon, Venmo, and Airbnb.
Greenfield has been speaking recently with a number of new automotive tech startups who are taking the opportunity to launch new companies during COVID. Many of these being started by industry executives who are either unemployed or underemployed. He has a strong feeling that we will see a slew of new innovative automotive tech startups emerge from this challenging economic period.
CDK Global
PE Hub reports that CDK Global has launched a sales process for its international division. First-round bids are due in two weeks. During its fiscal year ending June 30th, CDK's international business generated $321 million dollars in revenue.
The division could command 3-to-4 times revenue, which would suggest a potential valuation of $1.3 billion dollars on the high end. CDK's stock price didn't seem to react to this news.
Keep in mind that the automotive supply chain and the relationship between OEMs and their dealers varies widely in international markets, and quite often the automakers have much more power over dealer software vendor selection than we experience here in the U.S.
Aurora Labs
It's great to see that the automakers' investment appetites haven't been dulled by COVID-19. General Motors recently invested $2 billion dollars into troubled electric vehicle manufacturer Nikola.
Two weeks ago, Toyota launched Woven Capital, an $800 million dollar global investment fund to support growth-stage companies in the areas of autonomous mobility, automation, artificial intelligence, machine learning, data and analytics, connectivity, and smart cities.
This week we saw both Porsche and Toyota participate in a $23 million dollar Series B round for Aurora Labs. Founded in 2016, Aurora's machine-learning algorithms uniquely address all three stages of an automotive maintenance system to detect, repair, and seamlessly implement over-the-air vehicle updates. The company dubs it "self-healing software."
F&I M&A Continues
In August, National Auto Care announced the acquisition of Excel, an independent F&I agency based in North Carolina. The month prior, National announced the acquisition of DMG, an independent F&I agency based in Chicago.
In a separate deal in July, Portfolio acquired National Automotive Experts and NWAN, uniting two leaders in the F&I product provider, administration and reinsurance space.
In May, iA Financial Group finalized their $720 million dollar acquisition of IAS. IAS is one of the largest independent providers of solutions in the U.S. vehicle warranty market.
And this week, Protective Life reached an agreement to acquire Revolos, a diversified, full-service F&I provider that offers a suite of products. When closed, this transaction will represent Protective's 58th acquisition. The closing of the acquisition is expected to occur in the first quarter of next year.
CarMax
CarMax reported record revenue and profits for their second quarter, which ended on August 31st. CarMax has sent a strong message to the Online Retailers Carvana, Vroom and Shift.
CarMax completed its Omni-Channel rollout to its 220 stores, aiming to give customers a personalized and seamless buying experience whether they are shopping online with the device of their choice or visiting a store. CarMax's Omni-Channel experience enables their consumers to seamlessly do as much, or as little,  online and in-person, as they want.
Alternative delivery methods, curbside pickup or home delivery, rose slightly in CarMax's first quarter, but remained less than 10 percent of all sales. The company said its research found that customers don't want to be forced to interact 100 percent in-store or 100 percent online.
SHIFT Technologies
Online Retailer Shift Technologies has been a recurring topic on this show, as we eagerly await for them to go public. Carvana IPO'd back in 2017, and Vroom went public in June of this year.
The Special Purpose Acquisition Corporation, or SPAC, that is acquiring Shift Technologies to take the company public, has called for a special meeting on October 13th, where shareholders will vote to approve the business combination with Shift.
Expect that Shift will be publicly listed shortly after October 13th. We'll be watching that IPO and the company's market cap very closely.
Wrapping up
Word on the street is that the M&A pipeline is heating up. Fear of possible increasing tax rates, the strong stock market, uncertainty around the Presidential election, and strategic acquirers wanting to take advantage of COVID weakness, could mean that we see a bunch of companies "crashing the gates" between now and the end of the year. To either rush to become public, or get their companies sold.
It's an exciting time for automotive technology companies, and we should see a lot of M&A activity over the remainder of the year. Tune in next week for another recap.
---
Did you miss last week's episode of The Friday 5? Watch it here now! And don't forget to share your questions and comments with Jim Fitzpatrick at jfitzpatrick@cbtnews.com.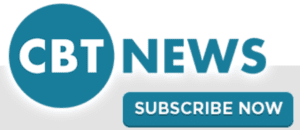 Be sure to follow us on Facebook and Twitter to stay up to date or catch-up on all of our podcasts on demand.
While you're here, don't forget to subscribe to our email newsletter for all the latest auto industry news from CBT News.