The US Bureau of Labor Statistics (BLS) announced on Wednesday that the Consumer Price Index for July 2020 rose by 0.6 percent including seasonal adjustment. Consumer Price Index, or CPI, is the measure that examines the weighted average of prices of a basket of consumer goods and services that the typical American would purchase. July's increase mimics that of June following consecutive months of decline, and it's the largest single-month increase since January 1991.
July's CPI news release mentions a steep jump in the gasoline index of 5.6 percent, indicating the price of fuel has risen for the end-user. That comes after an 11.7 increase in June, but preceded by double-digit declines in March and April 2020. 
More applicable to the auto industry yet, the new car index rose by another 0.8 percent in July, proving that new car prices are becoming increasingly costly for buyers. The used car and trucks index rose much further yet – up 2.3 percent for the month after falling 1.2 percent in June. 
Transportation Costs Increasing
Advertising Partner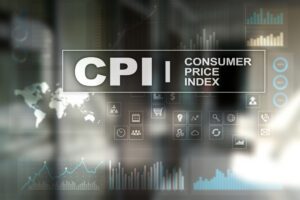 CPI data is not a completely accurate calculation of total sales over a period of time as it's based on survey data, but it certainly points to trends in the American economy. For the automotive sector, it indicates that consumers can expect to pay more for their cars and fuel as the economy recovers. 
For car buyers, the average cost of a new car in July 2020 is estimated at $37,878 by Kelley Blue Book analysts. That's up $1,170 from May 2019 and more than $2,000 above the average price in 2018. In the midst of a pandemic response, the nation continues to see 10.2 million Americans in the unemployment line in July. Average weekly earnings have actually increased for both men and women in Q2 2020, but fewer people are employed full time. Essentially, fewer people are able to afford cars due to unemployment. 
Average Vehicle Prices Based on Limited Supply
After eight weeks of shutdowns across domestic carmakers' factories, there's a struggle to meet the demand for cars. Dealerships often don't have the necessary 30-day inventory to provide selection among top-performing models. Pickup trucks especially are running low on stock with General Motors appearing to have the most challenges in keeping up. 
For new cars, the increase in demand and supply shortage allows dealers to hold better gross on the units they have in stock. Unfortunately, once they're sold, it's a guessing game for how long until the next shipment of vehicles arrives to replace it. 
Used car valuations are also driven up as a shortage appears likely in the near future. Manheim's used vehicle values set a record for the second month in a row, up 12.5 percent at the auction. More dealers are purchasing used cars to fill voids on the lot left by declining new car inventory. 
For consumers, that means paying more for a car today than it would have cost pre-COVID. It's an excellent position to be for dealers at the moment, but the future is hazy. 
Should new and used car shortages continue, prices will be driven up even higher into unaffordable territory. And once inventory catches up, the price correction could be hard to bear by manufacturers and dealers alike.
---
Did you enjoy this article from Jason Unrau? Read other articles from him here.

Be sure to follow us on Facebook and Twitter to stay up to date or catch-up on all of our podcasts on demand.
While you're here, don't forget to subscribe to our email newsletter for all the latest auto industry news from CBT News.