Welcome to another edition of The Friday 5 with Steve Greenfield, Founder and CEO of Automotive Ventures, an auto technology advisory firm that helps entrepreneurs raise money and maximize the value of their companies.
Let's jump right into the technology deals of this past week.
First up, a big and important deal this week, as CDK Global completed the acquisition of Roadster, a digital sales platform that modernizes the way consumers buy vehicles and the process in which dealers sell them.
Under the terms of the Merger Agreement, the stockholders of Roadster are entitled to receive aggregate all-cash merger consideration of $360m dollars, subject to customary adjustments, which the Company has funded from cash on hand.
The integration of Roadster assets and capabilities positions CDK to bring the first fully integrated, end-to-end retail solution to the automotive market and deliver on the promise of modern retailing.
This is a big deal for the industry. Congratulations to Andy Moss and Rudi Thun and the entire Roadster team!
Rivian Automotive, the electric truck startup backed by Amazon, has selected underwriters for an initial public offering that could come later this year.
Rivian is working with advisers including Goldman Sachs, J.P. Morgan, and Morgan Stanley.
Rivian could seek a valuation of about $70 billion when it goes public.
You'll recall that Amazon pre-ordered 100 thousand Rivan electric delivery trucks for their fleet.
This deal will be one to watch as the year unfolds.
myKaarma, the customer interaction management software solution for automotive dealerships, announced the acquisition of PocketExpert, a dealership communication, online payment, and multi-point inspection platform.
As part of the acquisition, PocketExpert's 550 dealer customers will join the myKaarma family with opportunities to leverage myKaarma's end-to-end offerings which include scheduling, video multi-point inspections, pickup & delivery, transportation solutions and additional DMS integrations.
MotoRefi has raised another $45 million dollars in a round led by Goldman Sachs — just five months after investors poured $10 million into the fintech startup to help turbocharge its auto refinancing business.
The startup developed an auto refinancing platform that handles the entire loan process, including finding the best rates, paying off the old lender and re-titling the vehicle.
MotoRefi says using its platform saves consumers an average of $100 dollars a month on their car payments, a goal achieved partly because it works directly with lending institutions.
MotoRefi is on track to issue $1 billion dollars in loans by the end of the year, a fivefold increase from the same period last year.
The auto refinance market in the United States is $40 billion dollars. However, overall auto loan debt is $1.3 trillion dollars. With 40 million auto loans originated every year, MotoRefi is promised a consistent flow of potential new customers.
The fresh injection of capital, which included investor IA Capital Group as well as returning backers Moderne Ventures, Accomplice VC, Link Ventures, Motley Fool Ventures and CMFG Ventures, will be used to continue to build out its products and services and hire more people.
MotoRefi has raised $60 million since its inception in 2016.
First Move Capital, the Boulder-based venture firm that has invested in used car marketplaces Frontier Auto Group and Vroom as well as mobility-as-a-service startup Via, has closed a new $150 million fund that will focus on the automotive and transportation sectors.
FM Capital has already made seven investments from the oversubscribed fund, including autonomous vehicle startup Gatik, cloud-based automotive retail platform Tekion and e-commerce startup Revolution Parts.
FM Capital launched in 2012 with a $40 million fund that invested in auto commerce and dealership technologies as well as other broader retail and enterprise software startups.
Its second fund, which more than doubled to $90 million, is when FM Capital became an automotive-focused VC interested in auto commerce, autonomy and sensors, connectivity, electrification and shared mobility.
FM Capital typically invests between $5 million to $10 million in companies with what the partners view as "transformative solutions in transportation" typically at the Series A stage.
FM Capital has backed a total of 40 companies based in North America, Europe and Tel Aviv.
Congratulations to Chase Fraser, Mark Norman and Zack Freed from FM Capital on this news.
project44 has raised $202 million in a Series E funding round led by Goldman Sachs Asset Management and Emergence Capital. Girteka Logistics and Lineage Logistics also participated in the financing, which gives project44 a post-money valuation of $1.2 billion dollars. That doubles the company's valuation at the time of its Insight Partners-led $100 million dollar Series D in December, and brings its total raised since inception to $442.5 million dollars.
A number of applications that aim to solve workflow challenges across the supply chain exist. But getting real-time access to information from transportation providers has remained somewhat elusive for shippers and logistics companies alike.
Enter project44. The seven-year-old Chicago-based company has built an API-based platform that it says acts as "the connective tissue" between transportation providers, third-party logistics companies, shippers and their supply chain systems. Using predictive analytics, the platform provides crucial real-time information such as estimated time of arrivals.
The company has $50 million in annual recurring revenue, which is up 100% year over year. It has more than 600 customers, including some of the world's largest brands such as Amazon, Walmart, Nestlé, Starbucks, Unilever, Lenovo and P&G. Customers hail from a variety of industries, including CPG, retail, e-commerce, manufacturing, pharma and chemical.
Beep, a provider of multi-passenger, electric, autonomous mobility solutions, announced that it has recently closed the company's Series-A round with Intel Capital and Blue Lagoon Capital.
The funding will enable Beep to continue the expansion of its autonomous fleet deployments across North America and leverage its learnings to advance passenger mobility service for cities, business districts and campuses at scale.
Beep utilizes a combination of machine learning, contextual traffic data and the company's existing centralized command center data to provide vital oversight in managing high-risk scenarios for autonomous vehicles in complex geo-fenced environments.
Beep will join Intel Capital's portfolio of innovative companies that are transforming the future of transportation leveraging the firm's network to accelerate Beep's growth. Blue Lagoon Capital's experience and track record in successfully building and scaling enterprises in many areas of technology, further positions Beep for long term success.
Blink Charging, which owns, operates and supplies charging stations, raised about $221.4 million dollars in January, taking advantage of investor enthusiasm for green stocks. The share sale expanded Blink Charging's cash balance by roughly eightfold.
Shares of Blink Charging, which went public in 2018 and closed at $34.64 last week, surged to around $60 earlier this year from about $9 following the election of President Biden, who is proposing infrastructure investments to reduce carbon emissions.
Blink Charging earlier this month acquired Blue Corner NV, an Antwerp, Belgium-based charging company, in a roughly $24 million cash-and-stock deal. The transaction, which added around 7,000 charging stations, will help grow its business abroad, building on existing operations in countries such as Greece and Israel.
Blink Charging operated or sold a total of about 23,000 charging stations internationally before the deal.
In international news this week, A new startup called Justos will be the first Brazilian insurer to use drivers' data to reward those who drive safely by offering "fairer" prices, and has raised about $2.8 million dollars in a seed round led by KASZEK, one of the largest and most active VC firms in Latin America. big_bets also participated in the round.
Justos' founding team decided that the auto insurance market would be an ideal sector considering that in Brazil, an estimated more than 70% of cars are not insured.
The process to get insurance in the country, by any accounts, is a slow one. It takes up to 72 hours to receive initial coverage and two weeks to receive the final insurance policy. Insurers also take their time in resolving claims related to car damages and loss due to accidents, and pricing is often not fair or transparent.
Justos aims to improve the whole auto insurance process in Brazil by measuring the way people drive to help price their insurance policies.
Similar to Root here in the U.S., Justos intends to collect users' data through their mobile phones so that it can more accurately and assertively price different types of risk. This way, the startup claims it can offer plans that are up to 30% cheaper than traditional plans, and grant discounts each month, according to the driving patterns of the previous month of each customer.
News from Australia this week, as Tritium, a developer and producer of direct current fast EV chargers, is taking the SPAC path to the public market in a deal valuing the company at $1.2 billion dollars.
Tritium will be heading to the Nasdaq via a merger with special purpose acquisition company Decarbonization Plus Acquisition Corp II. The transaction is expected to generate gross proceeds of up to $403 million. Tritium will be listed under the ticker "DCFC."
Founded in 2001, Tritium manufactures charger hardware and software for direct current fast chargers. Its products can recharge an EV battery quickly, adding 20 miles in a minute or 100 miles in five minutes. DC chargers are more costly than alternating current (AC) chargers but they send power to the vehicle much more quickly. Generally, AC chargers are installed at home, where a driver can plug in their vehicle overnight, while DC chargers are more frequently found at public charging stations.
Companies to Watch
Every week we highlight interesting companies in the automotive technology space to keep an eye on. If you read my monthly industry intel report, I showcase a few companies each month, and we take the opportunity here on the Friday Five to share some of those companies each week with you.
Today, our companies to watch are NuBrakes and the Carma Project.
First up, we have NuBrakes, founded in 2019, and located in Austin, Texas.
NuBrakes provides the most convenient brake repair delivered right in your driveway.
Their mobile brake mechanics are experienced and ready to tackle brake repairs on nearly all major makes and models.
NuBrakes beats most dealership repair quotes by up to 40% on average, and aims to make the brake repair process simple and frustration-free.
NuBrake's mission is to make brake repair convenient and affordable for everyone by combining their mobile model with the personal, friendly touch of their certified brake repair technicians.
NuBrakes believes in delivering more than just brake repair, by providing the very best customer service, customer experience, and company culture for every member of their team.
The NuBrakes experience is easy and transparent — and they guarantee it's the best auto-repair experience consumers will ever have.
NuBrakes aims to help consumers save both time and money.
NuBrakes currently offers the service in Texas, Georgia and Tennessee, but is expanding rapidly.
Our second Company to Watch this week is the Carma Project, founded in 2018 and located in Chicago, IL.
Carma Project has developed an innovative suite of direct-to-vehicle outreach solutions to help automotive manufacturers improve and accelerate consumer response to safety recalls.
Carma Project runs an incentive-driven marketplace that accelerates consumer response to safety recalls.
The company has partnered with OEMs to address the Takata airbag recall, which is the largest automotive recall in US history.
Carma Project's scalable, direct-to-vehicle outreach programs have proven to help reach affected owners and prompt action.
——————-
So that's your weekly Friday 5, a quick wrap-up of the big deals in automotive technology over the past week.
It's an exciting time to be in the automotive space, with a ton of deals going on. Make sure you stay tuned in each week to stay up to date on the auto industry's technology M&A activity. I'll keep my fingers on the pulse of deals being done, so I can share updates with you.
If you're an early-stage automotive technology entrepreneur looking to raise money, or an entrepreneur who wants to chat about the best timing and process to sell your company to achieve the best outcome, I'd love to discuss it with you at steve@automotive.ventures.
——————-
People often ask me why I'm affiliated with CBT News.
Besides having an outstanding, extremely talented, and hardworking team up here at the studio, I greatly appreciate the valuable role that CBT News plays in the automotive industry.
Every day, I eagerly look forward to my morning email from CBT News to ensure I'm getting the most up-to-date and relevant information on the industry.
I encourage you to tune in to CBT News to ensure that you're getting the automotive news that matters.
---
Did you miss enjoy this week's episode of The Friday 5? Please share your thoughts, comments, or questions regarding this topic at newsroom@cbtnews.com.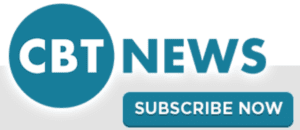 Be sure to follow us on Facebook and Twitter to stay up to date or catch-up on all of our podcasts on demand.
While you're here, don't forget to subscribe to our email newsletter for all the latest auto industry news from CBT News.