Welcome to this episode of The Friday 5 with Steve Greenfield, Founder and CEO of Automotive Ventures, an auto technology advisory firm that helps entrepreneurs raise money and maximize the value of their companies.
Well, the show must go on, and this week Mike Stanton, the CEO of NADA reiterated that the NADA Conference is still on in Las Vegas in mid-March. I'm looking forward to seeing a number of you out there.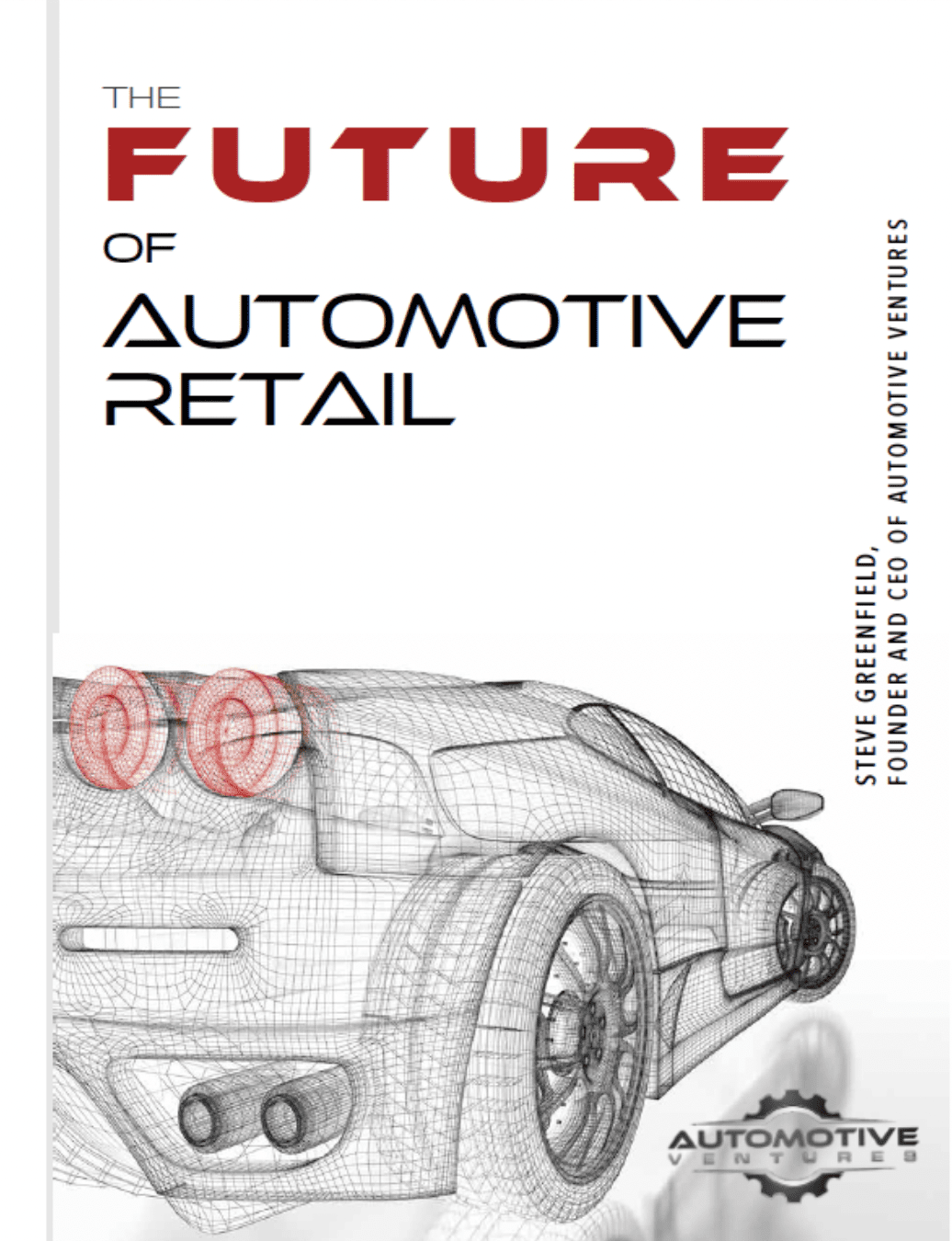 Just ahead of NADA, my new book will be out, titled The Future of Automotive Retail. In the book, I overview the various themes that are most likely to impact auto dealerships' businesses over the next 5 to 10 years, and I attempt to provide some practical advice on how to prepare to weather upcoming disruptive forces.
For all of you who tune in to the Friday Five, I'd be thrilled to send you an advance copy of the book, just click here.
Well, we have more news in the vehicle sourcing and inventory space, after just last week hearing that CDK Global announced their new B2B wholesale vehicle platform for dealers, called CarSource.
This week, Cars.com announced that they have agreed to buy Accu-Trade, Galves Market Data, and MADE Logistics for $65 million dollars in cash.
The deal is expected to close in about 30 days and it will pay an earn-out of up to $63 million dollars based on performance.
The purchase gives CARS the technology needed to enter the digital wholesale transaction game.
Dealers will be able to use the CARS platform to buy and sell inventory at scale through both a dealer-to-dealer network and a consumer-to-dealer network. They will also be able to tap into instant guaranteed offer solutions throughout the CARS properties, including the Cars.com marketplace and on websites built by Dealer Inspire.
Congratulations goes out to Bob Hollenshead, Jeff Zamora and the whole Accu-Trade team for this successful outcome. Nice work, guys!
Next up, Cox Automotive Mobility and Dickinson Fleet Services, announced the acquisition of Mobicare, the Jacksonville-based full-service, 24/7 commercial fleet and truck maintenance provider.
The acquisition serves to expand and strengthen the geographic reach of Cox Automotive Mobility Fleet Services' and Dickinson Fleet Services' preventative scheduled maintenance, branch-based maintenance and 24/7 emergency mobile service in Jacksonville, Orlando, Tampa and other Central Florida areas.
Next up, Jacobs has acquired StreetLight Data, a pioneer of mobility analytics who uses its vast data and machine learning resources to shed light on mobility, enabling users to solve complex transportation problems.
StreetLight applies proprietary processing technology to location data from millions of mobile devices, connected vehicles, IoT sensors and geospatial databases to measure multimodal travel patterns – and makes them available via its online Software as a Service solution called StreetLight InSight. Designed for smart cities and the transportation industry, the on-demand software provides industry-targeted analytic tools to support critical infrastructure planning, investment and policy decisions.
And finally, Credit Bureau Connection, a leading provider of credit report and compliance solutions to automotive dealers, lenders, and other end markets, announced today that it has acquired Dealer Safeguard Solutions, a SaaS provider of compliance and workflow solutions for the automotive retail industry.
Financial terms of the transaction were not disclosed.
Credit Bureau Connection is backed by the The CapStreet Group, a Houston-based lower middle market private equity firm.
Companies To Watch
Every week we highlight interesting companies in the automotive technology space to keep an eye on. If you read my monthly industry Intel Report, I showcase a few companies each month, and we take the opportunity here on the Friday Five to share some of those companies each week with you.
Today, we have two companies to watch: Voltaiq and 1Komma5.
Our first Company to watch this week is Voltaiq.
For top automakers, consumer electronics and energy storage companies, Voltaiq's battery analytics platform ensures the safety of new products and accelerates the transformational shift in how we use our devices, power our vehicles and balance the electric grid.
Voltaiq is now partnering with leading finance organizations, providing the battery intelligence to unlock capital and accelerate the global transformation to an electrified economy.
Check out Voltaiq, at www.Voltaiq.com
Our second company to watch this week is 1Komma5.
1KOMMA5 was founded in the summer of 2021 with the aim of enabling people in Germany and Europe to lead a CO2-free life.
1KOMMA5° participates in the fields of photovoltaics, electricity storage, charging infrastructure and heat pumps to enable high-quality advice and installation for customers.
In addition, 1KOMMA5 is working on the networking and control of decentralized energy generation systems, and connecting them via a centralized IOT system.
Check out 1Komma5 at www.1komma5grad.com.
——————-
People often ask me why I'm affiliated with CBT News.
Besides having an outstanding, extremely talented, and hardworking team up here at the studio, I greatly appreciate the valuable role that CBT News plays in the automotive industry.
Every day, I eagerly look forward to my morning email from CBT News to ensure I'm getting the most up-to-date and relevant information on the industry.
I encourage you to tune in to CBT News to ensure that you're getting the automotive news that matters.
——————-
So that's your weekly Friday Five, a quick wrap-up of the big deals in the automotive technology space over the past week.
If you're an early-stage automotive technology entrepreneur looking to raise money, or an entrepreneur who is trying to decide whether and when they should raise money or sell their business, I'd love to speak with you.
Thank You For Tuning into CBT News for this week's Friday Five, and we'll see you next week!
---
Did you enjoy this episode of the Friday 5? Please share your thoughts, comments, or questions regarding this topic by submitting a letter to the editor here, or connect with us at newsroom@cbtnews.com.
Be sure to follow us on Facebook and Twitter to stay up to date or catch-up on all of our podcasts on demand.
While you're here, don't forget to subscribe to our email newsletter for all the latest auto industry news from CBT News.