Welcome to this episode of The Friday 5 with Steve Greenfield, Founder and CEO of Automotive Ventures, an auto technology advisory firm that helps entrepreneurs raise money and maximize the value of their companies.
Well, we're down to the final round of the Automotive Ventures March Madness contest on LinkedIn, where you get to vote for the early-stage AutoTech company that you think is most likely to achieve a $1 billion dollar exit someday.
The two remaining companies are Shyft Automotive and KnowSmoke, both of which have been past Companies to Watch here on the Friday Five.
Head on over to the Automotive Ventures LinkedIn page to get your vote in for your favorite early-stage AutoTech company.
In the biggest investment news of the last week, and a story that will probably prove to be the biggest news of the year, CDK Global Inc announced an agreement to be acquired by Brookfield Business Partners in a deal with an enterprise value of $8.3 billion dollars. 
Under the terms of the deal, CDK shareholders will receive $54.87 for each CDK share they own. That price represents a 12% premium to Wednesday's closing price of $48.99, and implies a market capitalization for CDK of $6.41 billion dollars. 
CDK CEO Brian Krzanich stated that "In consultation with our outside advisors, CDK's Board of Directors carefully evaluated a range of strategic and financial alternatives over several months and determined that this transaction is superior to all other available alternative." 
CDK's stock has rallied 17.4% year to date, while the S&P 500 has lost 6.0%.
Next up this week, Turo, the San Francisco-based car rental company announced that it recently raised $35.2 million dollars in a venture round.
The latest round brings the company's total funding to $502.6 million dollars.
Terms of this latest funding were not disclosed.
Back in January, Fortune Magazine reported that Turo had filed for an IPO. 
Rather than list on the tech-heavy Nasdaq for its blockbuster $13.7 billion dollar IPO in November, the car-sharing platform plans to list under the ticker symbol TURO on the New York Stock Exchange with Wall Street banks Morgan Stanley and J.P. Morgan underwriting the sale.
Autosled, the modern automotive digital logistics marketplace, has closed a $5 million dollar Series A round as the company continues its mission to revolutionize the automotive transport marketplace.
Leading the round was Lyndon Rive, who notably co-founded SolarCity (now Tesla Energy) along with his brother Pete and cousin, Elon Musk.
Finally this week, Porsche has joined a group of investors making a $260 million dollar equity bet on a startup that aims to harness wind power to make a gasoline substitute.
Porsche is investing $75 million dollars for a 12.5 percent stake in electricity-based fuel developer HIF Global, who is building a plant in Chile to produce electricity-based synthetic fuels from hydrogen and carbon dioxide using wind energy, starting midyear.
The firm also attracted backing from funds managed by EIG Global Energy Partners, Baker Hughes and majority shareholder ANDES MINING & Energy of Chile.
HIF Global plans to build 12 commercial sites in Texas, Chile and Australia, representing $50 billion dollars of investments, to produce 150,000 barrels of fuel a day using 25 gigawatts of renewables and about 25 million tons per year of carbon dioxide.
Companies To Watch
Every week we highlight interesting companies in the automotive technology space to keep an eye on. If you read my monthly industry Intel Report, I showcase a few companies each month, and we take the opportunity here on the Friday Five to share some of those companies each week with you.
Today, we have two companies to watch: Designated Driver and Thumbs-up.
Designated Driver is designed to be integrated with any autonomous vehicle technology, by adding real-time, human-operated control of virtually any autonomous or remote vehicle. 
Designated Driver provides hardware, operational and communications software, integration services, and 24/7 remote operations for virtually any vehicle, anywhere.
Check out Designated Driver at www.designateddriver.ai.   
Businesses today need a better, more efficient way to generate great referrals and great reviews by utilizing the power of their customer's social media connections of friends and family. 
The Thumbs Up Referral System is the engine that drives those valuable warm referrals, fills the lead funnel, and converts those leads to profitable sales.
Check out Thumbs-Up at www.getathumbsup.com.  
——————-
As I mentioned last week, we at Automotive Ventures are now actively fundraising the Automotive Ventures DealerFund – to help auto dealerships navigate through the next decade of unprecedented change, invest into, and participate financially in the AutoTech startups they help to grow.
If you're an auto dealer, and you'd like to find out more, let me know. I look forward to working with you to bring the new Automotive Ventures DealerFund to market.
It's great to be back out here at the NADA conference in Las Vegas after a year off. It's great to catch up face to face with so many industry folks after missing out on the experience last year.
——————-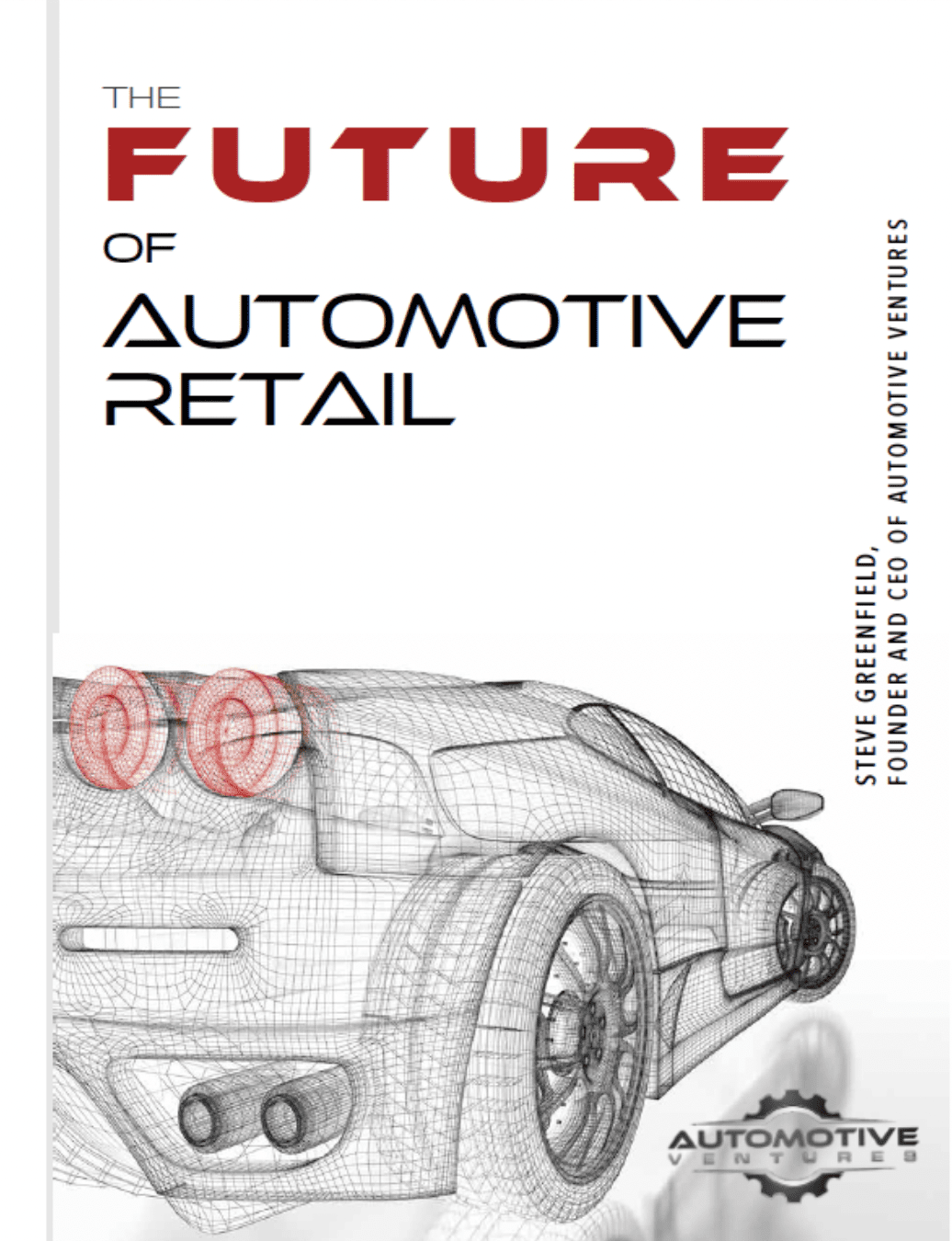 My new book titled The Future of Automotive Retail is now available! In the book, I overview the various themes that are most likely to impact auto dealerships' businesses over the next 5 to 10 years, and I attempt to provide some practical advice on how to prepare to weather upcoming disruptive forces.
For all of you who tune in to the Friday Five, I'd be thrilled to send you a copy of the book, just click here.
——————-
People often ask me why I'm affiliated with CBT News.
Besides having an outstanding, extremely talented, and hardworking team up here at the studio, I greatly appreciate the valuable role that CBT News plays in the automotive industry.
Every day, I eagerly look forward to my morning email from CBT News to ensure I'm getting the most up-to-date and relevant information on the industry.
I encourage you to tune in to CBT News to ensure that you're getting the automotive news that matters.
——————-
So that's your weekly Friday Five, a quick wrap-up of the big deals in the automotive technology space over the past week.
If you're an early-stage automotive technology entrepreneur looking to raise money, or an entrepreneur who is trying to decide whether and when they should raise money or sell their business, I'd love to speak with you.
Thank You For Tuning into CBT News for this week's Friday Five, and we'll see you next week!
---
Did you enjoy this episode of the Friday 5? Please share your thoughts, comments, or questions regarding this topic by submitting a letter to the editor here, or connect with us at newsroom@cbtnews.com.
Be sure to follow us on Facebook and Twitter to stay up to date or catch up on all of our podcasts on demand.
While you're here, don't forget to subscribe to our email newsletter for all the latest auto industry news from CBT News.