J.D. Power's 2022 US Original Equipment Tire Customer Satisfaction Study highlights the experience of car owners with tires that their vehicle was equipped with from the factory. The study also analyzes trends in tire replacement and the effect tires have on loyalty. This year, the tire study identified that while a great number of car owners expressed satisfaction with their vehicle's OEM tires, only a small segment considered expert insight when purchasing their next set of tires.
Across the luxury, passenger car, and truck/utility segments that ranked tire brands, Michelin, Pirelli, and BF Goodrich achieved top scores respectively. Goodyear and Firestone also receive high scores among the three categories. In all three segments, vehicle owners gave scores averaging in excess of 800 points out of a possible 1,000, showing that these brands have fine-tuned their products to operate well during the owner's initial years with the car.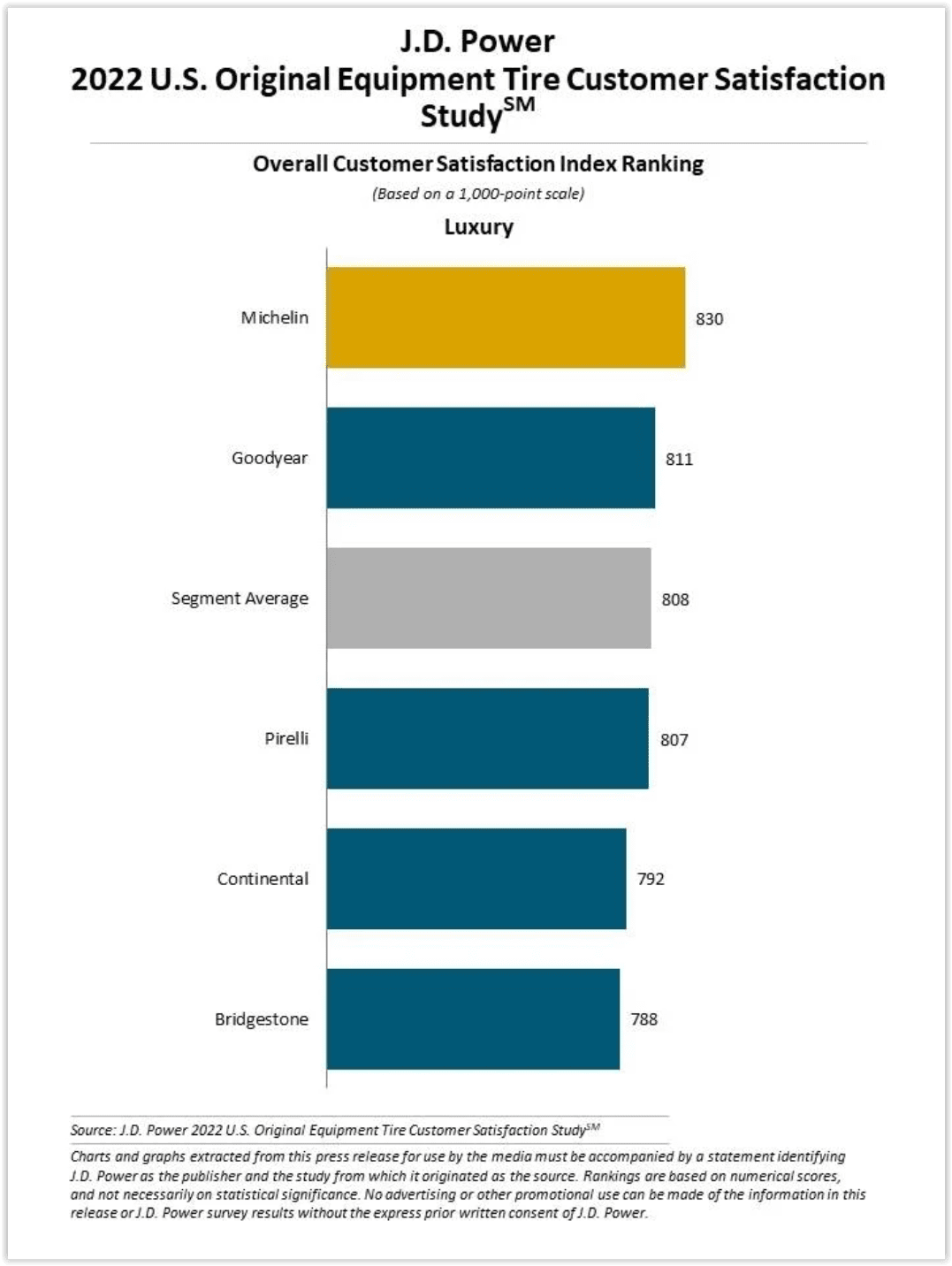 However, the study also found that loyalty is hard to come by in the tire world. Barely more than one-third of respondents (36%) said that "brand experience is an important criteria for purchasing replacement tires". Essentially, two-thirds of tire shoppers did not consider their car's satisfactory handling and operation when the time came to install a new set. 
Brent Gruber is the Senior Director of Global Automotive at J.D. Power. He said, "It is concerning to see so few owners seek advice from tire sales and service staff, often relying instead on their own experience. Without knowing how original equipment tires are engineered to enhance a vehicle's performance, owners are putting themselves at a disadvantage by not utilizing expert advice. Tire professionals are in a good position to help owners better understand those attributes when purchasing replacement tires."
Tire experts not consulted for sales
In the J.D. Power press release for the 2022 data, it mentions only 17% of vehicle "owners are using the recommendation of experienced sales and service staff" when they're shopping for tires. The focus, instead, is on criteria that aren't considered so weighty during the vehicle purchasing process: appearance and price. 
Gruber mentions, "Tires are a highly engineered component of the vehicle—designed to very exact specifications—which influence how that vehicle performs. With tire replacement, there's a risk of negating some of those key characteristics and product benefits if expert recommendations aren't utilized."
Window of opportunity for dealers
New car dealerships have only around 10% of the tire market when it comes to replacement tires, which means there's plenty of room for growth. It's also an opportunity to establish increased loyalty with vehicle owners through tire sales, particularly in terms of satisfaction. 
A robust tire selling plan should be in place with the first point of contact regarding tires being at the time the appointment is set, and secondly during the walkaround. It's during these moments that a conversation about tire satisfaction can be established. It benefits the service department to not just sell any tire that the customer wants, but a set that will satisfy them at the same level as their OE tires.
A phrase like the following could help: "If you've been happy with your current tires, would you like me to find out if they're available today? A different option could change how your vehicle handles as well as the road noise you might experience. The original tires are selected by engineers to be the best option."
Selling tires is an area dealers have plenty of room for growth. However, selling tires that keep vehicle owners as satisfied with their car as they originally were will help to drive loyalty along with revenue.
---
Did you enjoy this article? Please share your thoughts, comments, or questions regarding this topic by connecting with us at newsroom@cbtnews.com.
Be sure to follow us on Facebook, LinkedIn, and TikTok to stay up to date.
While you're here, don't forget to subscribe to our email newsletter for all the latest auto industry news from CBT News.